The Romans
By Chris Bishop
Copied from Garage Hangover
Out of Little Rock, Arkansaas, the Romans were Gary Hall lead vocals and rhythm guitar, Phil Miller lead guitar, Rocky Hestes keyboards and vocals, Charles Wycott bass, and Greg Kempner on drums.
Earl Fox began the E&M Recording studios in 1959, and started the My label in early 1966. The Romans were one of the first bands featured on the label.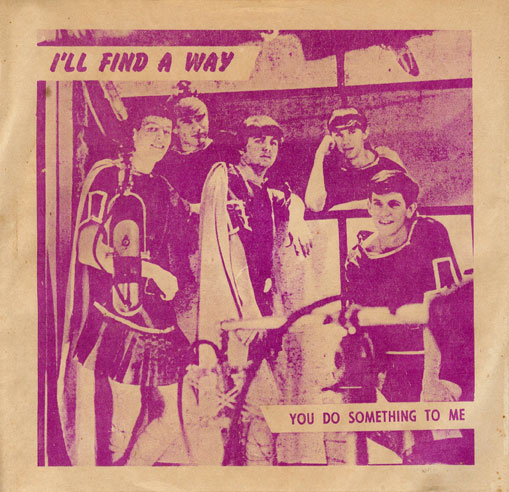 "You Do Something to Me" uses one of the earliest recorded examples of phasing to create a hypnotic effect. I wonder if the phasing was intentional or if it happened by accident and the group went with it. The flip is an excellent folky ballad, "I'll Find a Way". This was released in a sleeve with a photo of the band in Roman legionnaire costumes in May of 1966. As far as I know it was the only 45 on My issued with a picture sleeve.
Jerry Blacklaw wrote "You Do Something to Me", "I'll Find a Way" and the flip of their second 45, "I Just Had to Fall (in Love)". Jerry was a student at Central High in Little Rock who was brought in specifically to write songs for the Romans. In later years he composed religious songs.
In October of '65 they released their second 45, choosing to do a cover of Levon and the Hawks' "He Don't Love You", written by Robbie Robertson. (Did the group know Levon Helm was from Marvell, Arkansas, east of Little Rock?)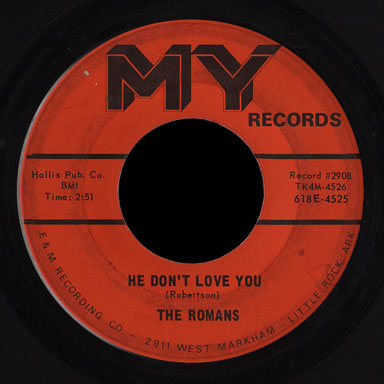 In 1967 the band was moving in a soul-oriented direction, adding a two man horn section of Bob Younts on sax and Bobby Lincoln on trumpet. Richard Shook replaced Charles Wycott on bass, and Jim Matthews took over on drums for Greg Kempner. These Romans cut a third record, "Think It Over" / "You Won Your Victory", the latter song, written by new bassist Richard Shook, sounding very much like Wilson Pickett's "Ninety Nine and a Half".
They soon changed their name to Merging Traffic and released their last 45 on "My, Ain't No Need (In Me Fooling Myself)" / "Something Special". Decca signed the band for one 45, "Bit by Bit" / "Deep in Kentucky", which had some local chart success, notably in Connecticut and Rochester, NY.
Some members reunited for a show of Little Rock bands in 1999.