Ralph Litwin: Ralph Litwin and The Band With a Thousand Names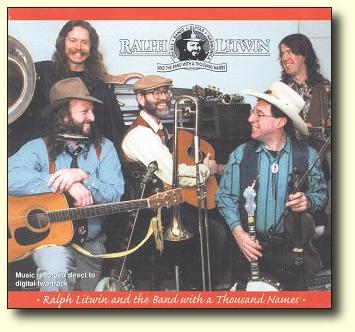 Over an hour of a mixed bag of music ranging from Ragtime to Stringband to Bluegrass to Western Swing (with some Calypso, Blues, Jazz and Rock 'n Roll thrown in for good measure). One thing is for certain, Ralph Litwin and his musical entourage sure have fun on disc, The Band's "Up on Cripple Creek" has never been done before quite like this!
Ralph Litwin started performing on ukulele at age 9 in 1959. He is twice NJ Old Style Banjo Champion (1983 & '86 after which the contest was discontinued). In 1996 at Uncle Dave Macon Days in Murfreesboro, TN he was a National Old Time Banjo Championship Finalist, 2nd place in harmonica, and 1st place in Uncle Dave Freewheelin' Style. His first album was a Cash Box Magazine Indie Album Pick in '92. Three times he received Honorable Mention in The Billboard Magazine song Contest. He's a biographee in Maquis Who's Who In the East and Who's Who In Entertainment. He has produced and hosted over 200 episodes of the weekly eclectic folk music TV series "...Horse Sing None of It!" The series has won top honors three times in The Hometown Video Festival, the largest & longest running community video competition in the USA (in '96 & '97 for ethnic/cultural diversity and in '97 also for Entertainment). The series airs in Manhattan, Philadelphia, and statewide in NJ. Band members are Tom Blatz, Mike Esposito, Lew Gelfond, Dave Grego, Andy Goessling, Eli Litwin, Ralph Litwin, Henry Nerenberg, Bob Sacchi, Orrin Star, Greg Vongas.
Tracks
The Band With a Thousand Names
Eatin' the Mystery
Black & White Rag
Up On Cripple Creek
Shady Grove
Big Mojo
Redemption Gardenia Waltz
Gettin' That Low Down Swing
The Trouble with Man
Half-Crazy
Dill Pickle
Good Luck, Bad Luck
Wooly Bully
It's OK To Just Stop Thinkin'
Singing In the Bathtub
Funky Old Guitar
Harmonica Rag
Ralph Litwin - Ralph Litwin and The Band With a Thousand Names - 1998
---
[History] [Members] [Library] [Discography] [Videography] [Filmography] [Pictures] [Audio Files] [Video Clips] [Tape Archive] [Concerts] [Related Artists] [Merchandise] [Guestbook] [Chat Room] [Search] [What's New?] [Main Page]
Webmaster