David Bromberg Band: Reckless Abandon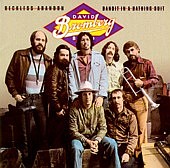 1977 release from David Bromberg, with a cover version of Rick Danko and Bobby Charles' "What A Town", a song that Danko himself later recorded for his 1978 solo debut Rick Danko. For more on David Bromberg, see the page for his 1980 album You Should See the Rest of the Band, where Garth Hudson played together with the Dave Bromberg Band.
Reckless Abandon was re-issued by Fantasy in 1998 as a two-fer, paired with 1978's Bandit In A Bathing Suit.
Tracks
I Want To Go Home
Stealin'
Medley: Sally Goodin'/Old Joe Clark/Wheel Hoss
Child's Song
Mrs. Delion's Lament
Medley: Battle Of Bull Run/Paddy On The Turnpike/Rover's Fancy
Baby Breeze
Nobody's Fault But Mine
David Bromberg Band - Reckless Abandon - 1977 - Fantasy F-9540
---
[History] [Members] [Library] [Discography] [Videography] [Filmography] [Pictures] [Audio Files] [Video Clips] [Tape Archive] [Concerts] [Related Artists] [Merchandise] [Guestbook] [Chat Room] [Search] [What's New?] [Main Page]
Webmaster