Robbie Robertson: Contact from the Underworld of Red Boy promo CD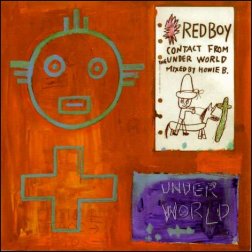 [CD cover] [Back cover] [Pussyfoot CD]
Promotional CD for Robbie Robertson's 1998 album Contact from the Underworld of Red Boy. Includes three mixes of three different tracks by Howie B., including the excellent "Weeding", "Making A Noise" (Midnight Special Mix) and "Out Skirts" (Butter Mix). This promo was included as a bonus with early Canadian copies of the Redboy album.
"Weeding" is novel to this CD, "Out Skirts" is a variant of "The Lights" from the official album.
The Red Boy promo CD was also released by Pussyfoot Records (distributed by RTM) as DPRO 7087 6 12825 2 8 Pussy 027, with the same artwork and content.
Tracks
Weeding
Making a Noise
Out Skirts
Credits
Producers - Red Boy & Howie B.
Programming - Jony Rockstar
Keyboard/manipulation - Jeremy Shaw
Vocals on Skirts - Laura Satterdfield & Red Boy
Vocals on Making A Noise - Red Boy
Guitars - Bill Dillon & Red Boy
Robbie Robertson - Contact from the Underworld of Red Boy promo CD - 1997 - Cema/Capitol DPRO 1007
Also: Pussyfoot Records DPRO 7087 6 12825 2 8 Pussy 027,
---
[History] [Members] [Library] [Discography] [Videography] [Filmography] [Pictures] [Audio Files] [Video Clips] [Tape Archive] [Concerts] [Related Artists] [Merchandise] [Guestbook] [Chat Room] [Search] [What's New?] [Main Page]
Webmaster