Georgette Fry: Rites of Passage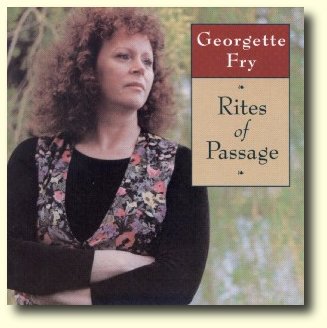 Ask me to pick a musical pigeonhole and I'll tell you my home is in the one marked "The Blues". The thing about pigeonholes, though, is that (unless you've got the wrong end sticking out of it) you're bound to notice that you're surrounded by a lot of other pigeonholes that look like interesting places to visit. Gregarious bird that I am, I've left home more than a few times and have brought back some interesting pieces with which to feather my nest. The door is open ... come on in and have a look around.
--Georgette Fry
Canadian singer Georgette Fry was nominated for a Juno award for best blues/gospel album in 1996, for her solo debut Rites Of Passage. Track 13 on the CD (sound sample available below) is a cover version of the Rick Danko song "Sip the Wine", from Danko's 1977 solo album.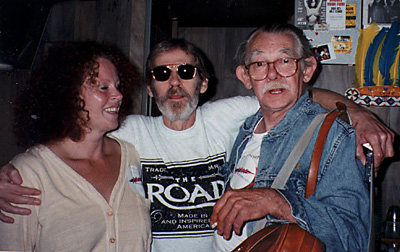 Georgette Fry with Levon Helm and Jack Wingate, an old friend of Garth, Levon and The Band. Photo copyright © Serge Daniloff.
Fry released the live album Georgette Fry Live (SRR03) in 1997, and can also be heard on the CD Eclectricity together with Grant Heckman and Robbie Robertson's cousin Bob Robertson. For more about Georgette's music, see her web site.
Tracks
| | |
| --- | --- |
| 1. | Don't Do It (G. Fry) |
| 2. | Three Kinds of Fool (D. O'Toole) |
| 3. | Rites of Passage (I. Tamblyn) |
| 4. | Hound Dog (J. Lieber/M. Stoller/J. Otis) |
| 5. | 20 Million Things (L. George/J. Levy) |
| 6. | Undecided Blues (G. Fry) |
| 7. | On the Nickel (T. Waits) |
| 8. | This Should Go on Forever (J. Miller/B. Jolivette) |
| 9. | When Love Walks Away (G. Fry) |
| 10. | Lovin' Whisky (R. Block) |
| 11. | I've Found Peace of Mind (P. Crayton/E. Crayton) |
| 12. | Come on in My Kitchen (R. Johnson) |
| 13. | Sip the Wine (Rick Danko) (906K) |
| 14. | Calling It Even (G. Fry) |
| 15. | The Exile (G.Fry) |
Sidemen
Georgette Fry, vocals/background vocals/guitar
Glenn Anderson, drums
Zak Colbert, bass
Dean Harrison, keyboards
Pete Pereira, sax/horns
Miles Raine, sax
Clyde Forsberg, trumpet
Tom Leighton, trombone/keyboards/synth/accordion/background vocals
Chris Brown, organ
Grant Heckman, guitar/background vocals/percussion
Morgan Davis, guitars
Maurice Roulette, harmonica
Mark Haines, guitars/background vocals/mandolin
Bob Robertson, background vocals
Dean Harrison, keyboards
Georgette Fry - Rites of Passage - 1996 - Spare Rib Records SRR002
---
[History] [Members] [Library] [Discography] [Videography] [Filmography] [Pictures] [Audio Files] [Video Clips] [Tape Archive] [Concerts] [Related Artists] [Merchandise] [Guestbook] [Chat Room] [Search] [What's New?] [Main Page]
Webmaster