Second Floor: Plays Dylan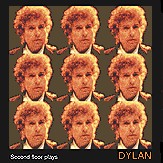 Dutch indie release from 2001 by a band from Leiden, The Netherlands. All songs are Dylan covers, including the Danko/Dylan song "This Wheel's on Fire".
Tracks
As I Went Out One Morning
One Too Many Mornings
She Belongs To Me
One More Night
My Back Pages
Don't Think Twice
Love Minus Zero
Girl From The North Country
Lay, Lady, Lay
Tonight I'll Be Staying Here With You
You Ain't Going Nowhere
Just Like A Woman
Let Me Die In My Footsteps
John Wesley Harding
Second Floor - Plays Dylan - 2001 - ?
---
[History] [Members] [Library] [Discography] [Videography] [Filmography] [Pictures] [Audio Files] [Video Clips] [Tape Archive] [Concerts] [Related Artists] [Merchandise] [Guestbook] [Chat Room] [Search] [What's New?] [Main Page]
Webmaster