The Shangri-Las: Shangrilas '65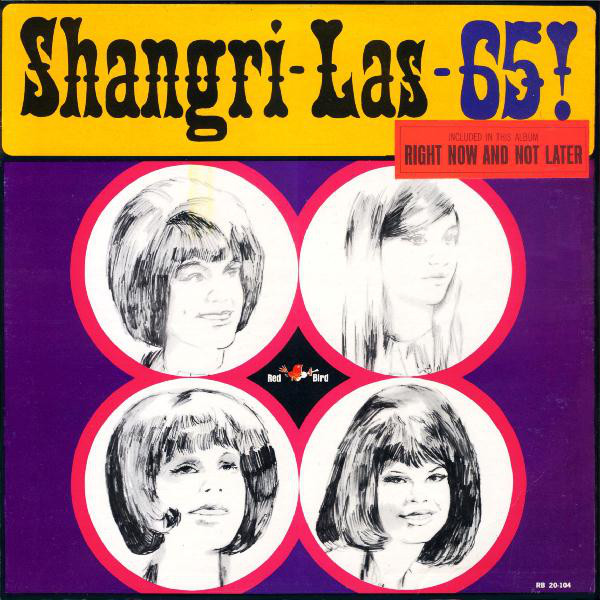 Along with the Shirelles and the Ronettes, the Shangri-Las were the greatest girl group in the '60s, most often remembered for their 1964 number one hit "Leader of the Pack," a death-rock classic with its periodic motorcycle roars and crescendo of crashing glass. Produced by George "Shadow" Morton for Jerry Leiber and Mike Stoller's Red Bird label, their first album Shangrilas '65 included a cover version of the 'Levon Helm song' "You Cheated, You Lied", originally released on Ronnie Hawkins' 1960 album Mr. Dynamo.
Even if Helm is credited for this song, it's doubtful that he actually wrote it. See Peter Viney's comments on song credits on Mr. Dynamo for more.
Tracks
Right Now and Not Later
Never Again
Give Us Your Blessing
Sophisticated Boom Boom
I'm Blue
Heaven Only Know
Train from Kansas City
Out in the Streets
What's a Girl Supposed to Do
The Dum Dum Ditty
You Cheated, You Lied (Levon Helm)
The Boy
The Shangri-Las - Shangrilas '65 - 1965 - Red Bird 20104
---
[History] [Members] [Library] [Discography] [Videography] [Filmography] [Pictures] [Audio Files] [Video Clips] [Tape Archive] [Concerts] [Related Artists] [Merchandise] [Guestbook] [Chat Room] [Search] [What's New?] [Main Page]
Webmaster