Professor "Louie" & The Crowmatix: The Spirit of Woodstock
With the Rock of Ages Horns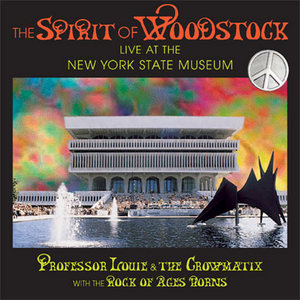 [CD cover] [Woodstock Records]
In August, 2004, to celebrate the 35th anniversary of the Woodstock Festival held in Bethel, NY, the New York State Museum hosted an exhibit called Spirit of the Woodstock Generation. The centerpiece of the exhibit was the photography of Elliott Landy . The Museum broadened the outreach of the exhibit by hosting a series of programs, lectures and concerts.
The CD The Spirit of Woodstock was recorded live at the Kenneth B. Clark Auditorium at the New York State Museum as part of the exhibition and concert series. The museum presented Professor "Louie" & The Crowmatix with Tom "Bones" Malone & The Rock of Ages Horns performing the music of The Band, Bob Dylan and others.
For more information and purchase, see the Woodstock Records web site.
Tracks
Musicians
Bobbie Van Detta : lead & rhythm guitar, bkg. vocals
Prof."Louie": vocals, bkg. vocals, Hammond organ, piano, accordion
Gary Burke : drums
Frank Campbell : bass, bkg. vocals
Miss Marie : vocals, bkg. vocals, percussion, orchestra bells; piano

Tom "Bones" Malone : horn arrangements
John Allmark : trumpet
Dino Govoni : tenor saxophone
Larry Packer : Violin
Josh Colow : Additional Guitar
Professor "Louie" & The Crowmatix - The Spirit of Woodstock - 2005 - Woodstock Records 0020
---
[History] [Members] [Library] [Discography] [Videography] [Filmography] [Pictures] [Audio Files] [Video Clips] [Tape Archive] [Concerts] [Related Artists] [Merchandise] [Guestbook] [Chat Room] [Search] [What's New?] [Main Page]
Webmaster