Deadstring Brothers: Starving Winter Report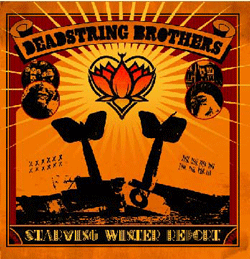 2005 album from Detroit's Deadstring Brothers, "a nod towards The Stones' Exile on Main Street era," according to the their label. Q Magazine describes the band as "...Bakersfield grit rather than Nashville polish..none of the half-arsed shambling that passes for Americana these days".
Track 4 is a cover of The Band's "Get Up Jake."
Tracks
Sacred Heart
Toe the Line
Lights Go Out
Get Up Jake (4.9MB)
Talkin' Born Blues
Blindfolded
Moonlight Only Knows
'Til The Bleeding Stops
All Over Now
Lonely Days
Deadstring Brothers - Starving Winter Report - 2005 - Evangeline
---
[History] [Members] [Library] [Discography] [Videography] [Filmography] [Pictures] [Audio Files] [Video Clips] [Tape Archive] [Concerts] [Related Artists] [Merchandise] [Guestbook] [Chat Room] [Search] [What's New?] [Main Page]
Webmaster