Lighthouse: Suite Feeling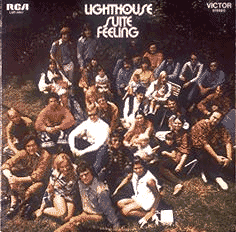 The thirteen piece rock 'n' roll band Lighthouse was formed in 1968 by jazz composer Paul Hoffert and rock drummer Skip Prokop. Their fusion of rock, jazz and classical influences made them quite popular in Canada.
Lighthouse's second album Suite Feeling, released in 1969, has a version of The Band's "Chest Fever" as the opening track. Not the world's greatest version - the group's four string players do the Garth intro (think ELO intro to "Roll Over Beethoven"). According to the critics the whole album is so-and-so, but "a considerable improvement" from their eponymously titled debut: "A hideous disaster where horrible production meets bland material, and everybody loses - the Young Canadian Rock Fan's expectations are crushed into the hardy Tundra."
Group leader and drummer Skip Prokop also played on the Bloomfield/Kooper version of "The Weight" and has all sorts of connections to the Grossman crowd. Lighthouse was still playing concerts in Canada in 2002. The reformed members of the group currently reside in London, Ontario.
Tracks
(*: arranged by Howard Shore)
Side 1
Chest Fever (J. R. Robertson) *
Feel So Good (Fullerton-Prokop-Hoffert)
Places on Faces Four Blue Carpet Traces (Cole-Fullerton-Prokop-Hoffert)
Could You Be Concerned (Prokop-Hoffert)
Side 2
Presents of Presence (Prokop-Hoffert) *
Taking A Walk (Prokop-Hoffert)
Eight Loaves of Bread (Prokop-Hoffert)
What Sense (Prokop-Hoffert)
A Day in the Life (Lennon-McCartney)
Credits
Skip Prokop - drums and vocals
Paul Hoffert - keyboards and vibes
Ralph Cole - guitar and vocals
Grant Fullerton - bass and vocals
Pinky Dauvin - lead vocals
Myron Moskalyk - violin
Don Dinovo - viola
Dick Armin - violin
Leslie Schneider - cello
Paul Adamson - trumpet
Bruce Cassidy - trumpet
Howard Shore - alto sax and flute
Russ Little - trombone
Recorded in 1969 at Eastern Sound Studios, Toronto Canada and RCA's Music Centre of the World, Hollywood, California. Released by RCA Victor. Arranged and Produced by Skip Prokop and Paul Hoffert. Engineered by Phil Sheridan, Bill Seddon and Hank McGill.

Lighthouse - Suite Feeling - 1969 - RCA Victor 4241
---
[History] [Members] [Library] [Discography] [Videography] [Filmography] [Pictures] [Audio Files] [Video Clips] [Tape Archive] [Concerts] [Related Artists] [Merchandise] [Guestbook] [Chat Room] [Search] [What's New?] [Main Page]
Webmaster