The Original Texas Playboys: Under the Direction of Leon McAuliffe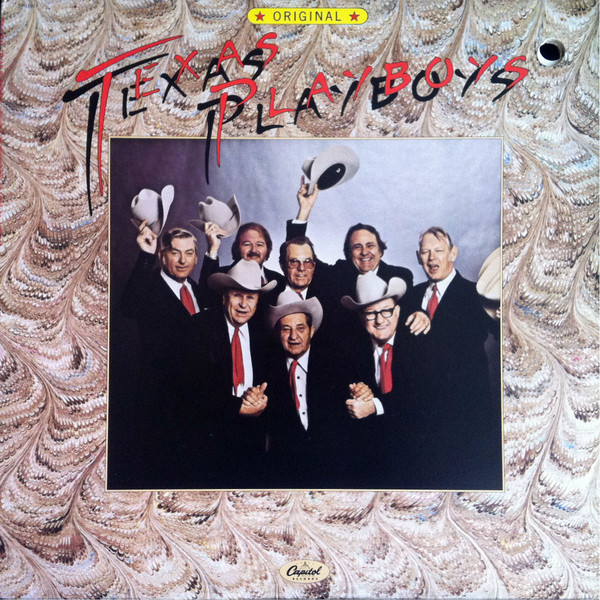 Bob Wills (1905 - 1975), aka the King of Western Swing, was one of the country music superstars of his time, playing fiddle with his band the Texas Playboys. The Country Music Hall of Fame inducted him in 1968, and Wills and the Texas Playboys were inducted into The Rock and Roll Hall of Fame in 1999.
The Original Texas Playboys were organized after Bob Wills's death in 1975. The band was made up of a core of Texas Playboys from the glory days in Tulsa -- Leon McAuliffe, Smokey Dacus, Al Stricklin, Joe Frank Ferguson -- and included Playboys from later eras -- Keith Coleman, Leon Rausch, Johnny Gimble, Gene Gasaway. A few years later, Eldon Shamblin would rejoin the group. The agreement was that when one of the originals died, the band would fulfill their remaining engagements and then disband, which they did after the death of Pianist Al Stricklin in October 1986.
On the 1979 album The Original Texas Playboys under the Direction of Leon McAuliffe they do a cover version of the Levon Helm/Henry Glover song "Blues So Bad" from Levon Helm & The Rco All-Stars.
Tracks
Walkin' On New Grass
Played The Game Too Long
Blue Bonnet Rag
I'm Satisfied With You
That's My Home
Big Beaver
It's My Life
Heaven, Hell Or Houston
Silver Bells (That Ring In The Night)
Blues So Bad
The Original Texas Playboys - Under the Direction of Leon McAuliffe - 1979 - Capitol Records ST-11917
---
[History] [Members] [Library] [Discography] [Videography] [Filmography] [Pictures] [Audio Files] [Video Clips] [Tape Archive] [Concerts] [Related Artists] [Merchandise] [Guestbook] [Chat Room] [Search] [What's New?] [Main Page]
Webmaster