Three Dog Night: Three Dog Night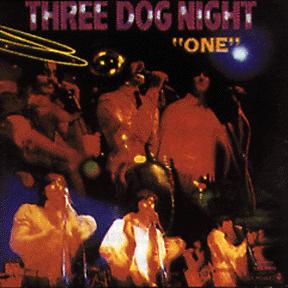 Three Dog Night scored a succession of 21 hit singles, including eleven Top Tens, and twelve consecutive gold albums from 1969 to 1975, thanks to the slick, sometimes soulful vocal harmonies of singers Danny Hutton, Chuck Negron, and Cory Wells and an excellent ear for quality material. While often criticized as commercial, the band was noted for its creative arrangements and interpretations, and their cover choices gave exposure (and royalties) to several talented songwriters. On their album Three Dog Night from 1969 they do a version of Robbie Robertson's "Chest Fever", originally from The Band's debut album Music from Big Pink. The group split up in 1975, and reunited again in 1981. Danny Hutton and Cory Wells were still touring as Three Dog Night in 1997.
A live recording of "Chest Fever" with Three Dog Night can be found on the album Captured Live at the Forum (Three Dog Night, 1969, Dunhill DS-50068).
Tracks
One (Nilsson)
Nobody (Shelby/Beatty/Cooper)
Heaven is in Your Mind (Capald/Winwood)
It's for You (Lennon/McCartney)
Let Me Go (Whitten)
Chest Fever (Robertson)
Find Someone to Love (Watson)
That No One Ever Hurt This Bad (Hardin)
Don't Make Promises (Newman)
Loner (Young)
Try a Little Tenderness (Campbell/Woods/Connelly)
Three Dog Night - Three Dog Night - 1969 - Dunhill 50048
---
[History] [Members] [Library] [Discography] [Videography] [Filmography] [Pictures] [Audio Files] [Video Clips] [Tape Archive] [Concerts] [Related Artists] [Merchandise] [Guestbook] [Chat Room] [Search] [What's New?] [Main Page]
Webmaster