Various Artists: Treff 3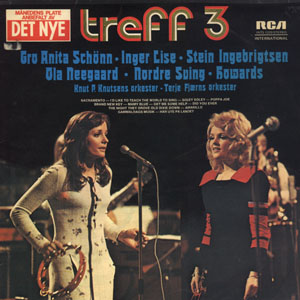 The long-lasting Norwegian Treff ("Hits") series of LPs had well-known Norwegian artists doing covers of international hits. The albums were all low-quality affairs, but sold quite well.
The third Treff LP came in came in 1972. It included an awful Joan Baez-inspired cover of The Band's "The Night They Drove Old Dixie Down", sung by pop-chanteuse Gro Anita Schönn.
Various Artists - Treff 3 - 1972 - RCA International INTS 1370
---
[History] [Members] [Library] [Discography] [Videography] [Filmography] [Pictures] [Audio Files] [Video Clips] [Tape Archive] [Concerts] [Related Artists] [Merchandise] [Guestbook] [Chat Room] [Search] [What's New?] [Main Page]
Webmaster