Jesse Ed Davis: Ululu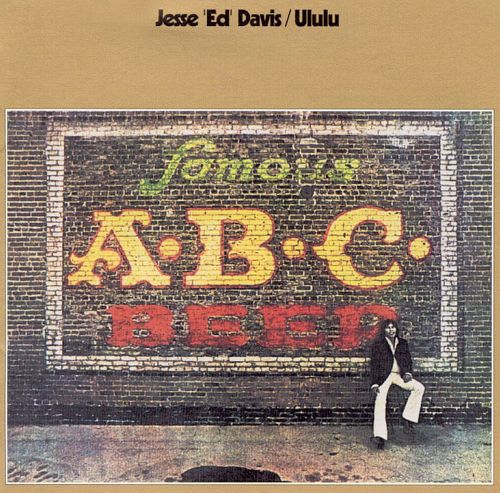 A full-blooded Kiowa Indian, Jesse Ed Davis was perhaps the most versatile session guitarist of the late '60s and early '70s. Whether it was blues, country or rock, Davis' tasteful guitar playing was featured on albums by such giants as Eric Clapton, Neil Diamond, John Lennon and John Lee Hooker, among others. It is Davis' weeping slide heard on Clapton's "Hello Old Friend" (from No Reason to Cry), and on both Rock n' Roll and Walls & Bridges, it is Davis who supplied the bulk of the guitar work for ex-Beatle Lennon.
Born in Oklahoma, Davis first earned a degree in literature from the University of Oklahoma before beginning his musical career touring with Conway Twitty in the early '60s. Eventually the guitarist moved to California, joining bluesman Taj Mahal and playing guitar and piano on his first three albums. It was with Mahal where Davis was able to showcase his skill and range, playing slide, lead and rhythm, country and even jazz guitar during his three-year stint.
The period backing Mahal was the closest Davis came to being in a band full-time, and after Taj's 1969 album Giant Step, Davis began doing session work for such diverse acts as David Cassidy, Albert King and Willie Nelson. In addition, he also released three solo albums featuring industry friends such as Leon Russell and Eric Clapton.
In and out of clinics, Davis disappeared from the music industry for a time, spending much of the '80s dealing with alcohol and drug addiction. Just before his death of a suspected drug overdose in 1988, Davis resurfaced playing in the Graffiti Band, which coupled his music with the poetry of American Indian activist John Trudell. The kind of expert, tasteful playing that Davis always brought to an album is sorely missed among the acts he worked with.
-- Steve Kurutz, All-Music Guide
On his second solo album Ululu, Jesse Ed Davis does a cover version of "Strawberry Wine" from The Band's Stage Fright. Present on this album are several Band cohorts like Dr. John, Jim Keltner, Donald "Duck" Dunn, and the great Stan Szelest.
Tracks
Red Dirt Boogie Brother
White Line Fever
Father On Down The Road
Sue Me Sue You Blues
My Captain
Ululu
Oh! Susannah
Make A Joyful Noise
Alcatraz
Jesse Ed Davis - Ululu - 1972 - Atco 33382
Compact Disc: Japan ? (1998)
---
[History] [Members] [Library] [Discography] [Videography] [Filmography] [Pictures] [Audio Files] [Video Clips] [Tape Archive] [Concerts] [Related Artists] [Merchandise] [Guestbook] [Chat Room] [Search] [What's New?] [Main Page]
Webmaster