The Icicle Works: Up Here In The North Of England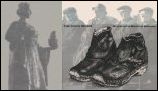 The Icicle Works were a Liverpool based rock trio best remembered for their 1984 hits "Birds Fly (Whisper To A Scream)" and "Love Is A Wonderful Colour". The 1986 5-song EP Up Here In The North Of England with it's cover version of Rick Danko's trademark song "It Makes No Difference", is reportedly a limited edition, with only 5000 copies being pressed.
The group disbanded in 1991, but Ian McNabb (their singer/songwriter and only consistent member) has subsequently issued several solo albums, with backing by (among others) Danny Thompson, Crazy Horse, the Waterboys, Noel Gallagher, etc. See his web site for more about Icicle Works and McNabb.
The Icicle Works' version of The Band's song can also be found on their promo single It Makes No Difference (12" Beggars Banquet BEG 144T) and on the cassette release of the EP Evangeline (CS Beggars Banquet BEG 181C), both UK only.
Tracks
Up Here In The North Of England (Ian McNabb)
It Makes No Difference (J. R. Robertson)
Sea Song (Robert Wyatt)
Nature's Way (Randy California)
Waylaid (Chris Layhe)
Personnel
Ian McNabb, vocals/ guitars/ keyboards
Chris Layhe, bass/ guitars
Chris Sharrock, drums
Tony Kelly, sax/ flute
Ian Broudie, additional keyboards
"Up Here In The North Of England" produced by Ian Broudie. "Waylaid" produced by Geoff Muir and Chris Layhe. Other tracks produced by Geoff Muir and Ian McNabb.

The Icicle Works - Up Here In The North Of England - 1986 - Situation Two SIT 45T
---
[History] [Members] [Library] [Discography] [Videography] [Filmography] [Pictures] [Audio Files] [Video Clips] [Tape Archive] [Concerts] [Related Artists] [Merchandise] [Guestbook] [Chat Room] [Search] [What's New?] [Main Page]
Webmaster