Rod Stewart: Vagabond Heart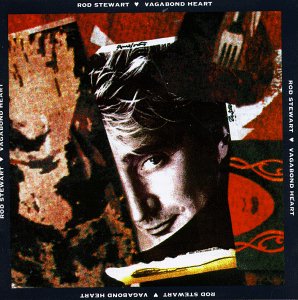 Vagabond Heart was Rod Stewart's second album after his "grand" come-back in 1988. It's a pretty good album (if you like this kind of crap, that is, it sold well anyway), featuring a consistent set of songs including Robbie Robertson's "Broken Arrow" from his first solo album.
Rod Stewart's version of "Broken Arrow" charted in the UK at #54 in September 1991, and in the US at #20 in January 1992, (also as B-side UK #41, April 1992), and is included on the compilation If We Fall in Love Tonight (Rod Stewart, 1996, Warner Brothers 46452).
Tracks
Rhythm Of My Heart
Rebel Heart
Broken Arrow (Robbie Robertson) (125K)
It Takes Two
When A Man's In Love
You Are Everything
The Motown Song
Go Out Dancing
No Holding Back
Have I Told You Lately
Moment Of Glory
If Only
Rod Stewart - Vagabond Heart - 1991 - Warner Brothers 2-26300
---
[History] [Members] [Library] [Discography] [Videography] [Filmography] [Pictures] [Audio Files] [Video Clips] [Tape Archive] [Concerts] [Related Artists] [Merchandise] [Guestbook] [Chat Room] [Search] [What's New?] [Main Page]
Webmaster