Jimi Hendrix: West Coast Seattle Boy - The Jimi Hendrix Anthology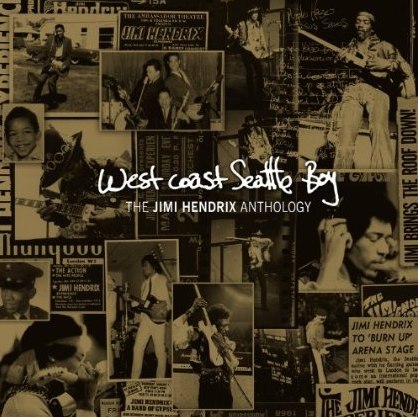 2010 Hendrix 4 CD/1 DVD collectors box with 45 unreleased live and studio recordings, including early session work, demos and alternate versions of songs from Are You Experienced, Axis: Bold As Love, and Electric Ladyland. The DVD is a documentary based on the life and career of Hendrix directed by Bob Smeaton, called Jimi Hendrix Voodoo Child.
West Coast Seattle Boy includes Hendrix's never before heard version of Bob Dylan and The Band's "Tears of Rage" -- a rather uninspired and not very interesting demo recording. The track is also available on the parallell 1 CD, 1CD + DVD and 180g vinyl 8-LP editions released under the same title.
Tracks
Disc 1
The Isley Brothers: Testify
Don Covay: Mercy, Mercy
Don Covay: Can't Stay Away
Rosa Lee Brooks: My Diary
Rosa Lee Brooks: Utee
Little Richard: I Don't Know What You Got But It's Got Me
Little Richard: Dancing All Around The World
Frank Howard & The Commanders: I'm So Glad
The Isley Brothers: Move Over And Let Me Dance
The Isley Brothers: Have You Ever Been Disappointed
Ray Sharpe: Help Me (Get The Feeling) Part One
The Icemen: (My Girl) She's A Fox
Jimmy Norman: That Little Old Groove Maker
Billy Lamont: Sweet Thang
King Curtis: Instant Groove
Disc 2
Fire (previously unreleased alternate recording)
Are You Experienced? (previously unreleased recording)
May This Be Love (previously unreleased alternate recording)
Can You See Me (previously unreleased alternate recording)
The Wind Cries Mary
Love Or Confusion (previously unreleased alternate recording)
Little One (previously unreleased recording)
Mr. Bad Luck (previously unreleased alternate recording)
Cat Talking To Me (previously unreleased alternate recording)
Castles Made Of Sand (previously unreleased recording)
Tears Of Rage (previously unreleased recording)
Hear My Train A Comin' (previously unreleased recording)
1983 (A Merman I Shall Turn To Be) (previously unreleased recording)
Long Hot Summer Night (previously unreleased recording)
My Friend (previously unreleased recording)
Angel (previously unreleased recording)
Calling All The Devil's Children (previously unreleased alternate recording)
New Rising Sun ( previously unreleased alternate recording)
Disc 3
Hear My Freedom (previously unreleased recording)
Room Full Of Mirrors (previously unreleased recording)
Shame, Shame, Shame (previously unreleased recording)
Messenger (previously unreleased recording)
Hound Dog Blues(previously unreleased recording)
Untitled Basic Track (previously unreleased recording)
Star Spangled Banner [LIVE] (previously unreleased original mix)
Purple Haze [LIVE] (previously unreleased original mix)
Young/Hendrix (previously unreleased alternate recording)
Mastermind (previously unreleased recording)
Message To Love (previously unreleased alternate recording)
Fire [LIVE] (previously unreleased recording)
Foxy Lady [LIVE] (previously unreleased recording)
Disc 4
Stone Free [LIVE] (previously unreleased recording)
Burning Desire (previously unreleased recording)
Lonely Avenue (previously unreleased recording)
Everlasting First (previously unreleased alternate recording)
Freedom (previously unreleased recording)
Peter Gunn/Catastrophe (previously unreleased alternate recording)
In From The Storm (previously unreleased alternate recording)
All God's Children (previously unreleased recording)
Red House [LIVE] (previously unreleased recording)
Play That Riff (previously unreleased recording)
Bolero (previously unreleased recording)
Hey Baby (New Rising Sun) (previously unreleased alternate recording)
Suddenly November Morning (previously unreleased recording)
Jimi Hendrix - West Coast Seattle Boy - 2010 - Sony Legacy
---
[History] [Members] [Library] [Discography] [Videography] [Filmography] [Pictures] [Audio Files] [Video Clips] [Tape Archive] [Concerts] [Related Artists] [Merchandise] [Guestbook] [Chat Room] [Search] [What's New?] [Main Page]
Webmaster