Garth Hudson & The Crowmatix
The Forum, London, March 1st, 1999
---
| | |
| --- | --- |
| This review of the Garth & Crowmatix/Mercury Rev concert in London, UK, 03.01.99, was first posted in the guestbook at the site. Photos of musicians copied from the Woodstock Records web site, used with permission. | |
---
Musicians
Set List
Garth Hudson - keyboards, accordion, saxophones
Randy Ciarlante - drums, vocals
Aaron Hurwitz - keyboards, vocals
Marie Spinoza - vocals, percussion
Gino Lupari - bhodran on Rumanian Girls
Don't Wait
Toots
High Price
Fading Fast
Saigon
Creod
Largo
Caravan
Young Blood
Rumanian Girls
(Poor Fool - not performed)
Chest Fever
This was a stunning set. Expect the unexpected. Garth and The Crows flew in on Sunday to play Monday. Lee, Jan and I were privileged to hear the soundcheck too. They were using Mercury Rev's twin Roland R80 keyboards and drums, so Garth spent most of the time connecting up his stack of synthesizer modules to the keyboards.

Garth, Randy, Aaron Hurwitz and Marie Spinosa did more than an hour. As a taster, they started with a great Don't Wait. The three voices (Randy, Marie, Aaron) blended together well, and it helped the visual focus to have a charismatic vocalist standing up front. This is my favourite song from Jubilation, and the reading by Randy, Aaron and Marie was faultless. Garth was playing accordion. It was great to see his keyboards at the front with a spotlight on him.

They moved into a Toots & The Maytals piece, which I don't know, but the lyrics included The more you get, the more you want. Aaron's bass part on keys and Randy's drumming combined in a wonderful, lurching reggae feel. Garth was still playing accordion. Then they moved into High Price of Love, a number I'd never singled out fromHigh on The Hog. I've heard Band live versions on tape, but I preferred this version. Marie featured on lead vocals for Fading Fast, a song I didn't know. The title's from the set list. The audience were there mainly for Mercury Rev - the concert was sold out before Garth was announced - and they were loving every second of it. As were Mercury Rev, who all watched from the wings.

The middle of the set was instrumental, with four pieces linking into each other. A keyboard section of sheer Hudson genius (presumably Saigon and Creod on the set list) moved into Garth on saxes for Garth's Largo, then into a version of Duke Ellington's 1937 classic, Caravan . It was insiduous snake-charmer music, and any snakes around North London on a wet cold day would have been charmed, believe me. The backing throughout was fluid and supportive, with Marie playing a wide variety of percussion instruments along with Randy's drums and Aaron's keyboard. Then they snapped back into Young Blood with Garth's hoped-for vocal contribution.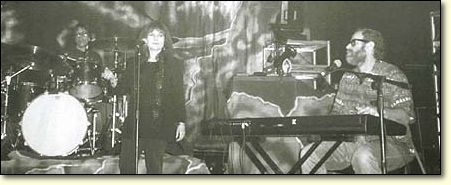 Randy Ciarlante, Marie Spinoza and Aaron Hurwitz on stage at The Forum. Photo compliments of the Woodstock Records website.
Then came a piece which Garth announced as Rumanian Girls. Gino Lupari of Four Men and a Dog came on with bhodran, giving us three percussion players. I wouldn't know how to describe it. Eastern European folk dance whirling around. Totally compulsive listening. And it all blended finally into a version of Jimmy-Crack-Corn featuring the three vocalists again.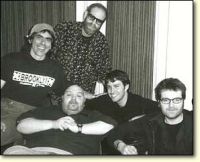 Randy, Gino Lupari, Aaron, Jeff of Mercury Rev and Kevin Doherty partying.

We feared that time would end it there - their set had been planned at 50 minutes, but the headline act were waving them to continue. Aaron said Chest Fever, Garth wondered if they had time, but Aaron, Randy and Marie walked to the side in time-honoured fashion, and the always unfamiliar magic of The Genetic Method started. After a while, Garth said "Randy …?", but Aaron and Randy were waving him to keep going, it was too great to interfere with.

Then the three came back on, and that crunch as they launched into Chest Fever came. That sublime moment at Band concerts. And of course, Randy now is the voice of Chest Fever, he has been for years. Does it superbly too. Marie and Aaron were singing with him. A thrill to see from beginning to end. This is a great four piece, and they're NOT playing what you'd expect or following Band arrangements. They're adding all the time. They have to take this line-up on the road, and let America hear it. What about an album?

Mercury Rev, judging from the set and the reaction are destined to be megastars. I caught the soundcheck and second part of the set (including Opus 40 and Goddess on the Highway, but spent the first half talking to Lee and Jan. So much to talk about.

For those who are wondering about adventures with ticket touts, Tom Morreti of Woodstock Records and Randy Ciarlante ensured that all three of us had passes. I left Jan and Lee with Garth & The Crowmatix at the Forum at about midnight for my drive back to the coast. Two hours of open road with "Jubilation" and "Deserters Songs" on at full volume. I remembered writing in my review of "Jubilation" on the site that only Garth, Randy, Aaron and Marie appear on every single track.

More, please!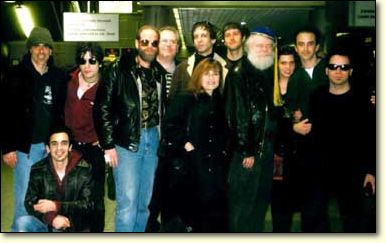 The Crowmatix and Mercury Rev at Heathrow Airport 03/02/99, ready to leave London after the concert at the Forum. Photo compliments of the Woodstock Records website.
---
[History] [Members] [Library] [Discography] [Videography] [Filmography] [Pictures] [Audio Files] [Video Clips] [Tape Archive] [Concerts] [Related Artists] [Merchandise] [Guestbook] [Chat Room] [Search] [What's New?] [Main Page]
Webmaster