"The Last Waltz"
The greatest rock 'n' roll movie
---
From John Orr's Triviana web site, May 2002.
Copyright © 2002 John Orr. Reprinted with permission from the author.


---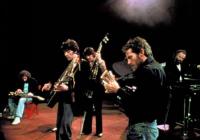 The Band in "The Last Waltz"
---
The Band
History lesson: The Band was Rick Danko, Levon Helm, Garth Hudson, Richard Manuel and Robbie Robertson. They'd all been recruited by rockabilly singer Ronnie Hawkins in the late 1950s, when most of them were in their teens. They left Hawkins in 1963, toured as Levon Helm and the Hawks, then hooked up with Bob Dylan. When Dylan decided to expand his music from acoustic folk to electric rock, the Hawks were the band his old fans booed. When Dylan was hurt in his a motorcycle accident in 1966, he and the band holed up in a house Danko had rented in Woodstock, New York, called Big Pink.

From that house came Dylan's collection, ''The Basement Tapes,'' and then, in 1968, The Band's first album, ''Music from Big Pink.''

Just as Dylan had changed course of rock 'n' roll with ''Like A Rolling Stone,'' so did ''Music From Big Pink'' change popular music. No less a light than Eric Clapton credited that album, and its follow-up, ''The Band,'' with making him want to quit the band Cream and change his own musical style.

Band hits included ''The Weight,'' ''The Night They Drove Old Dixie Down'' and ''Up On Cripple Creek,'' but from the beginning they were an album band. Their fans wanted albums, not singles, and as great as the albums were, in concert The Band was even better.

After eight years of tremendous success, guitarist and songwriter Robbie Robertson decided he didn't want to tour anymore. Hence ''The Last Waltz,'' which was to be the end of The Band.

But in 1983, Danko, Helm, Hudson and Manuel reformed as The Band, with Jimmy Weider on guitar. In 1986, Manuel committed suicide. Danko, Helm and Hudson and other musicians continued to tour until Danko's death, in his sleep, in 1999. That was the end of The Band.

Helm suffered from and beat throat cancer, but it has left him unable to sing. He continues to tour, playing drums with the Barn Burners, a band that includes his daughter Amy Helm. He was well received as an actor in ''The Coal Miner's Daughter,'' ''The Right Stuff'' and other films.

Hudson performs often, sometimes with his wife Maud, a singer, sometimes with Professor Louie and the Crowmatix or other bands. His first solo CD is ''The Sea to the North,'' released in 2001. Robertson has stayed off the road, but has stayed active in the studio and in film work, as an actor, musician and producer.

-- John Orr

''Some local people had pre-lit the hall as if it were just going to be a rock concert of some sort,'' says Director of Photography Michael Chapman on one of the commentary tracks of ''The Last Waltz" DVD. ''And we only had a few days. When I got there it was all wrong and we spent days taking it all apart, it was awful, oh my God.''

It was not, of course, just ''a rock concert of some sort.'' It was ''The Last Waltz'' of The Band, one of the greatest and most influential bands in the history of rock 'n' roll, and it was to be memorialized by brilliant filmmaker Martin Scorsese and an amazing crew of cinematographers, sound engineers, designers and stage people. More than 25 years later, ''The Last Waltz'' still stands as the best movie ever made about rock music and its musicians, and the best live rock concert album of all time.

It is a two-hour blast, an on-stage pass to watch, up close and personal, while Levon Helm, Richard Manuel and Rick Danko -- three of the finest rock singers ever -- give their very best recorded performances of great tunes such as ''Stagefright,'' ''Up On Cripple Creek,'' ''The Shape I'm In'' and ''The Night They Drove Old Dixie Down,'' accompanied by thrilling playing from genius keyboards player Garth Hudson and terrific guitarist Robbie Robertson.

And then there are the guests: Eric Clapton in a monster cutting session with Robertson on ''Further On Up the Road.'' Neil Young singing ''Helpless'' touchingly, aided by a surprising, yodeling duet with Joni Mitchell, who later performs her own ''Coyote.'' Paul Butterfield blows power harp and sings a duet with Helm on ''Mystery Train.'' Muddy Waters hammers ''Mannish Boy.'' Van Morrison thrills with a fabulous duet with Manuel on ''Tura Lura Lural,'' then goes over the top with ''Caravan.'' Bob Dylan shows up for a brilliant set, and closes the main show with a stage-filled anthem of ''I Shall Be Released.''

And it's all about the music. Scorsese, who'd worked on ''Woodstock'' as an assistant director, didn't want to take that film's approach and spend half the movie on the audience. ''I was particularly interested in the relationship of the artists on the stage,'' he says on the DVD, and he shows that -- the delight they take in hearing each other, the momentary confusions about which songs to play and how to finish them, the surprises, such as Van Morrison getting Robertson to take a solo so that he can scat-sing in a duet with the guitar.

It's a movie that captures how musicians feel when they are really hitting it.

When it was released, music fans and film fans alike reveled in it, and the revelations continue and expand with the long-awaited DVD and a fabulous four-disc CD set and book, both of which offer tons of previously unreleased material.

The excellence of the music would be enough, but the DVD and CDs packages both contain the fascinating history of the event and how it was put together. It's a surprising tale of immensely talented filmmakers and musicians working together over a ridiculously short period of time to make something special.

The concert itself took place on Nov. 26, 1976, on Thanksgiving, only about six weeks after Scorsese had agreed to film it -- while on break from making ''New York, New York'' with Liza Minelli and Robert De Niro.

First it was just going to be a concert, a farewell performance at Bill Graham's Winterland in San Francisco -- the first place The Band had played as The Band.

Then guest stars were added -- Dylan, Clapton, Young and many others. Then someone thought, gee, it would be swell to record it. Maybe a couple of video cameras.

Then Scorsese came on board, and 16mm film was considered. Then cinematographer László Kovács insisted on 35mm film. By Thanksgiving, concrete had been poured for three solid camera mounts, including a tower, track had been set behind the stage for another camera, and one cinematographer roamed with a handheld. Every camera was synchronized, as were two 24-track recording machines.

Graham's organization fed Thanksgiving dinner to an audience of 5,000 and entertained them with a waltz orchestra before the big show. When the stage lights came on, the audience saw the set from a San Francisco Opera production of ''La Traviata,'' and chandeliers from the movie ''Gone With the Wind.'' Once the music started, it went on for at least six hours, including two all-star jams and The Band's encore performance of ''Don't Do It.''

The cameras weren't built to shoot continually for six hours, and Scorsese, in a commentary, recalls ''constantly seeing sync motors being carried away like bodies.''

All that music made for a terrific two- hour movie and an excellent, three- disc vinyl LP in 1978.

But the DVD and CDs go way beyond what was possible a quarter-century ago.

The DVD has a beautifully transferred image and a remixed, 5.1 digital audio track. There are two audio commentaries; one featuring Scorsese and The Band's Robbie Robertson, and the other featuring The Band's Levon Helm and Garth Hudson, concert music producer John Simon, Dr John and several filmmakers. Also, a couple of gaseous journalists who can just be ignored. There is a fascinating behind-the-scenes featurette and footage of one of the all-star jams, during which Robertson drags Stephen Stills on stage and hands him his own guitar so Stills and Neil Young can trade licks.

The CDs set includes 24 previously unreleased tunes, from the concert itself and from rehearsals. Some of them could still have been left unreleased, such as Neil Young singing ''Four Strong Winds'' with The Band, in a rendition that sounds ill compared to the duet he recorded of it with Nicolette Larson.

But then there is ''Hazel,'' with Dylan, which is completely delightful, and ''The Genetic Method/Chest Fever'' and ''Greensleeves'' which had previously only been excerpted on the movie soundtrack, and were not on the vinyl at all. The latter two both feature Garth Hudson.

What's missing is discussion of some of the controversies attached to the movie, including whether or not special effects were needed to edit out cocaine rumored to have been visible in Young's nose, and whether or not Robbie Robertson was singing into a dead microphone, as Helm wrote in his book, ''This Wheel's on Fire.''

Garth Hudson, speaking by phone from his mountain home near Woodstock a few days ago, in his droll manner indicated he didn't know if Robertson's microphone was on or off. ''I wouldn't know. That involved military connectors and 120-foot cables and multi-pin connectors and recording in trucks and more than 24 tracks -- two 24-track machines in sync, all done by (recording engineer) Elliot Mazer. Only he would know whether it was on or off, and knowing Elliot, he won't tell you.''
At Home or at a Theater?
It can be fun to see in a theater, and thankfully there is a new, clean print out there now, with improved sound. But, really, the DVD, on a good TV and sound system at home, can't be beat.
See cast, credit and other details about "The Last Waltz" at Internet Movie Data Base.

---
[History] [Members] [Library] [Discography] [Videography] [Filmography] [Pictures] [Audio Files] [Video Clips] [Tape Archive] [Concerts] [Related Artists] [Merchandise] [Guestbook] [Chat Room] [Search] [What's New?] [Main Page]
Webmaster