Backtalk with Levon Helm
---
by Scott Jordan
This interview with Levon Helm first appeared in the December 1998 issue of the Louisiana music magazine OffBeat. Copyright © 1998, Scott Jordan, OffBeat, Inc. Please do not copy or redistribute this article.
---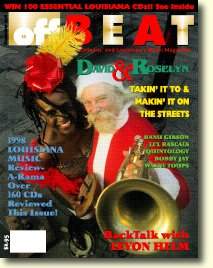 As one of the founding members of The Band, Levon Helm helped rewrite rock and roll history. In one stretch from 1965-1969, Helm and his bandmates broke all the musical rules of the era. They were the backing band for Bob Dylan's famed transition from acoustic folk to electric rock, and then moved to Woodstock, NY, where they honed an earthy, multi-layered sound that spotlighted the singing of Helm, Richard Manuel and Rick Danko, and the group's proficiency on no less than 17 instruments. Their first two albums, Music From Big Pink and The Band, contained stunning songs filled with rural imagery ("The Weight," "The Night They Drove Old Dixie Down"), and helped created a mystique around them that landed them on the cover of Time magazine in 1970.
The turmoil that followed their meteoric rise (intriguingly documented in Helm's autobiography, This Wheel's On Fire) culminated in the Band's 1977 "farewell" concert, The Last Waltz, filmed by Martin Scorcese and also released as a three-LP set.
The original members of The Band reformed in 1983, without original guitarist Robbie Robertson. Richard Manuel passed away in 1986, but Helm, Danko and Hudson have carried on The Band's legacy, with support from guitarist Jimmy Weider, keyboardist Richard Bell and singer/drummer Randy Ciarlante. This September, they released Jubilation, a rich song cycle that captures their inimitable classic sound in new songs like "Book Faded Brown," "High Cotton" and "Kentucky Downpour."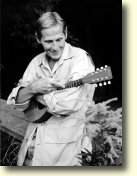 For Helm, his life and musical career are coming full circle. He's opening his own club, Levon Helm's Classic American Cafe, in New Orleans at 300 Decatur St. The grand opening date is December 26, and will feature Helm with some of his old friends and playing partners, including harmonica legend James Cotton and The Cate Brothers. His new New Orleans home is the result of years of ties to Louisiana music, and his business partner, Carmen Marotta, is the son of Tony Marotta, who ran the New Jersey nightclub where Bob Dylan discovered the Band three decades ago.
Opening your club here in the French Quarter is a somewhat of a homecoming for you. When you stopped playing drums for Bob Dylan for a spell in 1966, you came to New Orleans.
Yeah, that was a pretty skinny time, economically. I'll tell you a funny story: I got fired from the Court of Two Sisters for eating the entrees while I was working. I had a pretty good meal before I got fired (laughs). The Aquatic Engineering and Construction Company out of Houma, Louisiana was good enough to give me a job at the time. I finally retired out of that off-shore stuff after a couple of trips and went back to Memphis to the cotton carnival and started playing with the Cate Brothers again, and shortly after that, it was time to go up to Woodstock-The Band had gotten back. We were with Dylan at the time I took off. I had done the American part of the tour, playing Texas and California and up in the East. Then they were moving to Australia and Europe, and I bailed then. And a long year later, I was up in Woodstock, and we were in the basement at Big Pink, starting to put the Basement Tapes together. We didn't know that at the time, we were just strugglin' and looking for anything, mainly trying to listen to ourselves. We would record something, and Garth [Hudson] would tape it, and we'd hear ourselves back. When you first start that stuff, it's a hell of a hard lesson to take, 'cause you sound like hell (laughs). You just can't help it. We had to listen for a while, in order to stop doin' that stuff that didn't sound so good. I've had Duck Dunn tell me that too, that workin' at Stax Records and bein' the house band for Stax Records made him a much better player, because every day he would record and he would have to listen to himself back. They'd cut something with Otis [Redding] or Sam & Dave or whoever, and have to listen to it back and try and better that performance. Otherwise, you just work and sleep and work and do a song, and you're just producing all the time, so at Woodstock for the first time we could kind of sit back and take our medicine with it. After a while, we'd get it going and record it, then tear it up and start all over with it and re-record it. And if you do that three or four times, you can finally shake the dust out of 'em, if it's got any kind of a hook or little thing that calls on you at all. That's the only way we've been able to come up to what I would call record quality.
When you did start playing and recording at Big Pink, did you find that you were trying to break the wheel, so to speak, since you were used to playing in that full-bore muscular rock and roll mode with Ronnie Hawkins and Dylan?
True. All we were supposed to do was show up and produce. You know, produce the show, pack up, and get the hell to the next town and produce another show. So now we're faced with trying to re-do that song in a better way, and it gave us a chance to try and see if we could sound like the Staples Singers with our harmonies, or try standard songs, and Richard would sing the lead, usually, but Richard would stop, and then Danko would sing the lead, and he would sing a harmony part, then I would do the lead, and switching it around like that gave us a better idea of the way we could blend our voices. And it ended up, they started calling us the band with three singers. But it started out as resting Richard up (laughs), because in the very beginning, Richard was our singer, of course. I never thought much about it because Richard was so damn good.
When you were living down here, was that your first direct experience with New Orleans music, aside from hearing artists like Fats Domino on the radio?
I had heard the New Orleans music, of course. Huey Piano Smith and the Clowns, those records were real big all through the Delta, and all the New Orleans music was on the radio and available, and was my cup of tea right from the very front. Earl Palmer has got to be the greatest rock and roll drummer that's still around, as far as I'm concerned. God, the songs he recorded...I got to meet him at the JazzFest, and I didn't really twist his arm, but I told him we were going to be downtown, and showed him the club, and I told him, pick out your apartment up there, because it's going to be your place (laughs). I hope he was serious, because I was. I can't wait to ask him to come in and play with me, and get a drum chorus going. Whatever Earl wants to do would be fine with me.
Did you ever directly cop licks from Earl, or any of the other great New Orleans drummers, like Smoky Johnson?
Oh, yeah (laughs). I'll tell you what I did. Growing up in a Memphis town, that's what made my playing a little different, because I concentrated so much on that wooden-sounding backbeat, with lots of stick and skin in the sound, and not much metal-that hard Memphis knock. So I was naturally drum-conscious going into it. So we were cutting up at Big Pink, or after Big Pink, and we had learned a few little recording techniques of our own. I came up with a drum fill that I thought was pretty hot, and I was just about ready to pat myself on the back, and started listening around to some stuff, and damn it if Earl Palmer didn't already do it on one of Little Richard's records (laughs). The hook that Earl Palmer did on "Keep a Knockin," that drum kick-off, that's one of the greatest hooks in music, for my ears.
When you all did the Moondog Matinee album of covers, New Orleans is stamped all over that album, with Clarence Frogman Henry's "Ain't Got No Home," Allen Toussaint's "Holy Cow" ?
Of course. The first song we did that we could get horns on was "Life is a Carnival," or "W.S. Walcott's Medicine Show," one of 'em, but we got Toussaint up there when we could make that move. Because his music, the Lee Dorsey records and all that, was really where we thought horns should live. I'm still glad that we did it exactly like that, because we had that history with Allen that early, in '72 or '73. And there's an example, that record that you're talkin' about, it was just old ones and good ones that we all loved. By then that was our fourth record maybe, and we knew what the score was by then. Everybody had come to realize that ugly word, publishing, and we didn't have any of it (laughs). And writer's credits, and the Band, for the music part of it, had pretty much busted up already. We did live things, and we did old ones and good ones, but we never collaborated with each other and wrote songs like we did for the first three records.
Toussaint's horn charts on the live Rock of Ages album are tremendous.
Exactly. That was an example, it was time for us to turn in an album for Capitol. It seemed like we were always an album behind, and we got Toussaint to come in and help us do a live show. I think Bob [Dylan] came down and played with us, and we had all those good horn players, and turned it in and called it a record, and Capitol didn't know the difference (laughs). And that's kind of the way our career went right on up to The Last Waltz.
You've also been tight with Bobby Charles over the years.
Bobby came up later on. Dr. John came to Woodstock, and Bobby showed up around that time, because one night me and him played with Bobby Charles up at Bearsville Studio. Bearsville studio was brand new, and Bobby ended up doing a recording deal with Bearsville with Albert Grossman. And me and the Dr. played drums and organ for him one night there in studio B. I think it was "Small Town Talk."
How did Dr. John get into the Woodstock scene? You two have a long history as well.
Just that mutual thing between musicians, you know. When I first heard the Night Tripper, Dr. John was my man. When I finally got to meet Dr. John, it was right there when we got to help Bobby with his record. And I was knocked out to get to play with him and have a friendship with him. We just ended up buddying up, you might say. We cut some things together: he did The Last Waltz, helped us do that, and some other things that happened. The last thing that me and him did together was the Ringo Starr All-Star Band thing, which was a whole lot of fun. We went to China and had a ball, and I think the people enjoyed the show. It was funny, too. With Dr. John, and Billy Preston, and Clarence Clemons, and Joe Walsh...oh, man, me and Nils Lofgren, everybody was just laughing all the time.
And you two did the Muddy Waters at Woodstock album together...
That's right, and a lot of that I'll take credit for, because I've always been looking to hook up with Dr. John any time I could get a chance.
And your RCO All-Stars Band that you put together when the Band first broke up was such an underrated band: you and Dr. John and Steve Cropper and Duck Dunn. Did you hand-pick that band?
Yeah, ABC Records had not been conglomerated up yet-they got bought out shortly after that-but I signed with them, and all of a sudden I had a record budget to spend on a record, so I said, hell yeah, I called up Duck and Fred Carter and Dr. John and everybody, and we all got to Woodstock and started having fun. I had as good a time with that project as I've ever had. And of course we had Henry Glover there, who was our main guidance system there. Everybody knows who Henry was.
Is Henry still alive?
No, dammit. We lost the studio there that we cut the RCO thing, I had just built the studio that we got there, and we had a damn fire, and lost the building, or most of it. And the night the building burned down, damned if Dr. Henry Glover didn't die that night. So I get up the next day at the damn Holiday Inn with a bathrobe and a pair of cowboy boots, and answer the phone, and now I've got to rent a tuxedo and go to Henry Glover's funeral. Jesus. What a day. When it rains, it pours. But he sure did do right by us. He brought Muddy Waters to town, and we did the Muddy Waters Woodstock record, and Butterfield did some great stuff. Henry did some string things with Butterfield that I don't think people have gotten to hear yet, where Butterfield's playing and singing with strings behind his voice and his harp. It's great stuff. And he helped me do the RCO All-Star thing, and did the horn arrangements for Van Morrison on The Last Waltz. With Henry Glover being around, music would happen all the time. Something good was always happening.
The new Band record, Jubilation, to my ears, is the best thing The Band has done since you started recording again. It has that warmer, acoustic, Big Pink, Basement Tapes kind of feel.
That's right. We even went so far as to use the acoustic stand-up bass, and it is on eight songs, I think, and the electric bass is on three.
Did you approach Jubilation differently from your last two albums, Jericho or High on the Hog?
The main thing we did was we went back to the way we cut Big Pink, which was to get in the building together in the studio, and record the song, then tear it up and rewrite it and do it again, and do that until it was right. And then we had some friends come in and help us do some songs-Bobby Charles, John Hiatt, Eric Clapton. We all kind of co-wrote the things with each other. We started in January and worked until pretty close to the end of the summer. We were doing it as a tribute to Big Pink-it was the 30th anniversary for Big Pink, and we were seeing if we could come up with some songs that would last for a while like Big Pink seems to have done. And we'll be doing the live premiere of the album here on New Year's Eve, right at at 300 Decatur St. And I'm sure there'll be some special guests. Down the road, I've asked Donald Fagen to come, and Harry Dean Stanton, Clarence Clemons, Vassar Clements, then people like John Anderson will be coming in later on with their band. Asleep at the Wheel is coming, James Cotton. It's exciting. James will be in and out all the time, because we're from the same town..
Jubilation also has your classic drum sound: that muted, beautiful ensemble playing.
Yeah, playing the lyric more. The most fun of it is when you get the song down, and it's effortless, and the song plays you, and it's a free ride through a wonderful time. That's always what you're shooting for. It was that way with special attention paid to the micing of the snares and cymbals, and then we used the overhead mic and got a lot of the room sound in, and the sound of the horns, we put over in the entranceway, which has got a lot of glass, to sharpen up the blends from the horn section. The other acoustic instruments help a lot, and lots of times we only have one electric instrument in the ensemble, and that's Garth's territory, because Garth can do more with it. And a lot of times Jimmy Weider used acoustic guitar and stayed off the electric. So that acoustical sound and style and attitude with the emphasis more on voices and blends, that was akin to Big Pink a lot, and the Basement Tape ensemble way of doing stuff.
If you had to narrow it down, what drummers did you really look up to when you were coming up?
My first big hero was Pat Curtis, with Sonny Boy [Williamson], the King Biscuit Boy. Pat Curtis also had the first plastic, "hot rod" I ever saw. He had it made out of a wooden handle, like a brush handle, and he had piano strings about 10, 12 inches long into that wooden handle. Those piano strings were heavy and copper wrapped, and hitting that brass cymbal, that metal on metal, it sounded like thunder coming. And he had filed off the ends of 'em so they weren't sharp, so when he hit the snare, and it wouldn't cut the skin, and it would sound like a stick. He'd have a stick in his left hand, and carry that hot rod in his right: Rap, bap, bap, bap! Then he'd go to the cymbals for the crash with the piano strings, and it was a wild damn sound.
You used to be able to see James right in the studio at KFFA in Helena growing up.
I'd go watch him do the radio show, and on Saturdays, they used to go load up that little King Biscuit bus, and they'd drive out to Marvel and set up at the depot and play for an hour, and maybe drive to Elaine, and set up somewhere down there, around the VFW hall and play for the people, and advertise a dance they were doing that night. We had a good band there in Marvel. Ralph Dejohnette had a band there, and he had an electric mandolin player that was good, and he had a drummer named Bubba Stewart who had a full set of drums, and he was good. We were drum-poor right there in my part of Arkansas. Bubba and Pat were the only two people I knew that had a set of drums. I borrowed and begged from both of them for a long time, until I could finally get a set. Pat and Bubba, and Walcott's Medicine Show, and Silas Green from New Orleans...Walcott had a nine-piece band, and had a left-handed drummer with three tom-toms that was real good. And then listening to the records, listening to Earl [Palmer], and the Memphis records with D.J. Fontana.. That was before Al Jackson and some of the later players, when Sun was still going. I've always been pulled into that Memphis drum sound. I really enjoyed making Jubilation, because I'd grown tired of the electric bass over and over and over. It hums and gets into everybody else's space, and I needed a little bit of rest from it.
It must have been a thrill and validation for you to see Sonny Boy Williamson again in 1967, after all the acclaim The Band was starting to generate, and learning from him as a kid.
Oh, hell yeah. We were this close to getting to play, because we went, we left Helena and went to Somers Point, New Jersey, to Tony Mart's club, and started playing, and the plan was, when we shook hands goodbye with Sonny Boy, was that we would be back in touch and we'd try and get him fixed up so he'd come up to New Jersey and join us before the summer was out. We didn't know how the hell to pull that off, but we had some big plans at the time, and of course Sonny Boy had lived out his life by then, and passed away shortly. I tell you what though, Garth got Champion Jack Dupree to come through town, when he was here three years ago I guess, he was on his way back to Germany, he came through Woodstock and we recorded an album's worth of songs. He left Woodstock and went back to Germany and passed.
I would imagine that is his last session; the two CDs he recorded here in New Orleans for Rounder were thought to be his final recordings.
Yeah, and it's still in the tape vault some-damn-where. It should be out though. Garth produced it. We cut two nights with him, 10-12 songs, and good ones too. He had a young kid from Holland playing guitar with him, and me and Garth and Jimmy Weider and some more players.
Is that an album that may come out on Woodstock Records, the label you just started?
I hope so. We've done a live album from Rick Danko, and my CD with the band the Crowmatix. We've got some more things that we want to cut.
Is that something you're enjoying having as your own, after all your experiences in the music business?
Yeah. Record companies haven't made me feel very good lately, and I'd just rather not work for 'em. I'd rather work for myself. They take your songs, and treat you the way they want to, and put your songs out when they think they should come out, and it just gets a little cold, for me. We want to do what we want to do, we don't want to talk somebody into every goddamn thing. You know, they come up at you and give you a piece of money, and look at you like they've given you half the world. I've got news for 'em: inflation eats those little budgets up, boys, they don't work no more.
Have you considered doing a solo album again at some point?
Yup. I've got a couple things I want to do. I want to work with my daughter Amy, who's ready to start doing some music herself, and I want to work with her because she can sing a whole lot better than I can, and is a whole lot prettier than me (laughs). And I want to cut a blues record of my own, and a Nashville record, and I want to cut an instrumental record with the band.
As a fan, the country record is one I've always hoped you'd do. Your version of "When I Get My Rewards" on the Nitty Gritty Dirt Band's Will the Circle Be Unbroken, Vol. II, is gorgeous, and that's a side of you people don't get to hear very often.
I sure want to do it. I want to get Vassar Clements, and Randy Scruggs... And hell, if we can't do it any other way, we'll do it live at the club. It's really exciting. Besides it giving me a good job, it can give me a record, and a stage to experiment with any song I want to.
In the last decade, your work as a sideman seems to really have taken off. You've played on albums with Los Lobos, Bonnie Raitt, the Largo project, ... Do those projects seem to fall into your lap, or are musicians just looking for your voice on particular songs?
I think so. It's like we do each other favors. I got to sing on John Anderson's record, and got to play some shows with John, and it's because we like each other and get along and like to play with each other. It's no big plan on my part or his, it's just luck. When it wants to happen like that, I don't believe anything is just circumstance. I believe everything is for true, and we should take everything we can get and really enjoy it, and expect it to mean something. I've made myself that way, open to anything, and people know that I love to try anything new. Because of it, I've gotten to sing with Emmylou Harris, and Sheryl Crow, and Martina McBride, and some great people.
Word has it you're going to be playing with a lot of New Orleans musicians at your club, and assembling an all-star New Orleans band. Who can people expect to see?
I'm really looking forward to that. That's the reason for doing it right here, because there's more players here than probably anywhere else in the world, when you get right down to it. And I want to get to play with all of 'em. A lot of 'em I know, and a few of 'em I've gotten to play with already. All of us should be able to have a good gig out of this, that's what I'm looking for. Luther Kent's one of the best singers in town, and Banu Gibson, one of our partners, and Brint Anderson is our ace in the hole. He's going to be our bandleader. And we'll have Irma Thomas, Gary Hirstius, Adams/Griffin Project, Eddie Bo, Tom McDermott' We want to make sure this is the one club musicians will be treated right. We just want to be for real and natural in this thing, and get some good out of it. Can you imagine Earl [Palmer] back here, as the godfather for us all drummers, and giving us something we can pass on to the younger drummers coming up, and helping them not having to go through what I had to go through?
Is part of what's made you keep the Band going through all these years to pay tribute to Richard Manuel, and keep his spirit alive?
Absolutely. People still talk about Richard, and ask about Richard, so the memory of Richard Manuel lives on. A lot of what Richard was has rubbed off on us, so we still sound a lot like we did back in Big Pink. Because we still had Richard then with us, and we went at it so hard that it kind of bore into us, and I guess we'll always sound like that a little bit.
It didn't seem like a hard decision for you and Rick and Garth and Richard to get back together and start playing music after The Last Waltz.
No, no a bit. We're all rhythm section guys, you know? That's what The Band was, and still is. And that's who Bob Dylan hired, and who Ronnie Hawkins hired, and anybody, like singers, they used to call them frontmen. They called us, The Band, sidemen. Anybody we worked for knew...especially being a drummer, you don't hardly think about the music without thinking about the band, and building a band is what rhythm section people have to do. Because I can't really sound my best until I've got the bass player and the piano player and the guitar and horns and all that with me. The more of them that will help me, the better I sound. And The Band's selling point, I thought, was that Richard Manuel was such a great singer, as we all know, that The Band had a frontman quality singer right there on the piano. And with myself and Rick resting Richard up, it kind of forced us to offer those second and third lead vocals that grew out of the outcome of it all. All of a sudden the band had the lead singers and the musicians all in one unit. It meant we could get a job without having to go to Ronnie Hawkins or Bob Dylan or somebody and ask for one.
The Band has had so many trials over the years-car accidents, fires, losing Richard...
And losing Robertson-losing him for The Last Waltz. It was tough coming back after The Last Waltz. There were some times it didn't seem like very many people were pulling for us at all, except when we would go and play, and the people that showed up to hear us play wanted to hear "Cripple Creek," and "King Harvest," and all those old songs. That's what got us through.
Your ongoing differences with Robbie Robertson are no secret, but one thing that seems to get lost now is that you two were such good friends for a long time.
Of course. We were a band of brothers, and like I said, we were all rhythm section guys, and none of us were afflicted with that frontman fever. Guitar-itis, I've heard it called, where it's just you, you're the most important one, and everybody else is in support of you, and ain't you just somethin'? (laughs). I thought we had pretty much beat that damn thing. None of us were goofy enough to want to be that way, I thought. And all of a sudden here's Robertson, goddamn if he ain't joined up with 'em. He's got the smoke and mirrors, and has Capitol Records willing to say, 'Okay, we'll go along with that, you are the one." And shit, he ain't singing or writing, but I'll tell you one thing: he is doing all the publishing. He and Albert [Grossman] are damn sure doing all the publishing.
The publishing is what your feud ultimately boils down to today.
Exactly. He and Albert get all the money, and the rest of us get all the leftovers, and he was supposed to be one of us, and was.
You've certainly got a great couple of guys with you now, with Randy and Jimmy.
Jimmy Weider has damn sure earned his seat with the band. He's had to listen to that bullshit "Where's Robbie'" more than anyone. It probably cut him more than anybody. He's damn sure had to listen to his share of that. It's taken Jimmy twelve, fifteen years just to get around all that. Only now can The Band get talked about as being the group that's able to do something without Robbie Robertson. Goddamn, that was so long ago, it just ought to be put to rest. The Band ain't Robbie Robertson.
---
[History] [Members] [Library] [Discography] [Videography] [Filmography] [Pictures] [Audio Files] [Video Clips] [Tape Archive] [Concerts] [Related Artists] [Merchandise] [Guestbook] [Chat Room] [Search] [What's New?] [Main Page]
Webmaster