The Band: Jubilation
---
by Ed Hewitt
This review of The Band's 1998 studio album Jubilation was copied from the Internet CD store Music Boulevard, October 1998. Copyright © 1998 Ed Hewitt, Music Boulevard
---
Rating: 7 (out of 10)
After a 30-year career fulfilling the role of the world's most exalted backup band as Bob Dylan's support, making an admirable body of music themselves, disappearing for a stretch, and reemerging sans leader Robbie Robertson, The Band seem content to be a group of lifers adjusting expectations without giving in. Superbly paced, heartfelt, and honest, Jubilation approaches Jericho as the best of The Band's post-Robertson albums. Gently and exquisitely competent, aged and ultra smooth, like a bourbon that's spent a long time on the top shelf; Jubilation is a rootsy, comfortable, and in the end exultant document of how an American institution can get older and better by simply doing what they do best.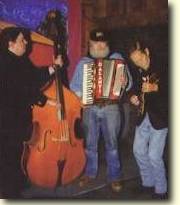 There are a couple high profile guest appearances: John Hiatt takes the lead vocal on the mandolin- and accordion-driven "Bound By Love," a folksy love song written by Hiatt in which Hiatt sounds like a lifetime member of The Band, and Eric Clapton gussies up the shuffle of "Last Train to Memphis" with some of the funkiest, dirtiest guitar work he's done in years. The star turns are fun, but far from the whole show.
"Well I was searchin' by myself / Singin' old songs see if they help," sings Levon Helm on "Don't Wait" in his dilapidated, evocative voice; he meets an older man by the sea, who tells him "I've know high times more than once / Now I stick strictly to the honky tonks," as Danko talk-sings the lines behind him.
History-making arguably long behind them, The Band looks no further than their music. This commitment is evidenced even on the back cover, where the remaining original members Garth Hudson, Rick Danko and Levon Helm stand in a half-circle in a corner, hunched over their instruments. The rock stardom, the rock and roll history- and myth-making, they've done it all, and now they're content to hunker down in the honky-tonks and jam. Lucky us.
---
[History] [Members] [Library] [Discography] [Videography] [Filmography] [Pictures] [Audio Files] [Video Clips] [Tape Archive] [Concerts] [Related Artists] [Merchandise] [Guestbook] [Chat Room] [Search] [What's New?] [Main Page]
Webmaster