The report of their demise was exaggerated indeed. Here it is, 20 years after filmmaker Martin Scorsese's The Last Waltz celebrated the Band's retirement, and the group is still making enjoyable country rock. Two original players are long gone, of course (Robbie Robertson by choice in 1976; Richard Manuel by suicide in 1986), but founders Levon Helm, Garth Hudson and Rick Danko are joined on this, the group's 10th studio album, by three longtime bandmates plus guest stars, like Eric Clapton and John Hiatt. The resulting music has the loosey-goosey, focused but ramshackle quality of the Band's best work. On the energized "Last Train to Memphis," Clapton confirms that there is no band and no song he can't make better, and on "White Cadillac," the group's elders pay tribute to a former roadmate, singer Ronnie Hawkins.Despite an occasional lapse into pretentiousness, the Band has always seemed to have an inordinate amount of fun with its music. Happily, that is still the case.
-- Ralph Novak

Bottom Line: Plenty of life in the old boys yet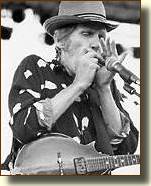 The manpower varies, but not the music for Levon Helm (above) and the Band.