New liver provides new life
---
by Jeremiah Horrigan
From the Times Herald-Record, January 2006. Photos by Tara Engberg. All text and photos are copyright &copy 2006 Times Herald-Record, please do not copy or redistribute.
---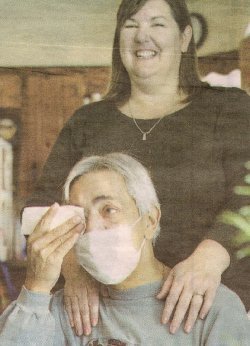 Butch Dener of New Paltz weeps while talking about his liver transplant surgery as his wife, Barrie, stands behind him.
New Paltz - Butch Dener's been a player in this community - a personality, a politician, a lightning rod - since the late '60s. He's been a confounding figure to many of his generation: a rock 'n' roll guy (manager for The Band) and a rock-ribbed conservative (former chairman of the town Republican Party). With a voice as distinctive as it was insistent, he's been a rebel with causes (low taxes, Wal-Mart!) that others his age didn't always grok, let alone appreciate.
Richie Hayward, a bosom buddy of Dener's and drummer with the ageless rock band Little Feat, explained the apparent generational disconnect this way recently: "We love you, Butch; we just don't get you."
Lately, more people have been finding more ways of "getting" Butch Dener. He hates to admit it, but he's mellowed. He says his eyes and his heart have been opened in the most harrowing possible way. After suffering eight years from the slow death known as hepatitis C, Dener received a new liver last month. With it has come a sense of joy and weary relief that brings frequent tears to this Harley-riding former hippie's eyes.
"It's the drugs," he claimed at first, but no one in the room last week, least of all his new wife, Barrie, was buying it. She just came behind the chair he was sitting in and cradled his head in her hands, smiling.
Drugs of a nonprescriptive sort were part and parcel of being 18 and sometimes attending classes at SUNY New Paltz in 1968. But despite the long hair, the beard and the attitude, Dener found himself drawn not to the college-kid life (he flunked out of SUNY three times) but to the established, old-line families he came to know - folks whose friendship and traditional values he still treasures and defends at every turn.
"I was a college kid, but I knew quality when I saw it," he said.
Rock-ribbed conservatism made a strange blend with rock band management, but it's all part of being Butch.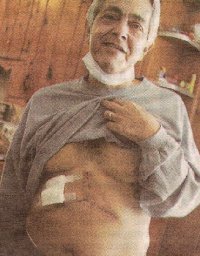 Dener shows the scars from his liver transplant that occurred on Dec. 12.
Ever since his wife, Barrie, has known him, being chronically ill has also been a part of being Butch - the part that's now history.
The couple were married, after a seven-year courtship that began on an Internet message board, in November. Dener's body had been so depleted by the disease that he wasn't sure he'd be able to stand throughout the entire ceremony. But he made it.
Then came the call from Mount Sinai Hospital around Thanksgiving. A liver was available. Get down here, fast. They did, only to learn the transplant couldn't happen. It was a long ride home.
A few weeks later, the same call, the same tense drive south, the same fears.
"I was so ready, so tired of being so sick," Dener recalled.
This time, the story had a different ending. Dener was admitted, and on Dec. 12, he underwent the 14-hour surgery that allowed him to resume a life he was on the verge of losing.
Dener's in homebound quarantine now, discovering again the healing qualities of music, even if it's on a CD. Like anyone who's survived a battle, he'll proudly show you his scars. Up goes the T-shirt, along with the corners of his mouth.
He thinks it looks like the Mercedes automobile emblem - a three-pointed star in a circle.
But he's wrong, and every one of his musician friends tells him so. That's no Mercedes symbol, they tell him. That's a peace symbol on your belly, Butch.
To that assessment, he can only nod and smile.
---
[History] [Members] [Library] [Discography] [Videography] [Filmography] [Pictures] [Audio Files] [Video Clips] [Tape Archive] [Concerts] [Related Artists] [Merchandise] [Guestbook] [Chat Room] [Search] [What's New?] [Main Page]
Webmaster