The Patriarch of The Band
---
by Terje Mosnes
From Dagbladet, Oslo, Norway, 05.19.2001. Translated from Norwegian. The text is copyrighted, please do not copy or redistribute.
---


Garth Hudson is touring Norway with Jonas Fjeld and Erik Andersen. Dagbladet met him in the town of Drammen.

A phenomenon: "To us Garth Hudson was a phenomenon... he was as interested in good polka music as he was in Bach. He could play with Miles Davis or the Chicago Symphony Orchestra or at the Grand Ole Opry. We just had to get Garth into the group," says drummer and singer Levon Helm about Hudson in The Band biography This Wheel's on Fire.

Skinny, in jeans, a blue cap and with his white pipe, Garth Hudson (63) resembles an American farmer taking a short break from the tractor seat. White hair and beard, a deep voice, and when he talks, low and friendly, the words roll slooowly between pauses. Sitting with Jonas Fjeld in a hotel reception in Drammen, nothing indicates that he is one of rock's most innovative instrumentalists and musical directors. But Garth Hudson was the keyboard wizard that gave The Band their rich, complex wall of sound. Only George Martin's contributions to The Beatles compares.
Norwegian Tour
Fall 1968: The organ intro to "Chest Fever" blows the flowers off the pseudohippies and protest rockers. Garth Hudson, "the mad professor of the Lowrey organ," rides his keyboards from Bach to The Band in 40 seconds of rip-roaring playing before Robbie Robertson, Rick Danko. Richard Manuel and Levon Helm fall in like sledgehammers. Music from Big Pink, The Band's debut album and the first part of the magnificent and tragic chapter of rock history titled The Band.

Spring 2001: In May Garth Hudson is touring Norway with Jonas Fjeld and Eric Andersen. He assisted when Jonas, Eric and Rick Danko recorded their two CDs in the '90s, and after Danko's death it was natural to invite Garth in as a new third member. He packed his accordion, saxophones and synth modules and travelled to Norway from Woodstock.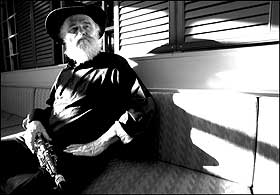 On tour: Garth Hudson is one of rock's greatest musicians. From his Lowrey organ he painted a unique soundscape that nobody have been able to come close to since. - I like touring with Jonas Fjeld and Eric Andersen, says Hudson. (photo: Tor Arne Dalsnes.)

- But he doesn't sing, so Sari, Eric's daughter, came over from Los Angeles, enabling us to continue singing three-part harmony, says Jonas. - And when Hardanger fiddle player Hallvard T. Bjørgum heard about this, he hitched on to us. So now we are five people on stage.
Parents Said Yes
It was in '61 that rockabilly hero Ronnie Hawkins, being persuaded by his backing group The Hawks, talked Garth Hudson's conservative parents into letting their 24 year old son join the band.

"I have an orchestra of talented young men that are suffering from their lack of musical education," Hawkins, a vulgar rock'n'roller with a great appetite for women, booze and life on the road, told them. "I would like to hire your son Garth to come with us and educate them. I want them to learn notes in a proper way, and I have offered Garth better wages than anyone else, plus a cash bonus for joining us. We will also pay him 10 dollars extra per week for his teaching and buy a new organ so Garth can be heard at his best. Do we have your blessing?"

The parents said yes. For the first time the members of what would become The Band were together. Hudson, who could pick up chords just by listening to music and experimented with organ sounds nobody had heard before, improved The Hawks' music significantly.
Modest Hudson
In '64 they left Hawkins to become Levon and the Hawks, then later Bob Dylan's electric backing group and finally The Band in the fall of 1968, when the innovative Music from Big Pink turned everybody's expectations of what a rock band should sound like upside down. Organ and piano playing together like in gospel music, rhythm and bluesy electric guitar, mandolin and a rocking, but varied and flowing bass-and-drum, topped by rough three-part straight-to-the-soul singing - The Band made the rock world's jaws drop to the floor. Hudson the teacher had done his job well.

Garth Hudson:

Born 8.2.1937 in London, Ontario.

Played organ, piano, accordion and saxophone in The Band.

Classical piano training as a child. Played piano at Sunday school, organ at ceremonies, later jazz and R&B with his own groups. Early influences include Oscar Peterson, jazz sax players (C. Hawkins, B. Webster, J. Coltrane) and R&B sax players (Red Prysock, Lee Allen, Clifford Scott.)

Had a big local reputation, was recruited to The Hawks w/ Ronnie Hawkins, the predecessor to The Band.

Has recorded with, among others, Bob Dylan, Marianne Faithfull, Bobby Charles, Paul Butterfield, Eric Clapton, Van Morrison, Leonard Cohen, Tom Petty, Emmylou Harris.

Lives near Woodstock.
---
They Wanted an Intro

- The intro to "Chest Fever?" We had the song all done, but John Simon, who produced Music from Big Pink, wanted an intro. We put the Leslie cabinet, a 145, in a small cubicle and opened it up completely. I played the first three notes from Bach's "Toccate and Fuge in D minor," and then I improvised. The intro is longer than what you hear on the album. John edited it down.

- You developed it further on stage as "The Genetic Method," lasting up to 20 minutes?

- It never was that long, it just seemed like it. "The Genetic Method" is one of several methods for studying folk music. It has nothing to do with "Chest Fever" or the Lowrey organ, it's just added to give people something to think about, says Garth Hudson.

- Well, I didn't really teach them much, Garth Hudson says modestly as he fills his pipe.

- As the Hawks we played a lot of standard tunes, and I gave them the basic chord progressions. Safe stuff that I knew worked well. Then we tried songs that were harder to do, I wrote some new chord changes and harmonies and told everyone what was hip and what was corny... things like that. It was the way The Band developed the songs. Not much of it was my own music, I just added some elements of style here and there, some fills and the occasional solo to complete the idea of a song. But I got to play music with these poets, and they were good.

- Robbie Robertson was only 18 when you joined. Was he a full-grown musician already at that age?

- Within blues, rhythm and blues and rock, yes. I could have said rockabilly too, but he wouldn't have liked that.

- How did you take it when he decided that enough was enough and left the group after The Last Waltz in 1978?

- I could understand that he wanted to explore the oportunities he was given within film and studio work. But what he said about more touring and how it would kill him, sounded ridiculous to me.

- Is it true that he and Levon are not the best of friends, and that there were many conflicts in The Band at the end?

- No. Those stories surface just to sell us. I don't understand what it's all about, says Garth, and it's clear that he wants no further discussion of the topic.
Dylan the Songwriter
You'll be playing at the celebration of Bob Dylan's 60th birthday in Oslo. What did Dylan mean to you and The Band?
- Bob Dylan gave us a good start. In the '60s, when Richard, Rick and myself rented Big Pink in Woodstock for $125 a month, Dylan would come over 2-3 times a week for a long period. He would disappear upstairs, sit down by the typewriter and then come down every time he had a new song to show us. He is an incredibly focused talent, and the best songwriter and poet to come out of the revolutionary '60s.
- Is it a shame that he has not been given the Nobel prize?
- Oh, he'll get it eventually. And he has won other prizes.
- Are you still in touch with him?
- I send him small notes through people that work with him, but I haven't seen him since we did a concert in New York three or four years ago.
- Will we get more music from The Band?
- I don't know. All the singers are gone. Levon is still active, but he has problems with his voice. I know a couple of guys that can sing like Richard Manuel, but... no, I don't know.
- And yourself?
- I play with a good band called Professor Louie & the Crowmatix. They, tabla player Buadal Roy and members of the The Bauls of Bengal play on my CD, Sea to the North. It will be released on Breeze Hill in July.
The Brown Album
- Do you ever listen to the old Band albums?
- Only on radio. There are so much else to listen to.
- Your personal The Band favorite?
- Number two, the brown album. And I like Before the Flood that we did with Dylan.
How would you sum up The Band's decade between Big Pink and The Last Waltz?
- Hmm... it was a good job. But I look ahead. All my uncles lived past 90. I don't know if I'll last that long, there is a bit too much of this (gestures with his pipe), coffee and carbohydrates. I should probably start a more healthy life, we'll see.
- This has become a major existencial question of our time: Live a sensible life, be bored and become old, or have fun while it lasts?
Garth Hudson stares into the lobby with eyes that have seen the coffins of Richard Manuel and Rick Danko. Then he looks up, eyes half-closed.
- I am familiar with that question, he says. Silence. And then, with a little laugh: - Yes, I know that question.

---
[History] [Members] [Library] [Discography] [Videography] [Filmography] [Pictures] [Audio Files] [Video Clips] [Tape Archive] [Concerts] [Related Artists] [Merchandise] [Guestbook] [Chat Room] [Search] [What's New?] [Main Page]
Webmaster