"Rock of Ages":
The Band Breaks Its Leafy Silence
"Swirling in the background of The Band's Rock of Ages is a mind-tickling Dylan rumor."
---
by Patrick ("Willie Boy") Salvo
From Circus magazine, November 1972
The text is copyrighted, please do not copy or redistribute.
---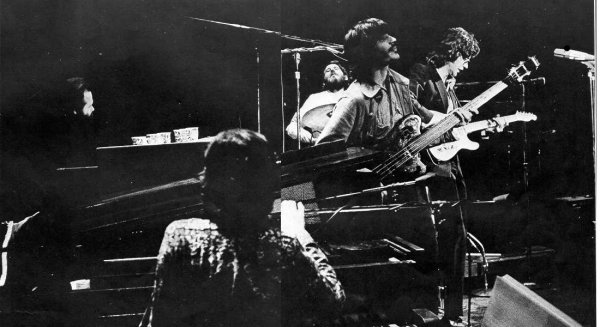 The Band at the Brooklyn Academy of Music, Dec 1971.
Photo by Ernst Haas.
The Band: Traditionally a live concert of recorded material is about as adventurous as a good night's sleep. But when The Band came to New York, they had a tradition-breaking experiment in mind. They had shut themselves off in the quiet, green world of Woodstock, rarley doing concerts, making only occasional LPs and avoiding reportes like the plagues.
New York's Times Square on a New Year's Eve is definitely not the place to be. Since around The Year One, tens of thousands of Amercians have annually flocked to the sleazy Forty Second Street intersection to guzzle down spirits, cast away last year's evil vibes and usher in the New Year via the blowing of loud horns and jovial singing. This last New Year's Eve about a mile downtown from New York's Great White Way another type of loud horn-playing and song-singing occurred -- a horn-playing which culminated eleven moody years of togetherness for five brilliant musicians, The Band -- an ensemble once known smilingly as "Bob Dylan's backing group." At New York's Academy of Music, in front of over 3,000 paying customers, they piled two dozen legendary songs from their last half decade into one tumultous, volcanic concert complete with a totally unexpected six-piece brass section and a mind-awakening surprise guest apperance by the fabled yet unpredictable folk-rock poet -- Bob Dylan.
Ten months later the tapes of that illustrious night's events (minus Dylan's appearance) have finally emerged as Rock Of Ages (on Capitol), an album that may whisk the cobwebs off a group which has let itself slip just one step too deeply into the shadows.
Crawling out of the bushes: In 1969, The Band was the best-publicized, most-written about group in all of rockdom. They accompanied Dylan in his first British appearance in over four years, won a coveted appearance on the Ed Sullivan Show, and became what may well be the only rock group in history to make the cover of Time Magazine. Then Robbie Robertson and his four companions suddenly slipped off to their Woodstock homes and spent two long years totally out of sight. They refused all interviews, made only a few rare sorties onto the concert stage, and issued new LP's with frustrating infrequency. Now, only ten months after the emergence of their last album (Cahoots), The Band has tossed Rock Of Ages into the rock and roll race, and has allowed rumors to leak out about possibly joining Dylan for the folk-rock myth maker's first tour in well over five years. What's more, after two years saying a bristly "no" to reporters. Robbie Robertson has called Circus Magazine for a long and amiable chat, only to reveal that the triumphant concert which led to Rock Of Ages was more than just the easy-going outburst of jovial celebration it appeared to be on the surface.
Flirting with brass: Despite the obvious good vibes and musical spontaneity, there was an air of tension and anxiety surrounding the Band's first public flirtation with brass. Speaking from his quiet Woodstock home, Robertson laid bare the underlying significance of the event to the men who were up onstage that New Year's night. "The horns were strictly experimental!!!" he confided. "We honestly didn't know if we were going to walk out with these hornmen and if the purists were going to be insulted. We thought we hadn't got the thing down, and we actually didn't give it as much time as we should have. You see, we didn't want to come off sounding like those big cocktail lounge bands or those pretentious jazz-rock things. We really didn't think it was gonna happen!"
But happen it did. The Band and their horns had everyone, including themselves, flying high. "When we first heard the horns it was like sailing," Robertson enthusiastically chimed. "I mean we weren't standing on the ground anymore, because it was just a supreme feeling for us. I mean it was just right for the occasion -- horns and New Year's Eve, right? And it was incredible just to be able to cross that bridge."
Crossing that bridge on seventeen tracks throughout the two-record document, the moonshine-mountain Band boys sparkled brightest on old-fashioned horny bandstand grease. From the screaming guitar solos in the tearful "King Harvest" to. the uptempoed, updated born-for-horns rendition of "Caledonia Mission," The Band remained nostalgically innovative, coquettishly reminiscent. From some new melody changes and interwoven cross harmonies in the group's classic "The Weight," through the quivering clarinet rhythms of "The Shape I'm In," The Band continued to excel as the world's finest latter day set of holy rock and rollers.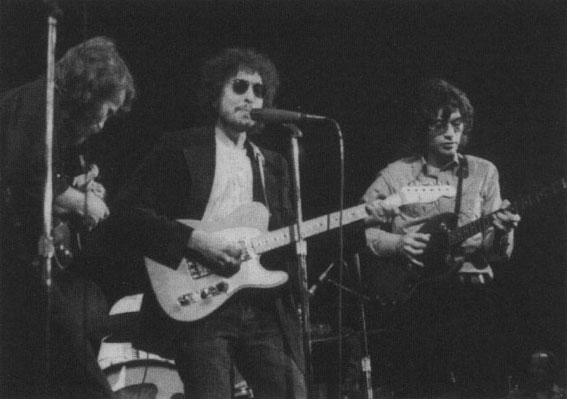 Back up in Woodstock, Dylan's been talking to The Band's Robbie Robertson about a scheme that could precipitate the biggest shower of anticipation since George Harrison's Bangla Desh affair.
Dylan days: The Band's holy rock and rolling first began to attract widespread attention back in the mid-Sixties, when Bob Dylan heard the group at a local beer dive in Sommers Point, New Jersey, hired Robbie and Levon Helm to accompany him on his revolutionary Hollywood Bowl and Forest Hills electric gigs, and later acquired the rest of the Hawks (as they were then known) to back him in his 1966 world tour. Subsequent Band tours with Mr. D included dates across Canada (the birth place of four-fifths of The Band), the U.S.A., the British Isles, France, Sweden, Denmark and Australia. Robbie has admitted that those high-flying days with the master left him more than a little awestruck and dizzy. "At first we were confused as to what we were doing... There were things like running into limos and private planes, the time off between jobs, which we'd never had before. Bob introduced us to the poets and to everybody from Marlon Brando to John Lee Hooker."
Then Bob broke his neck in a motorcycle accident, and they all moved to the country. As Dylan's injury healed, he begen working on "The Basement Tapes" -- nearly forty demos that he and The Band performed together, then sent off to acquaint groups like Manfred Mann with unrecorded Dylan songs like "The Mighty Quinn." And soon The Band started to write music on its own, composing the material that would ultimately become the guts of their first album, Music From The Big Pink. The result? They felt forced to retire to the seclusion and privacy of the fabled forests of Woodstock. But the retreat that has stretched on for many moons since then may be about to end in a far more dramatic manner than anyone could have envisioned.
A Dylan tour? Gliding through the sleepy hollows of Woodstock town, north on route 212 past the creaky bell-towered town hall, down along the firry cove, around the harvesting cornfields and sloping bends, up the wooden hills to Bearsville, you soon detect a small, shrub-covered sign which reads in big, black Gothis letters: "Rena from Zena Antiques 1/2 Mile." As Tim Hardin's sepia-colored station wagon passes you on the left, you reach the celebrated Rena's house and antique museum. Suddenly you spot a black Linooln Continental cruising past Rena's humble fire-red Volkswagen bus. The car suavely disappears amid a cloud of swirling dust into the back yard of the freshly painted adjoining two-family house, and a vividly beautiful though pregnant willow of elegance and grace emerges from the car. Sliding out of the driver's seat on the other side, a lanky Robby (sic) Robertson steps around the hood and angles toward his pregnant wife. Looking like an English Mod record company executive rather than the country boy guitar virtuoso of old, he waves to Rena and is off to visit fellow Band member Rick Danko. Rena turns to us with an approving yet curious smile on her cracked country lips and whispers into the pines, "Nice fellows they are, but they don't talk much."
| | |
| --- | --- |
| | |
And the Grateful Dead? Knowledgeable sources say the hermit-like musicians may soon join forces with Bob Dylan for a tour that could be the biggest onstage event since George Harrison's Bangla Desh affair. But when he telephones Circus, Robbie Robertson is characteristically vague about whether that historic tour will ever materialize as a reality. "Dylan mentioned maybe touring with the Grateful Dead to me," says Robbie slowly, "We talked about both going on the road again together, but I really don't know. You know, we're both kind of vague people in that we sit around and make plans... but, you know, it's really hard to get out of that rocking chair." Yet if the record the Band produced when they got out of their rocking chairs last New Year becomes a warm-up exercise for a tour with Bob Dylan, it wold prove once and for all that the reticent five-some's urge to rock and roll in public is a hell of a lot stronger than their compulsion to sit on a Woodstock porch casually rocking the furniture while lethargic spiders cover them with the silky strands of age and anonymity.
---
[History] [Members] [Library] [Discography] [Videography] [Filmography] [Pictures] [Audio Files] [Video Clips] [Tape Archive] [Concerts] [Related Artists] [Merchandise] [Guestbook] [Chat Room] [Search] [What's New?] [Main Page]
Webmaster