The Music
---
From Razor magazine, February 2004.
Article copyright © Razor Media LLC. All Rights Reserved.
---
I was fortunate to be born and raised in Arkansas in the heart of cotton country at a time when the music was as rich as the soil. Just look at a map of the United States and trace a line from Memphis, Tennessee through Helena, Arkansas to Clarksdale, Mississippi and you have the fertile crescent of American music. This was the land that spawned blues, gospel, jazz, country, rockabilly and rock 'n' roll.
My parents, Nell and Diamond Helm, loved music and encouraged the whole family to play and sing. My older sister, Modena and my mother sang beautifully and I thought they were two of the best alto voices at the County Line Baptist Church. We had no electricity on our cotton farm, just a battery to power the radio. If all else failed, Diamond would run a cable from the tractor's battery to the radio so we wouldn't miss the Grand Ole Opry. The first live show I remember seeing was Bill Monroe & his Blue Grass Boys in 1946 when I was six years old. That night changed my life and I had no doubt what I wanted to do from then on.
Some of the best music of the year came during cotton-picking time. The influx of fresh money brought the tent shows out of their wintertime hideouts down on the gulf shore. These were big, traveling minstrel shows, with chorus lines of beautiful dancers, singers, comedy acts, costumes, lights, popcorn machines, snack bars, refreshment stands, stage seats and some of the best nine- and 12-piece house bands you could hear. The whole shooting match was presented night after night, town after town in a huge five-pole-long tent, with a flat bed serving as the stage. Smaller tents provided dressing rooms, entrance and ticket areas, and refreshment stands.
Dirt farmers from all over the south saw spectacular shows with colorful lights and elegant costumes, and heard the greatest music in the world. My two favorites were Silas Greene from New Orleans and the F.S. Walcott Rabbit's Foot Minstrels show. Across the top of that damn big tent was a big-ass sign that ran the whole length that said: F. S. WALCOTT'S ORIGINAL RABBIT'S FOOT MINSTRELS! I thought Walcott had the best band, and between their left-handed drummer and James "Peck" Curtis, Sonny Boy Williamson's drummer, I knew exactly where I wanted to sit when I got to play in a band. It was easy to see who was having the most fun, but first I had to get old enough and it was taking such a long time!
From the age of nine, the question around my house was always "Where's Levon"? Well, if it was a Saturday afternoon, everybody knew that I was downtown with the good people of Marvell, Arkansas watching Sonny Boy and his King Biscuit Entertainers performing outdoors on a makeshift stage. Or maybe I hitched a ride to nearby Helena so I could visit KFFA studios and see my blues heroes, Sonny Boy, Robert Jr. Lockwood, Robert Nighthawk, Pinetop Perkins, Memphis Slim, "Peck" Curtis and anybody else who happened to be passing through as they broadcast the legendary King Biscuit Time radio show. These were working musicians. People like Sonny Boy, Robert "Dudlow" Taylor, Peck Curtis and "Pinetop" Perkins had it in their blood. For them it was a calling; there was no other choice. I like to think one of the reasons they achieved greatness was that they were pretty much left alone to develop their own musical styles.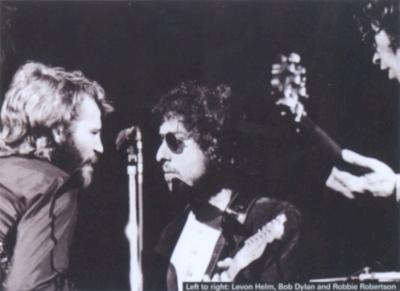 L-r: Levon Helm, Bob Dylan and Robbie Robertson
Ralph DeJarnette was one of the best guitar players around Marvell and his band played the pool hall most Saturday afternoons. He was also our mailman, and if I met him at our mailbox he would show me how to tune my guitar. His drummer, Bubba Stewart, like Peck Curtis, never cared how close I wanted to be when he played. Peck would leave the King Biscuit drum set at KFAA studios, where Jimmy Ray "Luke" Paulman on guitar, Will "Pop" Jones on piano, Jimmy "Lefty" Evans on bass and yours truly on Peck's borrowed King Biscuit had KFAA's permission to rehearse. Bubba, who never minded how many questions I had for him, would later lend me his white, oyster pearl Slingerland set for a gig with the Hawks.
Bubba continued to coach me on playing the drums until he could pass me over to Jack Nance and Tommy "Porkchop" Markham, two of Conway Twitty's drummers, and the great W.S. Holland, Carl Perkin's drummer. W.S. is one of the greatest music makers you'll ever witness. He plays left-handed and right-footed most of the time, and it makes for one hell of a live show. W.S. recorded Blue Suede Shoes with Carl Perkins for Sun Records when he was only 17 years old. These drummers are all on my list for a new pick-up truck, soon as my ship comes in!
It seems to me that the record business was different in those days. Of course, the record companies wanted to make their money, but they more or less let the artists play the music while they took care of releasing and promoting the records. The great producers, like Roland "Big String" Janes and "Cowboy" Jack Clements of Sun Records in Memphis, had the instincts to recognize great talent and the courage to let musicians record without interference - pure and undiluted.
Owner Sam Phillips and his Sun Records staff realized that no one knew better than the artist what their audience wanted to hear. Sam is most famous for discovering Elvis Presley, but he was also responsible for the first recordings of Howlin' Wolf, Junior Parker, James Cotton, Jerry Lee Lewis, Johnny Cash and the Tennessee Two, Carl Perkins, Billy Lee Riley and The Little Green Men, Sonny Burgess and the Pacers, Narvel Felts, Charlie Rich, Roy Orbison and the Teen Kings, and many others. He saw something in the young, unpolished Elvis and hooked him up with two local musicians, guitarist Scotty Moore and bassist Bill Black. Sam had the faith and patience to let them experiment at his studio, Memphis Recording Service on 706 Union, until they struck gold with a song by the great blues singer, Arthur "Big Boy" Crudup called That's All Right, Mama. Sam, Elvis, Scotty and Bill rubbed black and white Southern musDic together and helped create a spark. It was the birth of rock'n' roll.
I had the opportunity to see Elvis, Scotty and Bill in 1954, soon after they hit with their first single. It was one of the most electrifying shows I had ever seen. But when they returned a few months later for a sold-out show at the high school auditorium in Marianna, Arkansas with drummer D.J. Fontana, the effect was monumental. D.J.'s drum parts changed Elvis, Scotty and Bill's good rockin' trio into one of the top notch rockn' roll bands in the Memphis area. Now their show was truly electrifying. This was the band that cut Money Honey and Heartbreak Hotel . The sound of this combination was so strong that the bugle blowers at the record company quickly dubbed Elvis, "The King." "Hell, he must be The King," they said. "These boys sound like royalty!" Propelled by this explosive band, Elvis became a worldwide phenomenon.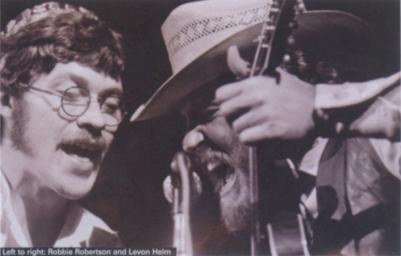 L-r: Robbie Robertson and Levon Helm
Elvis was another casualty of the rapidly growing record industry. Once his contract had been sold to the big boys at RCA and his fame escalated overnight to unheard of heights, he was told what to sing, when to sing, how to sing and who to play with. It's sad how early in the game they dug their claws into him. He was exploited in every conceivable way and was shuffled through a string of mostly dismal, but profitable films. One of the exceptions was King Creole where Elvis showed real acting talent working with greats like Carolyn Jones and Walter Matthau. Elvis was done in by vipers who thought of him as a meal ticket, rather than as a human being. He suffered a slow decline and died at 42. He was one of the first, but unfortunately not the last.
I continued to learn to play music with anybody who would teach me. My school days band, The Jungle Bush-Beaters, had perhaps the best guitar man anywhere. Ask any music fan from the Delta about Thurlow Brown and the way he played that Fender Esquire. Thurlow was bending strings and stretching notes before I ever got to hear Fred Carter Jr. and Roy "The Werewolf" Buchanan. Thurlow Brown meant the musical world to me and filled my life with the knowledge of a master musician.
As quiet and introverted as Thurlow was, he surprised some people when he met and immediately bonded with bottleneck guitarist, Robert Nighthawk. They became lifetime friends, and never failed to celebrate together when Robert returned home for family visits. Houston Stackhouse, being a natural bandleader and friend to all, would arrange music parties for these homecoming events that would always end in a good jam session. Thurlow was one of the few musicians that Nighthawk would even play with, that's how great he was.
"Music has fundamentally changed in two ways. Firstly, it's no longer a novelty. In the 60s and 70s rock'n' roll was still young and still did things that were unprecedented, and experimented. It produced music that continually sounded new. The glory of rock was often nothing more -- or less -- than a wonderful surprise. But now all the possible permutations, musically, have been used up and there are noe meaningful surprises. Secondly, the megalith record companies are, in their inscrutable wisdom, choling new artists and thus themselves. Just how many more sales do they think they can wing out of Cher and Phil Collins? Cyclically, the record industry always comes to a point where it believes it -- not the music -- is what's important and invariably explodes. This is not a tragedy. Good always comes from it. Ironically, the last time this happened was in the mid-70s, just before punk and hip-hop recast the world,"
--Bob Guccione Jr.
Henry Glover, the great producer and songwriter who helped Syd Nathan build King Records, would later fill that same void for me when "the suits" killed off The Band. Henry was responsible for some of the greatest recordings of all time, like Fever by Little Willie John, Blues Stay Away From Me by the Delmore Brothers and the early hits of Hank Ballard and the Midnighters. He composed Drown in My Own Tears, California Sun, The Peppermint Twist and countless others. And that's not all: Henry played first-chair trumpet in Lucky Millinder's band in the 1940s. You could fill a book with his accomplishments. I, and especially Paul Butterfield, loved him forever for bringing The Muddy Waters Woodstock Album project to fruition. The album won a grammy for Muddy and was his last release with Chess Records.
My first big break came when, at the age of 17, Ronnie Hawkins plucked me straight out of high school to be the drummer in his group, The Hawks. Conway Twitty had hipped The Hawk onto the great northern music scene, and so the first thing we did was follow our compass to Canada. They couldn't get enough of our no-holds-barred brand of rockabilly, and we were able to gig all across Ontario for at least six months out of the year. The Hawk is a natural entertainer who can work a room with a flick of his wrist. He has an uncanny ear for talent and after years of replacing lost and gone musicians, and playing joints from Texas to Toronto, we finally built a killer band that included four young Canadians: Richard Manuel, Rick Danko, Garth Hudson and Robbie Robertson.
The five of us eventually broke off on our own. Ronnie was set in his ways and we were young and bursting with energy. We wanted to try some "Cannonball" Adderley stuff, and some Louis Jordan songs and for sure more Sonny Boy, Muddy and J.B. Lenoir. As "Levon and the Hawks" we continued to play the music we loved best: lowdown R&B, gut-bucket blues and blazing rock'n' roll. Our reputation grew to the point where Bob Dylan asked us to become his band. All of a sudden we were on the cutting edge of a musical revolution. Dylan's Woody Guthrie folk roots merged with our hard-rocking sound and caused a sensation.
It was exciting at first, but the hostility we encountered at Bob's shows started to wear on me. I needed to step back, reevaluate. So I left Dylan's 1966 UK tour and went home to Arkansas where I could play music again on my own terms. The Cate Brothers Band lost their drummer to the Vietnam draft and I played with them in 1966 and 1967. Before long, Bob and the boys set up shop in Woodstock in a pink split-level house; so began the legendary period of wood-shedding that led to the creation of most of the music for the first three Band albums, and at least a couple of records worth for Bob. The outtakes were later released as The Basement Tapes.
Rick called me to Woodstock and I was happy that we were getting back to what I wanted to do - continue to build our band. Bob took us to songwriting school and we rose to the occasion. We set up a typewriter on the coffee table at "Big Pink" with paper in it ready to rock at all times. Bob would sit down every so often and type a couple of lines. I'd come along, read it and grin to myself on my way down to the basement studio. Richard would mosey through with a cup of coffee, stop and sit down at the typewriter. He'd start laughing while he typed out a few of lines of his own for the equation. When it came to "slanging the lingo," Richard was the only one who could play pitch and catch with Bob. Everyone else was downstairs with me and Garth trying to find chord changes with the right motion to bounce these pearls of wisdom off. The result was music from Big Pink. We finally created the sound that transformed The Hawks into The Band. We had arrived. Bhe result was Music from Big Pink. But the underbelly of the music business was about to intrude on our newfound creative windfall by way of manager Albert Grossman.
It wasn't as if we had no clue about Albert. Dylan was splitting off from him just as we were entering his fold. Robbie Robertson immediately bonded with the abrasive Grossman. From the time that he joined The Hawks at 15, Robbie and I were as close as brothers. All that changed overnight. By the time our second album came out, I started to realize that something was terribly wrong. In spite of the fact that Garth, Rick, Richard and I had contributed to the writing of the songs on those first two records, the credits on most of them simply read J.R. Robertson.
We didn't realize that song publishing was the long-term source of making money in the music business. When we complained about songwriting credits, there was always a way to cover-up or divert our attention from any unfairness or shortcoming. We were promised a partnership with Albert in Bearsville Studios that never materialized. An investment that was made for us through our publishing company lost a fortune in an apartment house scam in Aspen, Colorado. It was a display of smoke and mirrors that would have made Houdini jealous. In short, we heard what we wanted to hear and I believed all we had to do was lose big Al Grossman and The Band would be saved. Call us naive if you want. Maybe we were just too damn trusting. We were a family and if you can't trust your family, well, who can you trust?
"Forget everything you think you know about the music business; it's a new frontier. Although consolidation appears to be the enemy of the industry, there are actually more opportunities for artists to control and own their music than ever before. The internet and the new avenues of product distribution allow direct contact with the market. This is truly an exiting time for artists who are wiling to think and act independently."
--Doc McGee
It especially galls me that a man I consider a musical genius, Garth Hudson, wasn't acknowledged for his contributions. Pull out a copy of Big Pink and listen to Chest Fever. What hooks you? You're probably thinking Garth's unforgettable organ parts. Garth Hudson is one of the main reasons that The Band sounds exactly like itself and no other group of music makers. All Band songs went past Garth's desk, and the first order of business was to check and correct all the chords and their relative functions and progressions. Garth knew instinctively the richest voicing for any chord, and how it projected mood, color and movement. Garth also knew by schooling all the chord inversions and their suspensions. He knew which ones best supported singing voices and their harmonies and the right chords to rest an instrumental solo on top of. Ask any musician that tries to play a Band song and they'll tell you "regular" chord changes don't work.
Garth led by example, in work habits as well as his "chops" (or playing ability.) In addition to being a keyboard legend, and the equal of any university professor of percussion, he's one of the all-time virtuosos of the accordion. If that isn't enough, he's a master of the woodwinds department, the brass department, and any other damn thing he can get his hands on. Best of all, Garth Hudson taught The Band the patience to grow our tunes into songs we could cultivate and craft until there were no weak places. Instrumentally, everything seemed correct with no overplaying or needless, extended solos. Vocally, it sounded strong and in pitch. We were learning by trial and error how to create and record original music to the point of turning it over to the mastering genius of Bob Ludwig. Then "the suits" killed off The Band - and we were only five years old.
The last lie, as I like to call it, was The Last Waltz. Richard Manuel used to say it was the "Warren Report" of rock'n' roll. It was going to be a grand celebration of our legacy with the promise that it would generate huge profits and financial security for Rick, Richard, Garth and I. To say that it fell short of our expectations would be the understatement of the century.
Robbie made himself executive producer of the project and placed himself and director Martin Scorsese, and all their flunkies and yes men on huge salaries. And so began their year and a half love story of buying houses and apartments on both coasts, taping up all the windows with aluminum foil (like Elvis did) and spending all night and all day "cutting" the movie. Scorsese said of the new partnership, he "just loved being around all that energy." That "energy" was referred to as coke and blow by most people. I called it philosopher's powder and stardust, but it's too damn expensive for the "rhythm section," so we didn't hold court in the backstage, last lie, mirror room. That's the way it started and I'd hate to see that part of the budget. Better still, I'd like to see a real accountant and find out if they hid it in the travel, marketing, advertising or entertainment portions of the budget.
I'm a patient man, but it's been almost 30 years and Garth and I are still waiting for our "financial security" to materialize. The sad thing is there's no more waiting for Rick and Richard.

Richard Manuel

Rick Danko

L-r: John Simon, Robbie Robertson, Albert Grossman and Bill Graham
As the evening progressed, I couldn't figure out what was wrong with Robbie. Instead of taking care of business and getting the guitar parts solid and in pitch, Robbie was running up to the microphone and pretending to sing the lead vocals on all the songs: my songs, Rick's songs, even Richard's songs. I know that his microphone was turned off; that's standard operating procedure. Rick saw to that, and all the sound engineers who worked for The Band knew that was law. They knew if that damn microphone came on during one of our numbers, it was going to be worse than last time when Rick had to pass out pink slips for forgetfulness. After the show, it became obvious what had happened: As we tried to play the best concert of our lives, it was picture-taking time for Scorsese and Robertson.
Next thing we know, a couple of their flunkies are telling us we can overdub any mistakes and correct all the out of tune parts, and we can get started next week. First, I wanted to know if what we had just fought our way through was The Last Waltz or Almost The Last Waltz. Maybe it was The Last Waltz Plus Overdub. We had just fought our way through five-plus hours of backing every "big star" who happened to live in California at the time, doing their songs. All we had accomplished was the same old thing we had worked our asses off to avoid - being another backup house band. Congratulations boys, you are once again relegated to the old "sideman" position. This means that Garth, Rick, Richard and I get to enjoy billing underneath and below all the big names on the marquis.
When Music from Big Pink was released, we made a point of emphasizing the collective, ego-less nature of The Band - no individual outranked the other in importance. Now our group was being portrayed as Robbie Robertson and his back-up musicians. Years of history and hard work were corrupted in one fell swoop.
We were told to report to the studio the following week so we could do overdubs. I refused to do it and as a result, my drum parts and vocals were the only things that remained on the soundtrack from the original show.
I wanted to kill people, and I wanted to start with David Braun, our legal begal, and Marshal Gelfand, our ace accountant. They were hired for us by Albert and these were the two bastards that helped Robbertson sell this "going out of business," "get rich quick" scheme of a show: "The band's finished, boys. Might as well film it and let it make you rich. It's over with," rang in our ears. But Richard said, "To hell with them. Let's take the money and run. The Band will break up when we say so, not them.
But I didn't want to be rich. I don't even like rich people. I wanted to keep what we already had - a good rock'n' roll band. One that could cut the mustard and be in the running for the best band award, or hell, something great. I still dreamed of recording a record that would almost equal the great ones I had worshipped all my lifetime. I wanted to try and satisfy that musical hunger that haunts you when you love it so much.
"I think as a whole, the industry of music is the same. There are pioneers and then followers. No different now than in the 50s. It causes saturation of sameness and eventual boredom which then tends to lead to a new movement. As one style phases out... another steps up and seems fresh and new, but is usually again a different version of something you've already heard or seen (Alice Cooper to Marilyn Manson or The Allman Brothers and The Snall Faces turn into The Black Crowes). Of course, there needs to be a fresh take on an old idea... and it usually is... but under the microscope, it's not brain surgery.. it's just rock'n' roll. In the end... it's all the same, but different..."
--Nikki Six
I really resent the way Richard Manuel was portrayed in The Last Waltz as a crazed, burned-out drunk. You'd never know from watching the movie that Richard, who has been compared to Ray Charles and Bobby "Blue" Bland, was the lead singer of The Band, and was responsible for our most moving songs. His haunting lead and background vocals created the timeless atmosphere of those first Band recordings. One of the unique qualities of our group was that we were all multi-instrumentalists, and Richard never failed to put a smile on my face when he left his piano bench to take a turn behind the drum kit. People forget that it was Richard who recorded the drum tracks on Rag Mama, Rag. He was one of the best natural-born drummers I ever heard and his ability gave The Band two completely different rhythm sections.
On the same note, Rick Danko was so musical and good-natured that he made everybody around him feel great and play at their best. Rick's soulful singing blended so well with Richard's and my vocals that you sometimes had to listen really hard to figure out who was who. His joyfully loose bass playing fit my drumming like a glove and completed our loosey-goosey rhythm section.
People sometimes ask me why I didn't attend The Rock and Roll Hall of Fame Awards the night The Band was inducted. How could I be part of that hypocrisy? Most awards are just bought and sold to the highest bidder, anyway and they don't always acknowledge true excellence and artistry.


L-r: Robbie Robertson and Bob Dylan
I gave my Hall of Fame jacket to the great blues master, Hubert Sumlin, who was Howlin' Wolf's guitarist for 25 years. In my opinion, Hubert has been shamefully neglected and should have been among the first to be inducted. He was the perfect musical foil for Wolf - as intense and untamed a guitar player as Wolf was a singer and performer. Although Hubert inspired guitarists from Jimi Hendrix to Eric Clapton and Keith Richards, he has no imitators. He's that damn original. In fact, "Mighty" Max Weinberg, the drummer and musical director of the Late Night with Conan O'Brien's house band, has organized a campaign to induct the remarkable D.J. Fontana, so if you could take a minute to contact the folks at the Hall of Fame and urge them to recognize Hubert and D.J. (or any of the other pioneers who have been passed by), I'd appreciate it.
Back in the spring of this year, at The Stone Pony club in Asbury Park, New Jersey, Jimmy Vivino organized a benefit show for Hubert Sumlin and put a few of us together to serve as his backup band. Hubert had been very ill and incurred huge medical bills. By God's good graces and a miraculous recovery, Hubert played that night like the master he is. I can't express what a thrill it was to play Wolf's stuff with his guitarist and bandleader showing us the way. The only "big star" to participate in the celebration was Elvis Costello. He sent a check for five grand towards Hubert's doctor's bills.
In spite of everything, I'm optimistic. The good news is that advances in technologies such as the Internet have made it possible for people to compare notes and disseminate information in the blink of an eye. There's enormous documentation of the abuses of the record industry against artists. As a result, musicians are becoming wiser. If even one person learns from my experiences, than perhaps it wasn't all in vain. CD production and studios are now affordable and accessible to the aspiring musician. This has made it possible for music makers to take charge of their own destinies, just like the days when Sonny Boy would promote his own gigs. You can get back to making the music you want without being victimized.
My advice to all those fat cat managers, record executives and CEOs who are whining about the collapse of the greedy music industry machine is - get an honest job! Who ever came up with the idea that you could package and sell an artist's music like it was a box of Corn Flakes? Ralph Waldo Emerson called music "the language of heaven" and it is absolutely of a sacred and spiritual nature. Music is created from a love and desire to share a feeling, tell a story, or just to help people have fun and shake it down. It's about celebrating life. And brother, if you're in it to get a Malibu mansion, you got on the wrong train, Bubba!
I'm a lucky man - my beautiful wife Sandy has stuck by me through the thin and thinnest parts of my eight-year fight against throat cancer. Now that the good Lord seems to be giving me some of my voice back, I want to build a brand new band as soon as possible and continue developing my recording studio. It's been tough, but I still have the key. And there's still a place in Woodstock, NY where musicians can record what they want regardless of what the record companies have to say.
"I think the 60s and 70s were the start of an incredible time for music. Artists were being given creative control of their work; this spawned some of the greatest records ever made: The Beach Boys' Pet Sounds, The Band's The Band and Joni Mitchell's Blue, to name a few. I think the role of the record company is the key to any band's development, if they have an understanding of what the artist wants to create. From the '90s and on, I think people will always take inspiration from what went before us, because it is a great example to follow. I think the music has changed in a sense that bands aren't given as much time to develop these days; they can be dropped before they get a real chance. Bruce Springsteen was on the verge of being dropped before he released Born to Run, and REM was a band who took more than a couple of albums to break on a worldwide scale. There are too many manufactured pop groups and solo artists around today, maybe it's an easy way for record companies to cash in, but when they look back in 20 years time, their back catalog will be worth nothing to the industry."
--Daniel Ryan (guitarist of The Thrills)
The studio building is built large; it has to be to sound good. The hemlock timbers are pegged with birch dowels, and there are no nails, or steel joint supports, or knee braces to ring and create a false frequency that causes white noise and keeps your recordings from sounding just right. They won't sound bad, but they will never have the depth and purity that only wood, stone and natural materials can deliver. Its quite a studio, and sounds better than any room I've ever recorded in. When Diamond first saw it, he said, "Son, you're trying to cut too big a hog with too little a knife." Lord, was he right. But I'm fortunate now to have two partners, Paul Schmitz and Matt Wells, who share my dream of having the best music facility in New York.
I also can't forget to thank my neighbor and best friend in Woodstock, guitarist Jimmy Vivino, and the best drummer in New York City, my brother Steve Jordan. Both men continued to hire me as a player when my singing voice faded to a whisper. And to Ringo Starr for befriending me when we were both bad boys, for hiring me after he knew better, and for being my official clean and sober sponsor over the last 10 years. Ringo, I love you and you're also on my list for a brand-new pick-up truck - the reddest one of all. A King Cab just like the ones I'm gonna get for Jimmy V. and Steve Jordan. You too, Jimmy Lee Keltner and George Roselli.
Richard Manuel and Rick Danko died way too young with their money in other's pockets. It still hurts too much to talk about Rick, and not a day goes by that I don't think about him.
The Robbie Robertson who was my best friend was killed off by the same bastards who killed Rick and Richard: the greedy "suits" who run the industry meat grinder. But I still remember the "Duke," my brother, who was funny as hell and always had my back should push come to shove and we had to scratch gravel getting out of town. Building The Band became the one consuming, unfunny dedication to our musicaldream. Robbie's instant friendship felt more like fate at the threshold as Richard, Rick and finally, Garth added the missing instruments and belly laughs.
At parties, the "Duke" would wink back at me, then cleverly slip his hand in before I landed one of my hungriest kisses smack on his lips. When he'd leave (parties are always in the drummer or bass player's room), he'd stand in the doorway until all the ladies I'd been talking to and everyone else in the room would stop and look back at him. Then he'd throw me a glare like, "You hussy, don't you dare keep me waiting" and slam the door. This always brought down the house and added more fuel to the fired up fun. Richard swore he'd pay for laughs if he could buy them, and then he'd raise his glass and toast you with his trademark grin and say, "Stand tall, brother. Stand tall."
We all laughed our way through the hard times. A Toronto newspaper called us a "third-rate Yonge Street bar-band" after our first show as Dylan's electric backup band. That was hateful as hell and we tried to laugh while our insides wept at that stinging slur. It cut even deeper when Bob's most loyal fans booed at the sight of my red sparkle King Cab drum kit.
Garth Hudson is an inexhaustible, tireless composer and performs his miraculous music with his beloved wife, Maud. Garth and I just had the honor of recording with the great gospel quartet, The Dixie Hummingbirds, for their 75th anniversary CD, Diamond Jubilation. Thanks to Jerry Klause and his father, Harry Klause Jr. of Treasure Records for conceiving this dream-come-true musical collaboration.
Although I'm proud of my accomplishments, I continue to look ahead. My focus these days is on doing what I love. I am in the process of assembling my own creative team here in Woodstock to facilitate and develop new and exciting musical projects. My daughter, vocalist Amy Helm, is carrying on the family musical tradition -- Diamond, Nell and Uncle Pudge would be proud. My session work continues to grow. I recently recorded with Louisiana Red, Rufus Wainwright and Norah Jones.
Things have come full circle - I'm back to playing on my own terms. So keep in touch, friends. The Levon Helm story is still being written and I promise you, God willing, there's a lot more to come. So what keeps me going? Music. It's in my blood -- I have no other choice.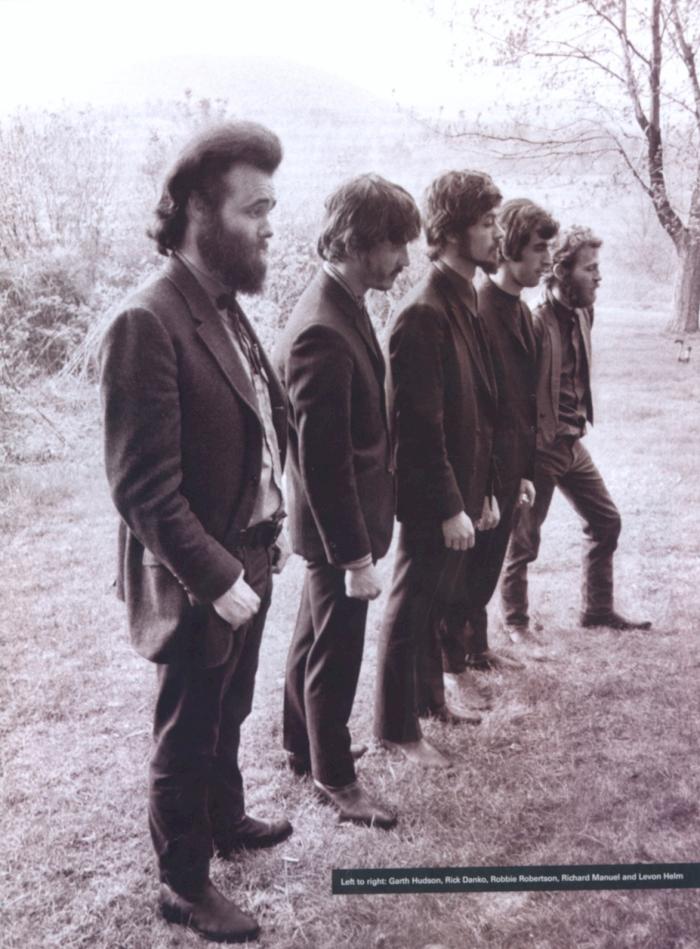 L-r: Garth Hudson, Rick Danko, Robbie Robertson, Richard Manuel, Levon Helm
---
[History] [Members] [Library] [Discography] [Videography] [Filmography] [Pictures] [Audio Files] [Video Clips] [Tape Archive] [Concerts] [Related Artists] [Merchandise] [Guestbook] [Chat Room] [Search] [What's New?] [Main Page]
Webmaster