Van at The Last Waltz
Compiled by Peter Viney
This article was written for Wavelength, the Van Morrison magazine, and typeset and illustrated for the final issue. Sadly the final issue was cancelled late in 2008.
The best concert film of all time? The best rock movie of all time? Well, probably. It inspired 'This is Spinal Tap' if nothing else.
The Band's farewell performance in 1976 was filmed by Martin Scorsese, and released in cinemas in 1978 accompanied by a 3 LP set. A video followed in 1984. Because of sound problems, a loud hum on Garth Hudson's organ, and Rick Danko's out-of-tune bass guitar, extensive overdubbing had taken place. Robbie Robertson's guitar had also been 'improved' in places, as had some vocals. The only thing untouched, it was said, were drummer Levon Helm's parts. He would have refused to do it, and they were damn near perfect in the first place. The guest vocals seem to be undoctored, and include Van Morrison, Bob Dylan, Joni Mitchell, Neil Young, Muddy Waters, Dr John, Paul Butterfield and Bobby Charles.
The 1978 release was always incomplete. A few years ago a 4CD bootleg appeared of 'The Complete Last Waltz' which documents the entire concert, with hum and fluffs and warts and all. It's terrific. It also proves that not only didn't Van Morrison overdub, but he had no need to.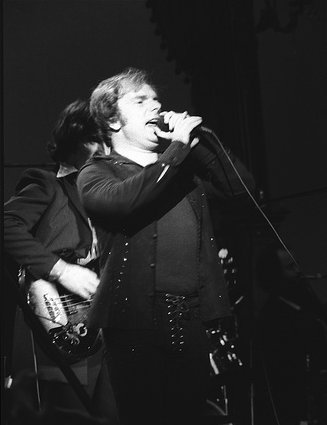 The restored and remastered film received a limited theatrical re-release in the USA in 2002, leading up to the release of a 4CD box set and DVD (initially only in US Region 1 format) in May 2002. The soundtrack was completely remastered and remixed by Robbie Robertson over a six month period, with three versions of remixes -- stereo on the box set, 5.1 surround sound on the DVD and 6.1 for cinemas. In addition, the existing 30 tracks have been joined by 24 additional ones on the box set. The DVD is a remaster and restoration of the film, and the film is (supposedly) 'specially encoded for high-resolution TVs.'
It's apparent that they cleaned up other material in 1976 to 78 too. The sound quality is now stunning, one of the best restorations I've heard. The remixing process by Robertson has brought Richard Manuel's piano and Garth Hudson's organ higher in the mix and I'd say that Robertson has taken his own guitar further back in the mix Any musician will say that a lead guitarist putting himself lower in the mix is the equivalent of pigs flying, but this time it's true. You still don't get the full concert, But you do get everything on the audio box set that the guests did. Robertson decided that Richard Manuel's voice on The Band performances of both 'Georgia On My Mind' and 'King Harvest (Has Surely Come)' was too shot away to use. Having heard the warts and all version, it was a case of too far gone, though Manuel's fans will be disappointed at losing them.
You get a rehearsal version of 'King Harvest' instead. Having heard Richard's 'Georgia' on the Complete Last Waltz bootleg, Robbie was correct. By a happy coincidence, Van Morrison has recorded the same Ray Charles standard on, 'Down The Road.' As with Van's version of 'You Don't Know Me' I sense that the homage is to Richard Manuel as much as to Ray Charles.
There's also a DVD-Audio version of the original 3 album release in 5.1 surround sound with enhanced quality over the Dolby Digital movie soundtrack. It came out in 2002, and it's hugely impressive while being oddly disconcerting. With studio albums, there's no reason why instruments shouldn't appear in new locations. With The Last Waltz, I checked 'Caravan' first, and while the voice is right in front of you, bits of guitar, some of the horns and all the audience is behind you. Because CONCERT is written huge in my head, the placing (as on the DVD video) takes a bit of getting your head round. With a live show, you have the preconception of a stereo sound stage. With studio recordings, it's easier to drop your pre-conceptions because you don't necessarily think of it as a group playing in front of you.
Van Morrison appears on three of the original tracks, 'Tura Lura Lura (An Irish Lullaby), where he sings with Richard Manuel, 'Caravan' where he sings solo, and the mass finale, 'I Shall Be Released' where the three greatest songwriters of the era, Dylan, Morrison and Robertson, share a mic. There are no missing tracks, and we get all that he performed on the box set, though inexplicably Scorsese had eradicated 'Tura Lura Lura' from the film, possibly for technical reasons, possibly for political ones. Dylan was the only guest who got more than one song onto the film.
The additional tracks on the box set include the rehearsals of both 'Tura Lura Lura' and 'Caravan'. For years rumours had circulated that Van was late on stage for 'Tura Lura Lura.' The rehearsals prove that was bullshit. They did it exactly as they'd rehearsed it.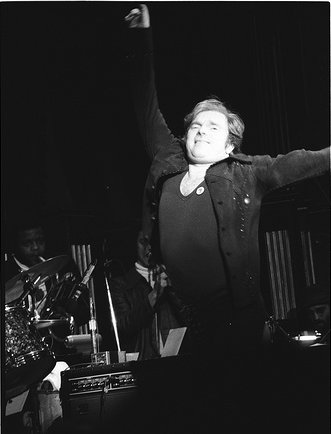 The DVD contains the restored original film with 5.1 soundtrack, and commentaries by Roberston and Scorsese, but no inserted extras (i.e. no 'Tura Lura Lura'). The Last Waltz was always more than a filmed concert. It was a coherent work by a major director, and it was always clear that extra footage was highly unlikely to be added to the re-release, except as bonus material. The bonus material includes one of the after show jams, but that's all. It's a very different sort of 5.1 mix. Normally, you get ambience -- the crowd behind and the stage "pulled forward" by the use of the back speakers so that you feel you're sitting in the audience. In other words it's not that far from stereo. However, the 5.1 mix of The Last Waltz places you right on the centre of the stage with the camera, and even then isn't "realistic" in a concert sense. There is more information on the back speakers than is usual for a concert video, and it's carefully placed. Robbie's guitar on 'Caravan' shifts round the system. Little touches of Garth's organ waft across the back speakers. On 'I Shall be Released,' Joni Mitchell is distinguishable as emerging from the back left speaker. It's brilliant, and totally different to any concert video. This is a movie, not a filmed concert.
The question people always ask is whether there were any outtakes, apart from the bonus jam on the DVD. You'd have thought they'd have filmed everything, but that's because we live in a video age. The cost of 35 mm film stock was prohibitively high in those days, especially running multiple cameras, so I can believe they didn't film every single thing. BUT then they bothered to film the jam? That's the odd thing, unless they were using up the film they had left, knowing they'd already got the show in the can. Another point is that there were no scrapped takes as there would be (many of) on a feature film in those days, so in consumable terms it was highly efficient. Robbie has said that Scorsese had the film storyboarded very thoroughly, which could mean that they always intended to take only the second song when people did two right from the start. That would have given them the chance to get levels right and line-up the camera angles during the first song. That might explain why several Band songs weren't taken. But don't forget that only six or seven years earlier people were merrily wiping off Beatles / Stones live performances so that they could re-use the tape! According to Robbie Robertson, in interviews at the time of the dvd release, Scorsese lost what outtakes there were. Apparently he stored them in his house, probably improperly labeled, and could not find anything other than the jam footage when it came time to come up with extras for the dvd. Robbie specifically remembered there was footage for Tura Lura Lura and he had wanted to include it.
There is a home video shot from the balcony, which was reputed to have been done by a Band family member. The quality is appalling. They're just blurred silhouettes -- multiple copies + NTSC emulated into PAL doesn't help. Sound is decipherable though. 'Georgia''s there, and Richard Manuel's blurred shape seems to be sitting holding the mic for most of it. But there are loads of jumps -- it cuts out during Dr John, then leaps to 'Mannish Boy' (missing Paul Butterfield and Bobby Charles), only a bit of that, then into 'All Our Past Times' which after a verse or so leaps into 'Further On Up the Road.' You get a bit of 'Acadian Driftwood' with Garth walking to the front on accordion, a few seconds of 'Evangeline,' no Van (or Neil Diamond), then straight into Dylan. Conserving batteries may have been the problem. I tried to watch it through years ago, but it is largely unwatcheable.
In 2006, The Lost Waltz, a Japanese bootleg DVD appeared with several of the lost performances. It is said to come from a camera that was used in the hall to feed a backstage monitor so as to cue the artistes. It was pretty far back. As such, it's an unedited low quality mono black and white affair. However, it does include 'Tura Lura Lura.'
In contrast, there was also a high-definition Blu-ray version of the film released in July 2006 in the USA. This includes a new extra, Revisiting the Last Waltz, a 20 minute interview with Martin Scorsese and Robbie Robertson, but no new footage. I haven't got a Blu-ray player, so cannot comment, but its early release on the new format is a tribute to its status.
The 1978 release of the film was a turning point for Van Morrison. He'd been through a comparatively fallow period in the mid 70s, and in 1976 at the time of the film had not performed live with his own band since June 1975. Even among such stellar company, he shone. Most reviewers rate his performance as one of the very best in the film. 'Caravan' in its long and elaborate version had been a high point on 'Too Late To Stop Now'. At The Last Waltz, the song was stripped of its pretensions and presented with the ultimate backing group. It was also one of the very few glimpses of the audience that we get in the film -- the camera pans quickly across the audience to reveal Robbie and Van at the mic,. there's a whispered 'Here we go' and they're into it. As Van kicks his way off stage, we get another fleeting audience glimpse. The decision to show those rare glimpses framing 'Caravan' is to me an indication of his role in bringing the show back on track after Joni Mitchell's set killed the momentum.
-- Peter Viney
Van Morrison and Rick Danko at The Last Waltz
These quotes were mainly garnered via The Band website (theband.hiof.no).
What Van Morrison said in 1977
Ritchie Yorke: Moving out of the analyst's chair and getting back to live performances, I'd like to hear your version of the events leading up to your appearance last November in San Francisco with The Band and sundry other characters at the Last Waltz.
Van Morrison: Well the guys just decided they were going to do it and before you knew it, it was all over. It was just like that. A week afterwards I spoke to Robbie Robertson and I asked him: 'Was that it?' It seemed like he had been talking about it and then it was done. All of a sudden it was an idea and the next thing it was all wrapped up. The film is coming out very soon.
Ritchie Yorke: What sort of rehearsals took place up front before the gig?
Van Morrison: Rehearsals? You're joking--there was about five minutes' worth. I just walked in and we jammed on some Bobby Bland tunes for a while to get the groove. They're just like me; the way I work. We both came up through the bar thing. The theory is that you don't play a song the same way twice because it's jazz. That's where I'm coming from. So working with them was like...well, it wasn't even work. It was just natural for me to walk in there and do it. Because we're both coming from similar backgrounds. We're jazz musicians. The context may be rock 'n' roll but it's still jazz. It's jazz and that means improvization...you play a tune the way it feels and you play it differently every time. It can never be the same.
Ritchie Yorke: The media reacted in a rather flabbergasted way to your cutting loose on stage with the big kicks and all that. It didn't seem to be what people expect of Van Morrison.
Van Morrison: Well, if you're with a good band and everybody's from the old school, it's different. When you're in your element, you're in your element and things just come. You don't have to drag them out or force them out. They just happen.
Ritchie Yorke: It was nice to see The Band bringing Muddy Waters into the gig since he has been a prime influence on both yourself and The Band.
Van Morrison: Definitely Muddy Waters has been a prime influence for anybody who's ever done anything rock 'n' roll.
-- Ritchie Yorke, Radio Interview, 1977
What Levon Helm said
By now it was after midnight, and the crowd was subdued. The momentum of the show had been lost halfway through Joni's set ... this was Van's first appearance on stage in more than two years - and The Last Waltz was suddenly revived with a spectacular version of 'Caravan'. Van burned through his great song - 'Turn it up! Little bit louder! Radio!' - complete with kicksteps across the stage at the end. Van turned the whole thing around. God bless him for being the showman he is.
-- Levon Helm, This Wheel's On Fire, 1993
What Robbie Robertson said
I remember talking to Van Morrison, because I had this great idea for him, a version of the Irish lullaby, 'Tura Lura Lura'. I wanted to play him thia arrangment that I had in my head. He didn't get into it at first. He was going, 'Well, what am I supposed to do after that? Go right into 'When Irish Eyes Are Smiling' and 'Danny Boy'?' He thought it was a corny idea. So I played it for him in this slow gospel format on guitar or piano. I can't remember which. And I wanted Henry Glover to do the horn charts. Henry Glover had written 'Drown in My Own Tears' for Ray Charles. After that, Van got it completely. He never mentioned it again.'
-- Robbie Robertson, notes in The Last Waltz box set, 2002
When we were putting together the different people that we all felt should be at "The Last Waltz," Van Morrison, for me, unquestionably, had to be there. For me personally, I needed Van there. And I remember -- when I first met him, we were in California, and we were recording -- The Band album. I think we were starting to record The Band album.
Then, a few years later, Van moved up to Woodstock, New York, where we were living, and we became good friends. And him and I wrote a song together that we recorded on the Band's album Cahoots. It's called Four Percent Pantomime, which is a whole story unto itself. But we had just made a great connection, and Van and Richard Manuel were very close, too.
And when I called him to come and do the thing at The Last Waltz, he came and I had this studio out in Malibu then, with the other guys in the Band, called Shangri-La. And he came out, and I said, "I've got an idea." I said, "Instead of me, just because of our relationship and everything, I want to introduce you in a different way. And what I'd like to do is, we're going to start singing "Tura Lura Lura." Nobody's ever heard the verses to "Tura Lura Lura." I'd like to start singing "Tura Lura Lura," Richard'll do it. I have this arrangement," which I played for him on the guitar.
"And then, when it comes time for the first verse, just you walk out into the spotlight. It's like "Cabaret." And start singing the verse to "Tura Lura Lura." And then we'll -- we'll do the song, and we'll finish it together."
And he sat there, and he was looking at me, and he was like, "You want me to then sing, 'When Irish Eyes are Smiling?' I said, "No, no, no, no, no. You don't get it. I have this way. I have this kind of slow, three-quarter time gospel idea, this version of it in my ... " And I played it for him then on the guitar, what I was talking about. And he was like, so, immediately, so on the verse, and it just connected musically for him like that.
So we go to Winterland, and we're rehearsing up there. Van comes. And I see him, he's coming out on the stage first, to run over the song. And he's dressed like Sam Spade. He's like, here's the detective. It was raining or something. He just thought he was wearing a raincoat. But I'd never seen Van Morrison dressed in this kind of, you know, detective thing before.
And I thought, this is fantastic. He's gonna come out there like Sam Spade, take off his overcoat, and then we're gonna rip into "Caravan." I had this whole thing in mind, that he, that I thought he was doing. Anyway, we ran over "Tura Lura Lura." For us, it was personal. You know what I mean? I, you know, I hoped everybody else was gonna enjoy it at the concert, and but for me, I didn't have to say, I didn't care. It was personal. And it just gave me chills down to my shoes.
So the night, I mean, when it's the concert, Van comes out on the stage, and he's dressed in this purple, this little purple outfit, like with straps and things on it. All of a sudden, he's got this rock and roll star outfit on. And I was like, "What happened to the Sam Spade thing?" And he was just like, "No, no, no, no, no."
He was just shaking his head. And, but anyway, we did it. It wasn't in the film, but we have the outtakes of this. And I'm hoping that we're gonna get to use this, 'cause people have to see this the way it was. And just the way I had imagined it in my dream is the way that it was in the film. And if you listen to the soundtrack now, for me, to this day, it is one of the absolute most moving moments on the soundtrack.
And then, of course, when we did "Caravan," which was something that we really just wanted to play together, and I wanted to play some guitar on, and we wanted to do that. And we did this. And we had the horn section and the whole thing, and the way the song built and it built and it built. All of a sudden, at the end, when Van starts kicking his leg up in the air, we were like, "What's happening here? This is the most wonderful out of control I've ever seen him." And it was just magical, you know, just that whole song, and the performance of that. When we were finished playing that song, when I turned around, you know, to the other guys in the band, and I was like, "Okay," you know? We were just feeling so good at that moment.
-- Robbie Robertson, VH-1 interview on the making of The Last Waltz.
'Van Morrison (is) one of the greatest soul singers ever ... we always felt a musical affinity with Van even before we met him.'
-- Robbie Robertson, notes in The Last Waltz DVD, 2002
McLaughlin: What was your favorite performer in the show?
Robertson: Van Morrison was one of them. People know that Van and I are old friends and Bono said to me, "Yeah, you're probably his only friend." (Laughs.) He's a little grouchy at times, but he's great. I love him as a person, I love him as a songwriter and he's just the BEST singer. I'd seen Van plenty of times and I'd never seen him carry on like that. He was kicking his legs like a rockette!
-- Robbie Robertson, interviewed by Dee McLaughlin, for Virgin Mega Mag, June 2002
What manager Harvey Goldsmith said
He was really up for it. On the night everything was all laid out and everybody had turned up. But twenty minutes before he was due on, he just disappeared. He ran back to the hotel, decided he didn't look right, changed. Then he wasn't going to do it. I literally went back to the hotel, got him back and virtually pushed him on stage. When he went onstage, it was electric. It was one of the most magical performances I've ever seen him do. It was unbelievable. He went out there and really stormed the place. All the artists like Clapton, Dylan and Joni Mitchell were out there in a little area to the side and everybody came out to watch it and they couldn't believe it. To a person, they all stood up and roared with the audience. And that's where he's at. When he's onstage there's no one to touch him. But off stage he's unbearable.
-- Interview with Johhny Rogan for 'Van Morrison: A Portrait of the Artist', 1984'
What presenter Bill Graham said
Van did 'Caravan.' He is the kind of performer that if you catch him on a good night, there is nobody like him. 'Turn it up. Radio. Little bit louder. Turn it up.'The purest kind of performer in that with him you are always getting one of a kind. From him you never get the same painting twice. And he was on that night ... I must say that Robbie and the Band were the greatest house band I ever heard. They backed everybody. They played with everybody and switched off on each others' instruments and musically they were brilliant.
-- Bill Graham, Bill Graham Presents, 1992
What they said the first time around
Manuel turned the piano over to John Simon, and began 'Tura Lura,' a song about an Irish lullaby; just as Manuel finished the first verse, Van Morrison made his entrance - and he turned the show round. I had seen him not many minutes before prowling the balconies, dressed nondescriptly in a shirt and jeans, scowling; but there he was on stage, in an absurd maroon suit and a green top, singing to the rafters. They cut into 'Caravan'- with John Simon waving The Band's volume up and down, and the horns at their most effective - while Van burned holes in the floor. He was magic, and I thought, Why didn't he join The Band years ago? More than any other singer, he fit in, his music and theirs made sense together. It was a triumph, and as the song ended Van began to kick his leg in sheer exuberance, and he kicked his way right offstage like a Rockette. The crowd had given him a fine welcome and they cheered wildly when he left.
-- Greil Marcus, Rolling Stone, 1976
The only other guest moment that matched Clapton's was the return of Van Morrison, the excellent but often shy, retiring (on stage) singer-songwriter. In his first major U.S. concert appearance in some two years, Morrison did a gritty, intense duet with Richard Manuel on "Tura Lura Lura" and then went through a stylish, spirited, version of "Caravan" with a few energetic kicks in the air.
-- Robert Hilburn, LA Times, 27 November 1976
Van Morrison capped the string of guest stars, singing "Tura Lura" as if it were a Ray Charles tune.
-- Joel Selvin, San Francisco Chronicle, 27 November 1976
As Neil Diamond left the stage, John Simon took over the piano, while Richard Manuel began to sing an Irish lullaby, 'Tura Lura.' During the first verse, the crowd started a mellow chant, softly voicing its growing expectations, mouthing a rhythmic series of strongly positive "yeses." Then, at the sudden entrance of Van Morrison, the audience's total affirmation of the musical event was vigorously confirmed. Clad in a maroon suit and a bright-green shirt, Morrison pumped the audience with his movements, burning up the floor boards, singing the song as a Ray Charles lullaby. Surprised by Morrison's first public appearance in more than three years, the audience went wild, cheering him at the song's finish. He kept the flame up, cutting directly into 'Caravan' with the horn section blasting, The Band's volume high, and his voice blending triumphantly with their music. Morrison's talented exuberance sent The Last Waltz whirling beyond its showcase-of-stars structure, transcending all categorical boundaries, crossing the frontiers of stardom to effectively celebrate The Band's music, as well as his own. Robbie Robertson sought to push the experience even further, shouting for Van Morrison to "turn on your radio!" demanding that he "kick the goddamn shit" out of the tune. Not only did Van belt the song to the rafters, he took Robbie literally, kicking his leg into the air, cakewalking a stylized cancan, dancing offstage. Van's exit caused an eruption; his performance had stunned the crowd into a frenzy. The hall was charged with emotion, and Robbie Robertson capped the electrifying moment by crediting the singer who'd already left the stage, actually introducing him for the first time: "Van the man!" was all he had to say.
-- Emmett Grogan, Oui, 1976/7
Van had been watching the earlier part of the show, but according to manager Harvey Goldsmith decided to go back to the Miyako Hotel to change his clothes at the last minute. Few commentators have been able to resist being unpleasant about Van's sartorial taste. The maroon jumpsuit not only looked like a cast off from The Four Tops, it was spangled with sequins. I don't see why it was that funny though. Maybe it was unexpected for Van, but he was dressing to his role as a soul singer. Tura Lura Lura allowed two of the greatest white soul singers to compare their voices. The version of Caravan was phenomenal, and Robertson's guitar and the horn parts lifted it into the stratosphere - even though The Band didn't manage to get as low in volume as other line-ups have. Robertson's closing shout, 'Van the Man!' was to be echoed in live shows for the next thirty years.
-- Peter Viney, Van Morrison & The Band, Wavelength #7, March 1996
I side with those critics who believe that Van Morrison's performance is excellent. Unfortunately, neither his outfit nor his physical grace rise to the same level as his singing... Nevertheless, Morrison's physical excitement and presence have been foreshadowed by the previous interview segment, in which helm discussed the visual, showy component of minstrel shows.
-- Neil Minturn, The Last Waltz of The Band, (full length academic study), 2005
What the critics said about the 2002 re-release
Many of the performances in The Last Waltz were spectacular. Mr Morrison, for one, delivers his best live performance on record- a galvanizing version of 'Caravan'.
-- Anthony DeCurtis, New York Times, April 2002
Mr. Scorsese's technique was a measured formality - one that seems even more quaint now than when the picture was first released. The courtliness contradicts the shaggy joy of the singers, who step onto the stage and have a marrow-deep confidence in themselves, too. The supreme joy can be seen in performances like Mr. Morrison's, in which he flings his limbs in what can only be called an Irish approximation of funk. He's like a happy, dancing Butterball Turkey.
-- Elvis Mitchell, New York Times 7 April 2002
Between The Band and its friends, The Last Waltz delivers a long list of musical highlights. Some personal favorites: Mr. Morrison, who absolutely slays a spirited rendition of "Caravan" before sauntering off stage; The Staples, whose vocals bring soulful magic to the classic "The Weight"; and Mr. Waters, ever the "Mannish Boy," laying into his signature song with gusto.
--Chris Vognar, Dallas Morning News, 20 April 2002
The Band's own records might have overdone the stodge, but they were an astonishing backing band, full of invention, twists, and on Van Morrison's 'Caravan,' moments of other-worldly genius.
-- John Aizelwood, Q magazine, May 2002
But the handful of good performances (Joni Mitchell, Paul Butterfield) are outnumbered and overpowered by the awful ones (Bob Dylan, Van Morrison, Eric Clapton, Neil Diamond). Ever wonder why punk happened? Watch this film again, if you can manage to stay awake.
-- Jim DeRogatis, Chicago Sun Times, 19 April 2002
This time around, Mr. Robertson got it right. The sound quality on the CDs is superb, and not only audiophiles will benefit. For example, Mr. Robertson's diligence unearthed the glories of the arrangers and seven-member horn section, who emerge as unsung heroes of the concert ... Henry Glover's soulful arrangement of 'Tura Lura Lural' lets Mr. Morrison and The Band's Richard Manuel do a Ray Charles turn on the old Irish ballad.
-- Jim Fusili, Wall Street Journal, 19 April 2002
Viewed in 2002, "The Last Waltz" signals the end of an era--musically and culturally. For starters, Van Morrison will never again wear a tight purple stage suit with sequins up the crotch. Punk and disco music were on the horizon. And absence makes the heart grow fonder. "The Last Waltz" gains much of its staying legs because the Band is frozen in time, unlike the Rolling Stones or the Who.
--Dave Hoekstra, Chicago Sun Times, 17 April 2002
The overall tenor of the documentary suggests survivors at the ends of their ropes. They dress in dark, cheerless clothes, hide behind beards, hats and shades, pound out rote performances of old hits, don't seem to smile much at their music or each other. There is the whole pointless road warrior mystique, of hard-living men whose daily duty it is to play music and get wasted. They look tired of it.
Not all of them. The women (Joni Mitchell, Emmylou Harris) seem immune, although what Mitchell's song is about I have no clue, and Harris is filmed in another time and place. Visitors like the Staple Singers are open-faced and happy. Eric Clapton is in the right place and time. Muddy Waters is on sublime autopilot. Lawrence Ferlinghetti reads a bad poem, badly, but seems pleased to be reading it. Neil Diamond seems puzzled to find himself in this company, grateful to be invited.
But then look at the faces of Neil Young or Van Morrison. Study Robertson, whose face is kind and whose smile comes easily, but who does not project a feeling of celebration for the past or anticipation of the future. These are not musicians at the top of their art, but laborers on the last day of the job. Look in their eyes. Read their body language.
-- Roger Ebert, Chicago Sun Times, 19 April 2002
Even if you only saw the movie "The Last Waltz" once, 20 years ago, you probably remember at least a few scenes vividly. Van Morrison bringing "Caravan" to a close with a series of high kicks. Muddy Waters shaking his fists with regal authority while singing "Mannish Boy." Rick Danko of The Band, framed in a single lonely spotlight, warbling "Stagefright."
Here's one more. For the grand finale, "I Shall Be Released," the stage at San Francisco's Winterland Theater was so crowded Morrison couldn't have executed one of his kicks without hurting someone. There were clusters of stars around every microphone: Bob Dylan, Morrison and Robertson at center stage; Neil Young, Joni Mitchell, Neil Diamond and Danko to their right; Eric Clapton, Paul Butterfield and Bobby Charles to their left. Ron Wood of the Rolling Stones was off to one side, playing guitar. Helm and ex-Beatle Ringo Starr manned the drum kits.
-- Jay Lustig, Star Ledger, New Jersey 14 April 2002
After all, back then audiences might have taken The Band--and its guests that night in San Francisco, from Bob Dylan to Neil Young to Van Morrison--for granted; they were everywhere and, it seemed, not going anywhere. Today, with the exception of Dylan and perhaps Young, they've been done in--by time (which claimed Muddy Waters and Pops Staples), maybe even by themselves. Robertson figures we need to be reminded of their importance; and maybe they do, too.
-- Robert Wilonsky, Houston Press 18 April 2002
Now The Last Waltz comes dancing out of the past to remind us of what was lost that night. The guest stars' stints are entertaining enough, and several - by Morrison in a grotesque maroon suit, Dylan in a white pimp's fedora, and a magisterial Waters - more than live up to expectations. The nicely put-together CD boxed set offers more of nearly everyone, even if rehearsal tapes and the like smack of overkill. But the real wonder - in defiance of all the bad blood, the drugs and the rock star shenanigans - is the awesome soulfulness and musicality of The Band.
-- Larry Katz, Boston Herald, 19 April 2002
That's not to say that the performances aren't worthwhile: Neil Young, Muddy Waters, Joni Mitchell, Van Morrison and Eric Clapton all weigh in with memorable takes on their own material. Even better are pre-concert sessions with The Staples on The Weight and Emmylou Harris on Evangeline. That much of the audio was supposedly overdubbed is kind of a moot point: It's a movie. The Last Waltz may be a sacred cow for rock afficionados. It does disappear up its own rear end. But compared to the sort of mindless ego-massages and jump-cut filled exercises that would follow in its concert film wake, it still stands alone.
-- Keiran Grant, Toronto Sun, 19 April 2002
Among the highlights: Hawkins and the Band reuniting on their 1963 hit cover of Bo Diddley's "Who Do You Love"; Muddy Waters's rugged "Mannish Boy"; Van Morrison's spirited "Caravan," complete with uncharacteristic Rockette kick
-- Richard Harrington, Washington Post, 19 April 2002
The evening had moments that brought shivers to the spines of music fans (such as) Van Morrison at his most manic.
-- Jim Slotek, Toronto Sun, Sunday 21 April 2002
(Helpless) provides the first of the film's four certified goose bump moments when, on the second chorus, the camera reveals a silhouetted Joni Mitchell backstage, providing a ghostly background vocal. The second arrives when Van Morrison takes the stage to perform his gypsy-soul anthem "Caravan." When Allen Toussaint's horn section begins to pump up the choruses, the usually static and surly Morrison lets go with a kick of exaltation that nearly causes him to lose his balance.
-- Terry Lawson, Detroit Free Press, Friday, April 26, 2002
I have a clear recollection of going to see the film wearing my provincial punk duds and a sneer ... the sneer lasted for about as long as it took for the combination of Scorsese's courtly direction and Robbie Robertson's reptile narcissism to coalesce into something like a narrative. By the time Van Morrison had begun his kung-fu kicks against the horn stabs in 'Caravan' -- one of the most surreally thrilling things I have ever seen -- the die was cast ... ... and everybody else ought to buy it for the two best live performances that Van Morrison ever committed to tape.
-- Nick Coleman, The Independent, London, May 3 2002
Plenty of other household names, though, showed up to honor the Band that night. Fellow Canadians Joni Mitchell and Neil Young performed, as did Eric Clapton, who was an enormous fan of the group. Irish belter Van Morrison stole the evening with a rousing version of "Caravan."
-- Dan Lybarger, Kansas City Star, June 9, 2002
The interviews (in the film) are used to introduce various artists and this is where the film screws up for me. Joni Mitchell is shown after a silly, almost sexist discussion about 'the ladies.' Van Morrison, because he kicked his way off-stage at this one show, is somehow linked to a discussion on Chuck Berry's duckwalk and other early rock 'n' roll moves. Anyone who's seen Van perform (although he occasionally pulls off some crazy stuff) knows he's about as far from a showman as you can get. The original film and the re-release should have used the way Morrison was introduced at the concert itself: Richard Manuel singing 'Tura Lura Lura (An Irish Lullaby)', with Morrison walking on stage to complete the song, giving one of the greatest performances of his entire career ...
... A perfect fit. The Band know just what to do on Morrison's 'Caravan', a song he wrote in Woodstock and Morrison takes things to a very high level with a truly stunning performance.
-- Peter Stone Brown, Gadfly Online, 6 May 2002
The second audio track (on the DVD) is a treasure. On it, a mass of people - musicians like Dr. John, Helm, Hudson and Hawkins; critics like Greil Marcus and Time's Jay Cocks; and various film production people -- gleefully dish on the movie as it plays in front of them. Marcus, who wrote a book on the "Basement Tapes," patiently explains some of the themes of each of Robertson's songs as they come up; Cocks is at his best nailing the personas of some of the players, as when he calls Morrison a "half-homicidal elf."
-- Bill Wyman (not the Rolling Stones one!), Atlanta Journal / salon.com, 22 May 2002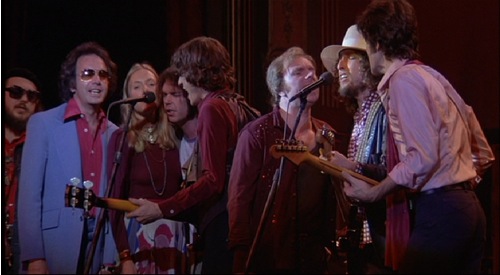 Dr. John, Neil Diamond, Joni Mitchell, Neil Young, Rick Danko, Van Morrison, Bob Dylan and Robbie Robertson at The Last Waltz
Official audio versions
Triple album in single sleeve with booklet enclosed. (Warner Brothers 1978)
Compact disc (2 CD set): Warner Bros.
Remastered 4-CD set with bonus tracks and 80 page booklet - 2002 - Rhino Records/ Warner Bros.
DVD audio - 2002 - DVA Rhino 78260/ Warner Music Vision
Limited edition vinyl 3-LP 30-track set with guitar picks, photos and replicas of a poster, ticket and backstage pass - 2003 - Rhino Handmade
CD abbreviated version of the remastered box set: Warner/Rhino 73925(2003)
Van Morrison "At the Movies" (CD, 2007) contains the Last Waltz version of Caravan.
Bootleg audio versions
The Complete Last Waltz, 4 CD box set, with the concert tapes without the extensive cleaning up and overdubbing that was done in 1977-78.
Official video
VHS / Betamax tapes, early 1980s (MGM / UA)
Laserdisc (MGM / UA), late 80s
VHS re-release (UA), 2001
DVD release of remastered version 2002
Blu-ray DVD version, 2006
Bootleg video
'The Lost Waltz' (Scorpio), Japan, 2006
---
[History] [Members] [Library] [Discography] [Videography] [Filmography] [Pictures] [Audio Files] [Video Clips] [Tape Archive] [Concerts] [Related Artists] [Merchandise] [Guestbook] [Chat Room] [Search] [What's New?] [Main Page]
Webmaster