Van Morrison & The Band
---
This article first appeared as 'Troubadours' in the Van Morrison newsletter Wavelength, issue 7, March 1996. For subscription information, see the Wavelength web site. You may also send an e-mail to Wavelength at wavelength@netcentral.co.uk , or contact Wavelength by telephone at +44 1270 528188, or write to: Wavelength, Po Box 80, Winsford, Cheshire CW7 4ES, ENGLAND.
Copyright © Wavelength / Peter Viney 1996
---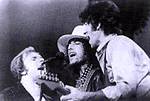 Of course I'd seen him on Top of The Pops. He was the long haired guy with the crap backing group who did Baby Please Don't Go in the mid sixties, and … what was it … not a classic blues this one, ah yes … Here Comes The Night. Then I lost touch with Van's music until a few years later in 1970. Some reviewer compared MOONDANCE to THE BAND. That was sacrilege to me at the time. Nobody and nothing compared to Robbie Robertson, Levon Helm, Richard Manuel, Rick Danko and Garth Hudson - The Band. The review at least got me to listen to it. 1970 must have been a year or two before record stores shut their last booths. Booths were great. There were two seats, a loudspeaker facing directly into each ear, and a willing assistant might let you spend half the afternoon there. Which I did. One grey Norwich afternoon I listened through MOONDANCE from end to end. It actually annoyed me - like The Band! The guy was an obvious and pale imitation. Yeah, it was good, but it wasn't in the same league. I didn't buy it … but then it could have been the best album in the world and I wouldn't have bought it. Thirty five shillings was way beyond my means.
Twenty five years later MOONDANCE is one of my all-time favourite albums. OK, The Band comes higher on that list, but at least Van's been consistently pushing it out throughout the interim.
Van Morrison had spent 1970 and 1971 in Woodstock, home of The Band. He's said that Brand New Day from MOONDANCE was inspired by The Band's I Shall Be Released. Like George Harrison and Eric Clapton and nearly any musician with ears at that time, Van was a Band fan. He hasn't done a great deal with The Band, but they have collaborated at intervals and the results shed light on both artists. This review of their work together is sub-divided discographically (if there's such a word) with comments following the releases. I can't imagine that a Van fan would fail to like The Band, nor vice-versa.
Official releases
The Band: Cahoots
LP (Capitol EA-ST 651) (1971)
CHART: US # 21 UK # 41
Also on:
The Band: To Kingdom Come
2 CD set (Capitol CDS 7 92169 2) (1989)
4% Pantomime (J.R. Robertson / Van Morrison)
Van Morrison - lead vocal / Richard Manuel -lead vocal, drums / Rick Danko - bass / Levon Helm - present - possibly guitar or mandolin / Garth Hudson - keyboards / Robbie Robertson - lead guitar
Van Morrison's first meeting with any of The Band was actually in LA in 1970, where he ran into his Woodstock neighbour, Robbie Robertson. The result was a developing friendship with The Band, particularly with pianist Richard Manuel. The two men were equally caught up in the soul and sound of Ray Charles, and hit it off immediately. Van was invited to play with The Band on their fourth album, the critically reviled CAHOOTS. This was more of a privilege than it might seem nowadays. The Band had declined Bob Dylan's offer to lend his name and backing vocals to MUSIC FROM BIG PINK, settling instead for a cover painting. Eric Clapton had disbanded Cream in sheer despondency after hearing that album. He even went up to Woodstock hoping he'd pluck up the courage to ask to join them, but his nerve failed. George Harrison was taking a holiday from the infights at Apple by hanging out with The Band in Woodstock. The only outsider to feature musically on their early albums was producer John Simon. When Van played with The Band in 1971 his name wasn't worth extra sales to them in any way. He was there on merit.
The song, 4% Pantomime has great lyrics and a pretty nondescript melody, which is par for the course on CAHOOTS. It's a vocal duet between Richard Manuel and Van Morrison. The title comes from the 4% difference in proof between Johnny Walker Red whisky and Johnny Walker Black. The session results from Van dropping in by chance while Robbie Robertson was writing the song. Van decided to help, and they recorded it in one take the same evening. Robbie's lyric was the first reference to Van as The Belfast Cowboy, though it seems Robbie had coined it before the session. Journalists owe Robbie a lot.
Van and Richard were acting this whole thing out. For a second when I was watching, it became soundless and it became all visuals - people's hands and veins and people's necks. It was almost like this movement thing was going on, and the music was carrying itself. It's bizarre and wild. It was a lot of fun to do it. It was an archive kind of thing that we actually put on record.
Robbie Robertson
Levon Helm was also impressed, though it seems Manuel had done one of his frequent switches from piano to drums on the session:
Richard Manuel played the drums with our neighbour Van Morrison on a raucous number cut in one take, 4% Pantomime. This happened when Van came to Bearsville (studio) and began discussing the merits of scotch whisky with Richard. They acted out some lyrics about management and a poker game and Richard sang, 'Oh, Belfast Cowboy, can you call a spade a spade?' It was an extremely liquid session, Van and Richard were into it, and there was horror among the civilians at the studio when the two dead-drunk musicians argued about who would drive the other one home. Richard drove, and I think he made it. Lord knows he wrecked a lot of cars that year.
Levon Helm
CAHOOTS ended The Band's run of critical infallibility. The four best tracks, Dylan's When I Paint My Masterpiece, the group effort Life is A Carnival, Robertson's The River Hymn (featuring Levon's wife Libby Titus on backing vocals) and 4% Pantomime can all be found on the TO KINGDOM COME double CD collection. The Band box set ACROSS THE GREAT DIVIDE has a similar selection, but unfortunately replaces 4% Pantomime with the weak The Moon Struck One.

The Band: The Last Waltz
3 LP set (Warner Bros K66076) (1978) 2 CD set (Warner Bros. 3146-2)
CHART: US # 16 UK # 39
Produced by Robbie Robertson
Co-production by Rob Fraboni & John Simon

The Band: The Last Waltz
Film 1978. Video (Warner Home Video PES 99354) 1988
LaserDisc (NTSC only)
Directed by Martin Scorsese
Tura Lura Lura (That's An Irish Lullaby) (James Royce Shannon) - ON ALBUM ONLY
Caravan (Van Morrison) - ON VIDEO & CD
Van Morrison - lead vocal / Rick Danko - bass, vocal / Levon Helm - drums, vocal / Garth Hudson - organ, / Richard Manuel - piano, vocal / Robbie Robertson - guitar, vocal / John Simon - piano in Tura Lura.
Horn section: Rich Cooper - trumpet, flugelhorn / Jim Gordon - tenor sax, flute, clarinet / Jerry Hay - trumpet, flugelhorn / Howard Johnson - tuba, baritone sax, flugelhorn, bass clarinet / Charlie Keagle - alto sax, flute, clarinet, tenor & soprano sax / Tom Malone - trombone, euphonium, alto flute, bass trombone / Larry Packer - electric violin

I Shall Be Released (B. Dylan)
Bob Dylan & Richard Manuel - vocal / Ringo Starr - drums / Ron Wood - guitar + The Band Backup vocals: Neil Young, Joni Mitchell, Ronnie Hawkins, Dr John. Neil Diamond, Paul Butterfield, Bobby Charles, Eric Clapton, Van Morrison
The best live album ever? OK. The best rock film ever? If you like. Let's start out with a contemporary review of the actual concert from Rolling Stone, written before anyone had seen the film.
Manuel turned the piano over to John Simon, and began 'Tura Lura,' a song about an Irish lullaby; just as Manuel finished the first verse, Van Morrison made his entrance - and he turned the show round. I had seen him not many minutes before prowling the balconies, dressed nondescriptly in a shirt and jeans, scowling; but there he was on stage, in an absurd maroon suit and a green top, singing to the rafters. They cut into 'Caravan'- with John Simon waving The Band's volume up and down, and the horns at their most effective - while Van burned holes in the floor. He was magic, and I thought, Why didn't he join The Band years ago? More than any other singer, he fit in, his music and theirs made sense together. It was a triumph, and as the song ended Van began to kick his leg in sheer exuberance, and he kicked his way right offstage like a Rockette. The crowd had given him a fine welcome and they cheered wildly when he left.
Greil Marcus

The truth is that The Band were flagging at this point in their marathon all-star farewell concert (at Winterland in San Francisco, on Thanksgiving Day 1976). There'd been stunning performances from Neil Young, Muddy Waters and Ronnie Hawkins, but the set lost momentum during Joni Mitchell's spot. She'd eschewed the obvious hit song for the occasion (Big Yellow Taxi ) and had elected to play three difficult new songs. The Band had spent the previous night rehearsing and re-rehearsing her set in the light of her doubts about their ability to find her new groove. As you can hear from bootlegs of the whole show, she'd done an excellent Coyote and Darkness and Light then lost the whole thing during an uncertain and dire Furry Sings The Blues. Robbie's new friend Neil Diamond had followed, and did well enough, but it was the wrong audience for him. You can hear that The Band were getting tired and pedestrian by the time Van showed up. After all they'd been on stage the whole time, while guests like Neil Young had been getting supercharged in the wings - one of Scorsese's tasks in editing was removing the boogie of cocaine on Young's nostril from the film. But as Marcus says, Van took the show by its throat. Levon Helm agrees:
By now it was after midnight, and the crowd was subdued. The momentum of the show had been lost halfway through Joni's set … this was Van's first appearance on stage in more than two years - and The Last Waltz was suddenly revived with a spectacular version of 'Caravan'. Van burned through his great song - 'Turn it up! Little bit louder! Radio!' - complete with kicksteps across the stage at the end. Van turned the whole thing around. God bless him for being the showman he is.
Levon Helm
Van had been watching the earlier part of the show, but according to manager Harvey Goldsmith decided to go back to the Miyako Hotel to change his clothes at the last minute. Few commentators have been able to resist being unpleasant about Van's sartorial taste. The maroon jumpsuit not only looked like a cast off from The Four Tops, it was spangled with sequins. I don't see why it was that funny though. Maybe it was unexpected for Van, but he was dressing to his role as a soul singer. Tura Lura Lura allowed two of the greatest white soul singers to compare their voices. The version of Caravan was phenomenal, and Robertson's guitar and the horn parts lifted it into the stratosphere - even though The Band didn't manage to get as low in volume as other line-ups have. Robertson's closing shout, 'Van the Man!' was to be echoed in the nineties; succesfully in A NIGHT IN SAN FRANCISCO, but somewhat naffly by Georgie Fame during the Autumn 1995 Jazz Tour. Van came back on for I Shall Be Released, which was sung by Dylan and Manuel. He shared the main mic with Dylan and Robertson for the choruses, so made an audible contribution.

THE LAST WALTZ was a good career move for Van. He'd been languishing in the doldrums in the mid-70s and his performance deservedly thrust him into the limelight again. On the actual show most artists had done two or three songs, but the rule Robertson and Scorsese adopted for both the film and CD was one each, except for Dylan. This rule was followed in the film, but on the CD Van was the only other artist to get two songs. See below under collectors' tapes for further information about the original concert.

Both the double CD and the video versions of THE LAST WALTZ are easily available. Unfortunately you need both. The video does not contain Tura Lura Lura, and you don't get to look at the jumpsuit on the CD.

Various Artists: The King of Comedy (soundtrack)
Warner Bros. US release LP 92-3765-1 (1983)
also on:
The Best of Van Morrison
Polydor CD 841 970-2 (1990)
Wonderful Remark (Van Morrison)
Produced by Robbie Robertson.
Van Morrison - vocal, acoustic guitar/ Robbie Robertson - electric guitar / David Hays - bass / Jim Keltner - drums / Richard Tee - piano / Nicky Hopkins - organ, synthesizer. Produced by Robbie Robertson.
Martin Scorsese and Robbie Robertson had shared a house while they were going through simultaneous marriage problems, and Robertson has collaborated on Scorsese's films, Raging Bull, The King of Comedy, Color of Money and Casino. Both of them believed passionately that the right choice of song created a commentary to a film's action. Their policy now seems standard fare in films like Forrest Gump and Pulp Fiction. The soundtrack to 1983's King of Comedy runs the range from Ray Charles, Talking Heads, B.B. King, The Pretenders and Rickie Lee Jones. The most intriguing tracks were Between Trains, Robbie's first solo song since 1980's film Carny, and his first original since ISLANDS, and Van Morrison's Wonderful Remark. Both songs were produced by Robertson and the pace and melodies seem to go closely together. Robertson approached Van Morrison for a contribution:
I showed him the movie and he was very disturbed about how to relate to the whole thing. He took the job much more seriously than I thought.
Robbie Robertson
It seems that Morrison was incensed about Robert De Niro's role in the film, particularly the way in which De Niro's character was demanding fame when he hadn't paid his dues. Morrison showed Robertson a half-finished song from 1983 (the original version is on the forthcoming THE PHILOSOPHER'S STONE )which ended up as a full production behind the closing titles. It fit. The song became Van's classic obscurity. The album was hard to find, treasured by the few that had it. It finally really reached the wider public as the only rarity on THE BEST OF VAN MORRISON in 1990. THE KING OF COMEDY is well worth hunting for. Anyone reading this has probably got everything else on THE BEST OF …

Van Morrison: Wavelength
LP, CD Warner Bros 3212-2 (1978)
Produced by Van Morrison.
Kingdom Hall (Van Morrison)
Van Morrison - acoustic guitar, vocal / Peter Bardens - piano, synthesizer / Bobby Tench - electric guitar / Mickey Feat - bass / Peter Van Hooke - drums / Garth Hudson - Yamaha synthesizer solo

Venice, USA (Van Morrison)
Van Morrison - acoustic guitar, vocal / Peter Bardens - organ / Bobby Tench - electric guitar /Mickey Feat - bass / Peter Van Hooke - drums / Garth Hudson - accordion / Herbie Armstrong -electric rhythm guitar

Take It Where You Find It (Van Morrison)
Van Morrison - acoustic guitar, vocal / Peter Bardens - piano, Roland horns / Bobby Tench - electric guitar / Kuma - bass / Peter Van Hooke - drums /Mitch Dalton - Spanish guitar / Garth Hudson - organ
THE LAST WALTZ was where Van Morrison met Dr. John, and this had led to the A PERIOD OF TRANSITION album, which was not a happy time for either of them. Dr. John complained that a great deal of good material was rejected, and has restated the common complaint that Van was difficult to deal with.
I'd heard stories about how difficult Van could be from … The Jazz Crusaders who had collaborated with Van on an album not long before. At the time The Jazz Crusaders were the premier band in the land, but apparently whatever went down wasn't right on the nail enough for Van. After they finished the record, Van decided he didn't like the album, and erased it.

He's probably one of the few guys that I ever felt like punching out in the middle of a session, but I didn't do it - not because I didn't feel like it, but because I respected his singing so much.
Dr. John
Van felt the same, Johnny Rogan quotes him as saying, 'I don't want to work with this lot. I'm off,' after a show with Dr John's selected back-up musicians. After two problematic and intractable attempts with American musicians (Dr John had brought along Stevie Wonder's rhythm section), Van retreated to a more familiar line up for WAVELENGTH, which was pleasant enough, and a significant improvement on both A PERIOD OF TRANSITION and HARD NOSE THE HIGHWAY (which deserved a prize for worst cover design of the decade). For WAVELENGTH he brought together musicians from all the stages of his career - Herbie Armstrong had played in rival Belfast bands, Peter Bardens had played organ in one incarnation of Them and Garth Hudson brought back memories of Woodstock. Kingdom Hall is a rollicking opener which refers to Van's youth as a Jehovah's Witness, yet has an Americana, gospel feel. Venice USA really showcases Garth's accordion, and Garth also adds organ to the closing track. The resulting album was the fastest selling of his career up to that point, going gold within three months. Its release coincided with the acclaim for the film of The Last Waltz. It even had a magazine named after it eventually …

Roger Waters: The Wall - Live in Berlin
Double CD (Mercury 846 611-2) (1990)
Produced by Nick Griffiths and Roger Waters.
Also on Video (1990)
Comfortably Numb (Gilmour / Waters)
Van Morrison, Roger Waters - lead vocals / Rick Danko, Levon Helm - harmony vocals / Garth Hudson - accordion
with The Bleeding Heart Band:
Graham Broad - drums / Rick DiFonzo - guitar / Andy Fairweather-Low - guitar & bass / Nick Glennie-Smith - keyboards / Snowy White - guitar / Peter Wood - keyboards / Joe Chamay, Jim Farber, Jim Haaas, John Joyce - vocals.

The Tide is Turning
The Company
The hi-fi video might be a better buy if you want to relish the spectacle which includes the Military Orchestra of the Soviet Army, the Rundfunk Orchestra and Choir, James Galway, Tim Curry, Thomas Dolby, Albert Finney and Marianne Faithful, Bryan Adams, Joni Mitchell, Scorpions, Cyndi Lauper, Paddy Maloney - and The Band, Van Morrison and Sinead O'Connor.
The credits for the Band's contributions describe them as:
The Band: Levon Helm, Rick Danko, Garth Hudson.
So, The Band 1990 were down to a three piece (which has the same basic instrumental line up as Emerson, Lake & Palmer if you think about it. Perhaps better not) Here they sing, while Garth contributes accordion. The Band had backed Sinead O'Connor on Mother earlier. They then supported Van Morrison on the eight minute Comfortably Numb. The four men would seem at first sight to be an incongruous contribution to this ex-Pink Floyd epic, but in fact Van handled the vocal well against the bombastic pomp of the backing. Levon Helm and Rick Danko supported his sections.
Collectors' tapes and bootlegs
EC's Birthday 30 March 1976
Collectors' tape
Instrumental / Viva / Right Now
It's EC's birthday / Who do you love?
Hard Times / What do I do? #1
What do I do? #2 / Instrumental
What do I do? #3 / Instrumental (x 2)
What do I do? #4 / Stormy Monday
Eric Clapton - vocal, guitar / Rick Danko - bass / Billy Preston - vocal, keyboards / Van Morrison - vocal
Piano and organ can be heard at the same time, with the organ sounding typically Billy Preston. There are at least two guitars on Who Do You Love.
Possibly other Band members (drums and piano)
This one's more than a touch dubious. Eric Clapton recorded NO REASON TO CRY at The Band's Shangri-La studios. The out-takes exist on collectors' tapes, including this birthday party session which was attended by Van Morrison and Billy Preston as well as The Band. You can't really say it would have been more fun to have seen it, I guess you'd actually have to have been playing to get much out of it. Van Morrison is not very evident (if there at all, though he's always cited as being present) - most of the vocals are Billy Preston or Eric Clapton. Then again, Billy Preston was supposed to have joined The Band briefly in 1991 before they established their current line-up. Stormy Monday is Van's solo vocal piece.
A Van Morrison vocal version is also listed as a NO REASON TO CRY out-take with members of The Band. It may therefore exist in a more polished version than this.
The Band & Friends
Danish 4 - CD set. Limited edition
The Complete Last Waltz
Winterland, San Francisco, November 1976
Danish 4CD set. Limited Edition. Excellent sound.
also:


From the concert 24 November 1976:
Tura, Lura, Lura (Shannon)
Caravan (Van Morrison)
Van Morrison Soundcheck 23 November 1976:
Tura Lura Lura
Van Morrison, John Simon and The Band

Three factors give the complete recording of THE LAST WALTZ interest value. First some great performances never made it to the film or CD (Joni Mitchell's Darkness and Light, Neil Young's Four Strong Winds, Eric Clapton's All Our Past Times, Muddy Waters' Caldonia ). Second there exists a long jam session after the show and (on collectors tapes only) bits of Clapton and Morrison doing sound checks. Thirdly, and most interestingly, these are the raw versions without overdubs. Levon Helm was critical of the amount of overdubbing in his autobiography. He quotes arranger John Simon:
I'm pretty sure that Levon is the only honest, live element in The Last Waltz, with the exception of Muddy Waters' vocal. Everything else was overdubbed and redone … Robbie was right in that there were some good reasons for overdubbing the whole thing. Richard wasn't singing well, Rick's bass was out of tune, and Robbie wanted to improve his guitar solos. Also the horns were completely out of balance and had to be redone in New York with arrangements Henry Glover and I put together. The great thing was that Levon didn't need to do it over. He got it right first time, and those were the drum tracks used in the final mix.
John Simon
True or false? Well, true for a lot of it. Not so significantly for Van's set though. The one thing that's added to Tura Lura Lura is the rapturous reception that Van received - audience noise was removed from the final versions. The balance is completely different, but no one seems to be screwing up.

On Caravan, you can see that Greil Marcus's review of the raw version was just as deserved as the accolades for the finished product. There seems to be more prominent organ from Garth, and the bass sounds muzzy rather than out of tune on the raw tape. As on most tracks, guitar is louder and more crisply played on the final version, which was Robbie's privilege as producer. The bass is more propulsive too, but that might be simply taking a direct feed as opposed to a general concert balance. The horns are way more prominent and punchy on the final version - you can hear more of Garth's organ punching out the lines here than the horns. In the end though it's Van's performance, and the audience reaction that still sounds real on both versions.

The soundcheck version of Tura Lura proves that Van wasn't just 'late on stage' in the concert, as some reviewers said. In rehearsal, Richard Manuel is already taking the first verse solo with Van entering later. Van's very low in the mix - lucky they did a soundcheck then! The two-part vocal sections are actually better, it sounds as if the whole of The Band is there giving lift.

The Band: Nostell Priory, England 25 August 1984
Collectors' tape I'm Forgetting (?)
Caravan (Van Morrison)
Van Morrison - lead vocals / Rick Danko - vocals, acoustic guitar / Garth Hudson - keyboards, saxophones/ Richard Manuel - vocals, piano
WITH
Ernie Cate - keyboards, vocals / Earl Cate - guitar, vocals / Ron Eott - bass, vocals / Terry Cagle - drums, vocals

In 1983 and 1984 the four remaining Band members reformed to tour with the Cate Bros. This resulted in two videos, the widely distributed THE BAND IS BACK aka THE BAND REUNION CONCERT, and the Japan only release JAPAN TOUR . It seemed that they needed an extra drummer, Terry Cagle, and a bassist, Ron Eoff, to allow them to miss the more boring bits of backing duties, as well as Earl Cate to replace Robertson on guitar, and Ernie Cate who was surely superfluous as a third keyboard player. Levon was furious when he found out that their 1984 American dates were to be interrupted for the rock festival at Nostell Priory in England. Levon took his cue from 4% Pantomime :
Mr Booking Agent - don't book those jobs so far apart …
and declined to fly to England for just one show- shades of the 1965 Dylan tour when Levon also got off the bus. With the Cates on board, the others flew to England without Levon. After extensive touring with the Cates they didn't suffer too much instrumentally, though they had to be selective about what they could perform without one of their three lead vocalists. Rick Danko sounds uncharacteristically nervous as he launches into Levon's first verse in The Weight for instance, as does Richard Manuel later. The set was not up to standard, unsurprisingly. However, they lifted their act with another Van Morrison sit in for two numbers. Van had omitted Caravan from his own set, and saved it for The Band.
The first is called I'm Forgetting on tapes, though it could equally be called War is Over. The Band had closed their main set with Chest Fever, then came back with Van Morrison as their first encore. Rick Danko announces him without resorting to the cliched aliases (was that a first?). It's a laid back country and western flavoured song with Rick Danko duetting on harmony vocal, and very tasteful guitar fills from Earl Cate.
The audience were already calling for Caravan and they got it. This is much more restrained than The Last Waltz version, with Rick Danko again prominent on the choruses. The passion is lacking, but then so was the occasion. The quiet passage actually disappears, and as they come back up countryish guitar tries desperately to replace the horn section, and the rhythm section is comparatively wooden. It's not a long version! A Band tradition has been to get guests to fill in verses in The Weight, but unfortunately they didn't do it this time!
CODA
It all came full circle for me watching Van on the Autumn 1995 tour. One of the standouts of his act was Ray Charles' You Don't Know Me. Watching it, I realised what I hadn't noticed on Van's album version. For me the spirit of Richard Manuel hovered around Van during the performance, which can be seen as a heartfelt tribute to the Band's dead pianist. Manuel's star turn in Levon and The Hawks had been You Don't Know Me, and it had featured heavily in his 1980s solo gigs. The Band only recorded the song for posterity on the JAPAN TOUR video, but anyone who had known Manuel would have associated the song with him forever - he'd performed it at Nostell Priory, too. Van and Manuel were tight (in both the British and American senses) in the glory days in Woodstock.
Further Reading:
The Band:
Levon Helm & Stephen Davies 'This Wheel's On Fire'
Barny Hoskyns 'Across The Great Divide'
The Last Waltz:
Bill Graham & Robert Greenfield 'Bill Graham Presents …'
Greil Marcus 'The Band's All Star Adieu' in Rolling Stone 30 December 1976
Mary Pat Kelly 'Martin Scorsese: A Journey'
Van Morrison:
Johnny Rogan 'Van Morrison'
Steve Turner 'Too Late To Stop Now'
Other artists:
Dr John & Jack Rummel 'Under A Hoodoo Moon'
Marc Roberty 'Eric Clapton: The Complete Recording Sessions 1963-1992'

---
[History] [Members] [Library] [Discography] [Videography] [Filmography] [Pictures] [Audio Files] [Video Clips] [Tape Archive] [Concerts] [Related Artists] [Merchandise] [Guestbook] [Chat Room] [Search] [What's New?] [Main Page]
Webmaster