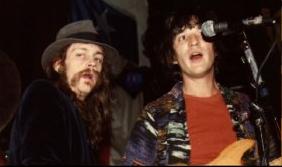 Vollmer and Danko, 1980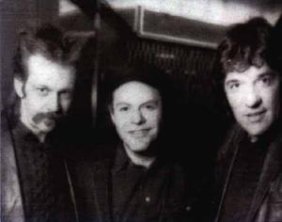 Sredni Vollmer, Colin Linden and Rick Danko, 1988
Sredni Vollmer
A legend and world reknown harmonica player, Woodstock artist Sredni Vollmer co-wrote and recorded the Philladelphia International hit song "No-Tell Motel" with Don Covey. He has recorded with Leslie West (Mountain), Rick Danko, Kinky Freedman, Colin Linden and many others. Sredni performed on stage with The Band, Hot Tuna, Paul Butterfield Blues Band, and Bob Dylan, and has been a member of groups like the Woodstock Mountains Revue and Sunshine and the Flashbacks.

Sredni Vollmer started working with Rick Danko in the late '70s, as a member in the band Rick put together after releasing his first solo album. He continued as Rick's sidekick harp player throughout the '80s and '90s. Sredni performed at the Danko memorial concert a few days after Danko's death, where I had the pleasure of talking to him after the show.

In 1988, Sredni Vollmer toured with Rick and Garth Hudson as part of the "Australian Band". Vollmer can also be hard on the posthumous Rick Danko solo album Times Like These and the Richard Manuel live album Whispering Pines.

---
[History] [Members] [Library] [Discography] [Videography] [Filmography] [Pictures] [Audio Files] [Video Clips] [Tape Archive] [Concerts] [Related Artists] [Merchandise] [Guestbook] [Chat Room] [Search] [What's New?] [Main Page]
Webmaster