John Niven: 33 1/3 -- Music from Big Pink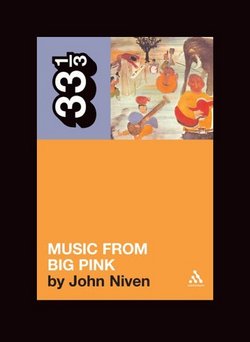 [Cover] [Peter Viney's book review]
Thirty-Three and a Third is a series of short books from Continuum about critically acclaimed and much-loved albums of the past 40 years. The books demonstrate many different ways of writing about music. What binds this series together is that all of the authors -- musicians, scholars, broadcasters, and writers -- are huge fans of the albums they have chosen. Music from Big Pink, with a plot that revolves around the 1967 Woodstock music scene and the making of The Band's debut album, was released in October 2005.
"An amazing piece of work." --Greil Marcus

"Took me back to a time and place I've only ever visited in my head." --Barney Hoskyns

"The received wisdom handed down by rock scholars and historians has been that for Dylan and The Hawks this (1967) was a period of woodshedding; of quiet meditation, musical reflection and scholarly, almost Spartan, diligence. And, compared to the drug-soaked blitzkrieg that was Dylan's 65-66 world tour, it probably was. However, life in the Catskills that year was also filled with sex, parties, hashish, pregnant locals, heroin, drunken near-fatal car crashes, fist-fights, amphetamines and brushes with the law: All business as usual for a group of young musicians who were receiving their first decent pay-packet and experiencing their first real taste of fame... Informed by extensive research and interviews with surviving Band members Levon Helm and Garth Hudson, Music From Big Pink is a factional book; a place where fictional characters rub shoulders with real people like Richard Manuel, Rick Danko and Albert Grossman, and where actual documented events thread their way through the text alongside imagined scenarios. Through the eyes of twenty-three-year-old Greg Keltner, drug-dealer, wannabe musician, bag-man and hanger-on, we witness the gestation and birth of a record that will go on to cast its spell across forty years - bewitching and inspiring artists as disparate as The Beatles, Eric Clapton, Elton John, Elvis Costello, Wilco, and The Flaming Lips."
--Editorial review
John Niven, the author, has a degree from Glasgow University in English Literature, and was the guitarist in The Wishing Stones -- their sole LP Wildwood (Heavenly Records 1992) owes more than a a passing debt to the music of The Band. He now works as a music and screenplay writer, film director and A&R for acts like Travis, Mogwai, and Sigur Ros.
John Niven - Music from Big Pink - 2005 - 176 pages - Continuum International Publishing Group - ISBN 082641771X
---
[History] [Members] [Library] [Discography] [Videography] [Filmography] [Pictures] [Audio Files] [Video Clips] [Tape Archive] [Concerts] [Related Artists] [Merchandise] [Guestbook] [Chat Room] [Search] [What's New?] [Main Page]
Webmaster