Various Artists: 100 Essential 1980s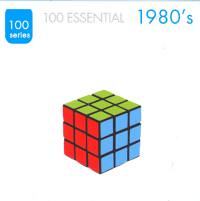 The 100 Essential series comes in 6 volumes: 100 Essential 1960s, 100 Essential 1970s, 100 Essential 1980s, 100 Essential 1990s, 100 Essential Love Songs and 100 Essential Motown. Each volume is a reasonably-priced 5 CD collection that features 100 songs from their respective decade or genre, culled from MCA's extensive catalogue.
100 Essential 1980s features songs from Robbie Robertson ("Somwhere Down the Crazy River" on disc 2), Soft Cell, ABC, Swing Out Sister, Level 42, Dexy's Midnight Runners, Tears For Fears, The Housemartins, The Style Council, The Cure and many more.
Tracks
Disc 1
The Lovecats - The Cure
Don't Walk Away - Four Tops
Fresh - Kool & The Gang
Fool If You Think It's Over - Elkie Brooks
Maniac - Michael Sembello
Higher Love - Steve Winwood
On Our Own - Bobby Brown
There's A Guy Works Down The Chip Shop Swears He's Elvis - Kirsty MacColl
The Riddle - Nik Kershaw
Piano In The Dark - Brenda Russell
Reward - The Teardrop Explodes
Me Myself I - Joan Armatrading
Wonderland - Big Country
Somebody's Watching Me - Rockwell
Under Your Thumb - Godley & Creme
When Smokey Sings - ABC
It's Different For Girls - Joe Jackson
I Want Your Love - Transvision Vamp
Shout To The Top - The Style Council
Do They Know It's Christmas? - Band Aid
Disc 2
The Lady In Red - Chris De Burgh
Rhythm Of The Night - DeBarge
Licence To Kill - Gladys Knight
(They Long To Be) Close To You - Gwen Guthrie
Lessons In Love - Level 42
Love Changes Everything - Michael Ball, Michael Reed, Orchester Der Vereinigten Bühnen Wien
Every Little Step - Bobby Brown
Luka - Suzanne Vega
Wasteland - The Mission
Drop The Pilot - Joan Armatrading
A Love Supreme - Will Downing
All I Ask Of You - Sarah Brightman, Cliff Richard
Somewhere Down The Crazy River - Robbie Robertson
Lost Weekend - Lloyd Cole And The Commotions
Obsession - Animotion
Let's Get Serious - Jermaine Jackson
I Found Someone - Cher
Don't Turn Around - Aswad
Fade To Grey - Visage
Funkytown - Lipps Inc.
Disc 3
Shout - Tears For Fears
Teardrops - Womack & Womack
Song For Whoever - The Beautiful South
Pull Up To The Bumper - Grace Jones
I Think We're Alone Now - Tiffany
Just Like Heaven - The Cure
Stop - Sam Brown
In My House - Mary Jane Girls
Wouldn't It Be Good - Nik Kershaw
Follow The Leader - Eric B. & Rakim
I Can Dream About You (O.S.T. Streets Of Fire) - Dan Hartman
(Do) The Hucklebuck - Coast To Coast
Secret Lovers - Atlantic Starr
Too Good To Be Forgotten - Amazulu
Harvest For The World - The Christians
Town Called Malice - The Jam
Marlene On The Wall - Suzanne Vega
There She Goes - The La's
The Wanderer - Status Quo
Pass The Dutchie - Musical Youth
Disc 4
The Look Of Love (Part 1) - ABC
Addicted To Love - Robert Palmer
You Keep Me Hangin' On - Kim Wilde
Sweet Little Mystery - Wet Wet Wet
Breakout - Swing Out Sister
Lullaby - The Cure
The Music Of The Night - David Caddick, Royal Philharmonic Orchestra, Michael Crawford
Eighth Day - Hazel O'Connor
Under The Boardwalk - Bruce Willis
My One Temptation - Mica Paris
I Surrender - Rainbow
Labelled With Love - Squeeze
Steppin' Out - Joe Jackson
Ain't Nothin' Goin' On But The Rent - Gwen Guthrie
New Beginning (Mamba Seyra) - Bucks Fizz
I Am The Law - Anthrax
Look Away - Big Country
Happy Hour - The Housemartins
Say You, Say Me - Lionel Richie
(You Gotta ) Fight For Your Right - The Beastie Boys
Disc 5
Tainted Love - Soft Cell
The Only Way Is Up - Yazz
Get Down On It - Kool & The Gang
Word Up - Cameo
Nightshift - Commodores
Don't Push It Don't Force It - Leon Haywood
Running In The Family - Level 42
Don't Stop The Music - Yarbrough & Peoples
Eloise - The Damned
Never Knew Love Like This Before - Stephanie Mills
I Should Have Known Better - Jim Diamond
Perfect Strangers - Deep Purple
If I Could Turn Back Time - Cher
My Prerogative - Bobby Brown
No Sleep Till Brooklyn - The Beastie Boys
Heat Of The Moment - Asia
Don't Pay The Ferryman - Chris De Burgh
Upside Down - Diana Ross
Happy Talk - Captain Sensible
Come On Eileen - Kevin Rowland & Dexys Midnight Runners
Various Artists - 100 Essential 1980s - 200? - MCA Music FBUDCD 005
---
[History] [Members] [Library] [Discography] [Videography] [Filmography] [Pictures] [Audio Files] [Video Clips] [Tape Archive] [Concerts] [Related Artists] [Merchandise] [Guestbook] [Chat Room] [Search] [What's New?] [Main Page]
Webmaster