A Musical History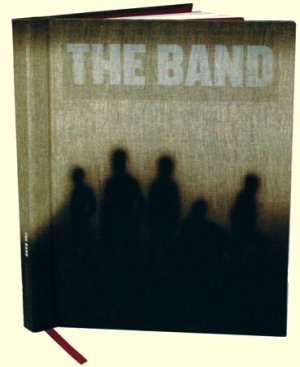 [Official web site] [Cover] [Discs] [Track details] [Promo CD] [Radio Special Promo CD] [Promo insert for Other Peoples Music]
"OK... here it is, I can really sign off on this; the definitive musical history of The Band"
-- Robbie Robertson, Ice magazine, August 2005
A Musical History is a comprehensive boxed set documenting The Band's recording career from 1963 to 1976, with 37 previously unreleased tracks. Released by Capitol/EMI Music Catalog Marketing in September 2005, A Musical History includes five audio discs and a DVD featuring rare live performance footage. The release concludes the comprehensive restoration campaign for The Band's entire Capitol Records catalog, that also produced the 2000/2001 remastered-with-bonus-tracks re-releases of their 8 first albums.

Among the previously unreleased audio tracks here are live and studio recordings The Band created with Bob Dylan and Ronnie Hawkins, as well as various song sketches. The DVD's nine film clips include previously unreleased concert performances, a filmed studio jam, and three songs The Band performed on "Saturday Night Live" in 1976, never before issued in their entirety.

The boxed set, which was overseen by Robbie Robertson with producers Cheryl Pawelski and Andrew Sandoval, comes packaged with a 108-page hardbound book with previously unseen photos and memorabilia, and a cover painting of The Band by world-renowned artist Ed Ruscha.

On the rather inexpensive 67-track iTunes version of A Musical History, the tracklisting is quite different, disc 1 and the DVD are completely absent, and also tracks with Dylan and others are omitted, but it includes a previously unissued(?) live version of "I Shall Be Released."

Sound samples, purchase info. and more available from Capitol Records' official web site for the boxed set, thebandmusic.net.
Tracks
[More track info.]
Disc 1
Who Do You Love - Ronnie Hawkins & The Hawks
You Know I Love You - Ronnie Hawkins & The Hawks
Further On Up The Road - Ronnie Hawkins & The Hawks
Nineteen Years Old - Ronnie Hawkins & The Hawks
Honky Tonk - Levon & The Hawks #
Bacon Fat - Levon & The Hawks #
Robbie's Blues - Levon & The Hawks #
Uh Uh Uh - Levon & The Hawks (released as: Canadian Squires) *
Leave Me Alone - Levon & The Hawks (released as: Canadian Squires) *
He Don't Love You (And He'll Break Your Heart) - Levon & The Hawks
(I Want To Be) The Rainmaker (song sketch) #
The Stones I Throw (song sketch) #
The Stones I Throw - Levon & The Hawks
Go Go Liza Jane - Levon & The Hawks
Can You Please Crawl Out Your Window - Bob Dylan (single version)
Tell Me Mama - Bob Dylan #
Just Like Tom Thumb's Blues - Bob Dylan **
Beautiful Thing (song sketch) #
Words And Numbers (song sketch) #
You Don't Come Through (song sketch) #
Caledonia Mission (song sketch) #
Odds And Ends
Ferdinand The Imposter
Ruben Remus
Will The Circle Be Unbroken #
# = Track previously unissued
* = Track previously unissued on CD
** = Track previously unissued on LP (in the US) or CD
Disc 2
Katie's Been Gone
Ain't No More Cane
Don't Ya Tell Henry
Tears Of Rage
To Kingdom Come (full-length version) #
In A Station
The Weight
We Can Talk
Long Black Veil
Chest Fever
Lonesome Suzie (alternate version)
This Wheel's On Fire
I Shall Be Released
Yazoo Street Scandal #
I Ain't Got No Home (w/ Bob Dylan)
Orange Juice Blues (Blues For Breakfast)
Baby Lou #
Long Distance Operator #
Key To The Highway #
Bessie Smith
# = Track previously unissued
Disc 3
Across The Great Divide
Rag Mama Rag
The Night They Drove Old Dixie Down
When You Awake
Up On Cripple Creek
Whispering Pines
King Harvest (Has Surely Come)
Get Up Jake
Jemima Surrender (early version) #
Daniel & The Sacred Harp (alternate take)
Time To Kill
All La Glory (early version) #
The Shape I'm In
Stage Fright
The Rumor
Slippin' & Slidin' #
Don't Do It
Strawberry Wine #
Rockin' Chair #
Look Out Cleveland #
4% Pantomime #
# = Track previously unissued
Disc 4
Life Is A Carnival
When I Paint My Masterpiece
The Moon Struck One
The River Hymn
Don't Do It
Caledonia Mission
Smoke Signal #
Unfaithful Servant **
W.S. Walcott Medicine Show **
Genetic Method **
Chest Fever **
(I Don't Want To Hang Up My) Rock `N' Roll Shoes **
Loving You (Is Sweeter Than Ever) **
Endless Highway
Move Me (song sketch) #
Two Piano Song #
Mystery Train
# = Track previously unissued
** = w/Rock Of Ages Horn Section
Disc 5
Ain't Got No Home
Share Your Love
Didn't It Rain
Forever Young-Bob Dylan
Rainy Day Women #12 & 35-Bob Dylan
Highway 61 Revisited-Bob Dylan #
Ophelia
Acadian Driftwood
It Makes No Difference
Twilight (song sketch) #
Christmas Must Be Tonight
The Saga Of Pepote Rouge
Livin' In A Dream
Forbidden Fruit #
Out Of The Blue
Evangeline (w/ Emmylou Harris)
The Night They Drove Old Dixie Down
The Weight (w/ The Staples)
# = Track previously unissued
Disc 6 - DVD
Jam/King Harvest ***
1970 Robbie's Studio - Woodstock, NY
Long Black Veil #
7/5/70 - Festival Express Train Tour - Calgary, Canada
Rockin' Chair #
7/5/70 - Festival Express Train Tour - Calgary, Canada
Don't Do It - Rock Of Ages #
December 28-31, 1971 Academy Of Music - NYC
Hard Times (The Slop)//Just Another Whistle Stop #
Noble "Thin Man" Watts/Richard Manuel/Robbie Robertson, 9/14/74 Wembley Stadium - London
Genetic Method/Chest Fever #
9/14/74 Wembley Stadium - London
Life Is A Carnival ***
10/30/76 Saturday Night Live - NYC
Stage Fright ***
10/30/76 Saturday Night Live - NYC
Georgia On My Mind ***
10/30/76 Saturday Night Live - NYC
# = Track previously unissued
*** = Performance previously unissued in its entirety
Credits
Compilation Produced & Compiled By: Robbie Robertson, Cheryl Pawelski & Andrew Sandoval
Production Resources: Garth Hudson
Project Coordinator: Jared Levine
Tape Research: Andrew Sandoval & Cheryl Pawelski
Mastered at Digiprep by Dan Hersch & Andrew Sandoval
Mixed By Patrick MacDougal, Summer 2004
Liner Notes: Rob Bowman
Editorial Assistance: Audrey Bilger
Track Research & Annotation: Cheryl Pawelski & Rob Bowman
A&R Editorial: Sean Quinn
Business Affairs & Legal: Frank Lopez & Rick DuChateau
Project Manager: Stacey Freeman
Memorabilia & Records: The Collections of Cheryl Pawelski & Brad Rosenberger
The Band - A Musical History - 2005 - Capitol Records CCAP77409-6
---
[History] [Members] [Library] [Discography] [Videography] [Filmography] [Pictures] [Audio Files] [Video Clips] [Tape Archive] [Concerts] [Related Artists] [Merchandise] [Guestbook] [Chat Room] [Search] [What's New?] [Main Page]
Webmaster