The Shaw Brothers: A Profile of New Hampshire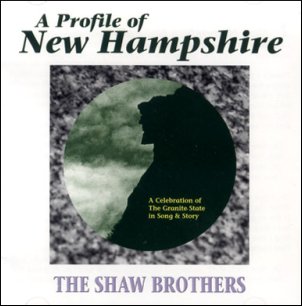 Originally titled Flight Without Wings, this 1987 album from folk-singing twin brothers Rick and Ron Shaw is a "Tribute to the Granite State", filled with songs written about New Hampshire.
The CD was recorded in Woodstock, N.Y. with local musicians sitting in on the sessions, including Garth Hudson of The Band, John Sebastian of the Lovin' Spoonful, Eric Weissberg ("Duelling Banjos"), and Bob Dylan's drummer, Richard Crook.
Tracks
New Hampshire...Naturally
Lucy, Come Ride In My Wagon
The Gundalow Song
The Ballad Of The Concord Coach
Along The New Hampshire Way
Flight Without Wings
Let's All Go To The Beach
Harold Is A Lobsterman
All Along The Merrimack
Stewards Of The Land
The Shaw Brothers - A Profile of New Hampshire - 1987 - ?
---
[History] [Members] [Library] [Discography] [Videography] [Filmography] [Pictures] [Audio Files] [Video Clips] [Tape Archive] [Concerts] [Related Artists] [Merchandise] [Guestbook] [Chat Room] [Search] [What's New?] [Main Page]
Webmaster