The Best of The Band
36 All-Time Greatest Hits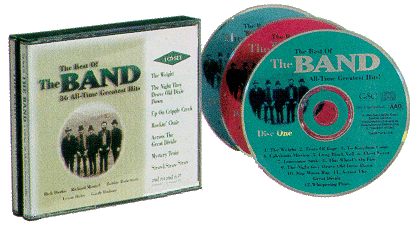 The 3 CD set The Best of The Band: 36 All-Time Greatest Hits from EMI-Capitol Music / GSC Music is available at warehouse-type clubs in the US such as Sam's, Costco and Time-Life Music for $19.99, along with a number of similar packages including numerous Capitol artists, e.g. the Beach Boys, as well as artists on other labels like Jim Croce, Lovin' Spoonful and many others. As expected, it is a very budget product. It has no liner notes or publishing information. Sound quality appears decent, not great. All tracks appear to be common studio versions (except Disc 3 nos. 2 and 4, of course).
Tracks
Disc 1
The Weight
Tears of Rage
To Kingdom Come
Caledonia Mission
Long Black Veil
Chest Fever
Lonesome Suzie
This Wheel's On Fire
The Night They Drove Old Dixie Down
Rag Mama Rag
Across the Great Divide
Whispering Pines
Disc 2
Up On Cripple Creek
Rockin' Chair
Unfaithful Servant
King Harvest (Has Surely Come)
Strawberry Wine
Time To Kill
The Shape I'm In
Stage Fright
The Rumour
Life Is A Carnival
When I Paint My Masterpiece
Smoke Signal
Disc 3
Volcano
Don't Do It
Mystery Train
(I Don't Want To) Hang Up My Rock And Roll Shoes
Ain't Got No Home
The River Hymn
The Promised Land
Saved
A Change Is Gonna Come
Ophelia
Ring Your Bell
Rags And Bones
The Band - The Best of The Band: 36 All-Time Greatest Hits - 1998 - 3CDs - EMI-Capitol Music / GSC Music. Copyright info is © Entertainment Distributing, Inc. Product of EMI-Capitol Music Special Markets. Distributed by Entertainment Distributing, Inc. The number on the spine is 15383. The UPC is 0 1130-15383-2 1. The "Selection No." is 72438-19793-2-7. This number also appears on the front cover.
---
[History] [Members] [Library] [Discography] [Videography] [Filmography] [Pictures] [Audio Files] [Video Clips] [Tape Archive] [Concerts] [Related Artists] [Merchandise] [Guestbook] [Chat Room] [Search] [What's New?] [Main Page]
Webmaster