The Allman Brothers Band: Live Beacon Theatre 3/9/09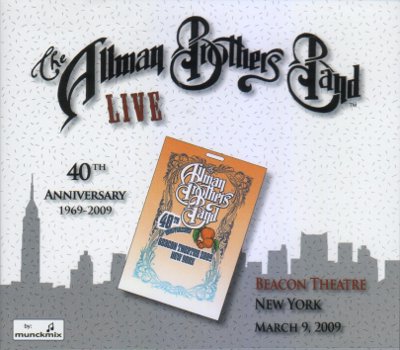 [Album cover] [Back cover] [15-gig box]
In 2009, The Allman Brothers Band released a mighty live box with all 15 sold out shows at the Beacon Theatre, New York City, recorded in March the same year. Each concert is also available as a separate live album.
This 3-CD set documents the opening night, March 9th, featuring guests Levon Helm with Larry Campbell, Teresa Williams and Brian Mitchell (all members of the Levon Helm Band), and blues legend Taj Mahal.
Peter Viney's comments:
Brian, Teresa, Larry & Levon play on "Ophelia" and "I Shall Be Released, with Taj Mahal joining them for "The Weight." It's an extremely good "Ophelia." Levon's voice is cracking on "I Shall Be Released," where he takes the first verse, but that makes it more effective. The piano playing is stunning and there are long guitar solos, well taken ones pushing it to 6m 47 s.
"The Weight" is interesting in adding Taj, as he did one of the very first Band covers when he recorded the Robertson-Hudson original "Bacon Fat" on 1969's Giant Step. It's a powerful solid performance with all the guest vocals well-taken. I'd say Taj has verse 3 and one of the Allmans verse 4 (but I'm not very familiar with which is which). There are LOTS of drums on this, but they must have had three drummers and a percussionist as well as three guitarists. Levon's voice is completely shot on the last verse, but Teresa leaps in and supports at the right times.
Tracks
CD 1
Little Martha
Don't Want You No More
It's Not My Cross To Bear
I Walk On Gilded Splinters
The Same Thing
Stage Banter
New Instrumental
Midnight Rider
Leave My Blues At Home
Announcements
Leavin' Trunk #
CD 2
44 Blues #
Statesboro Blues #
Ophelia *
I Shall Be Released *
The Weight #*
Black Hearted Woman
CD 3
Stormy Monday
Mountain Jam
Crowd Noise
Southbound
# = Taj Mahal, guitar and vocals
* = Levon Helm, drums and vocals; Brian Mitchell, keyboards; Larry Campbell, guitar and vocals; Teresa Williams, vocals

The Allman Brothers Band - Live Beacon Theatre 3/9/09 - 2009 - Peach Records CD450
---
[History] [Members] [Library] [Discography] [Videography] [Filmography] [Pictures] [Audio Files] [Video Clips] [Tape Archive] [Concerts] [Related Artists] [Merchandise] [Guestbook] [Chat Room] [Search] [What's New?] [Main Page]
Webmaster