Levon Helm: American Son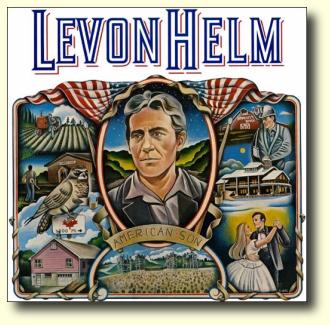 [LP cover] [CD booklet] [CD back cover] [2-on-1 2008 CD]
In 1979 Levon Helm recorded a superb version of Bill Monroe's "Blue Moon of Kentucy" for the soundtrack to the film Coal Miner's Daughter (in which he played Loretta Lynn's father) at the legendary Bradley's Barn studio in Nashville. Produced by his old pal Fred Carter Jr., the session went so well that they decided to cut a few more songs while they were at it. Two weeks later they had laid down twenty tracks, half of which emerged in 1980 on the album American Son. This is probably Levon Helm's best solo album out of the four he made, the country-rock flavour of songs such as Harley Howard's "Watermelon Time in Georgia" suits Levon's voice much better than the ballads and funk tracks that flourish on his three other solo efforts. American Son features seasoned Music City veterans as Buddy Emmons and Steve Gibson, and the arrangements are well-balanced against Levon's distinctive vocal.
A detailed review of this great solo album from Levon Helm appeared in the Usenet newsgroup alt.music.the-band in December 1995.
According to keyboard player Bobby Ogdin, Levon did not play drums in the studio during the recording of American Son, the drumming on the tracks were done by Jerry Carrigan, Kenneth Buttrey, and Buster Phillips. Levon may have overdubbed drums later.
American Son was re-released on CD in Japan by MCA and in the UK by Edsel Records in June 1997, and then again in 2008 as a 2-on-1, paired with Levon Helm & the RCO All-Stars.
Tracks
| | | |
| --- | --- | --- |
| 1. | Watermelon Time in Georgia (H. Howard) | (331K) |
| 2. | Dance Me Down Easy (Henley/Burnette) | (331K) |
| 3. | Violet Eyes (T. Kimmel) | (331K) |
| 4. | Stay With Me (F. Carter Jr.) | (331K) |
| 5. | America's Farm (R. Rogers) | (331K) |
| 6. | Hurricane (Stegall/Harris/Schuyler) | (331K) |
| 7. | China Girl (New/Silber) | (331K) |
| 8. | Nashville Wimmin (H. Howard) | (331K) |
| 9. | Blue House of Broken Hearts (Martin/Cerney) | (331K) |
| 10. | Sweet Peach Georgia Wine (R. Reynolds) | (331K) |
Sidemen
Beegie Cruzer Adair, keyboards
Kenneth Buttrey, drums
Jerry Carrigan, drums
Fred Carter Jr., guitar/producer
James Cason, vocal
Todd Cerney, vocal
Buddy Emmons, steel guitar
Steve Gibson, guitar
Levon Helm, vocal/drums(?)/guitars/mandolin
Mitch Humphries, keyboards
Joe Mills, engineer
Bobby Ogdin, keyboards
Buster Phillips, drums
Hargus "Pig" Robbins, keyboards
Clifford Robertson, keyboards
Billy Sanford, guitar
Steve Schaffer, bass
Jerry Shook, keyboards
Henry Strzelecki, bass
Levon Helm - American Son - 1980 - MCA Records MCA-5120
Single sleeve LP with inserted lyric sheet
UK CD: Edsel 526 (1997)
Japan CD: MCA
2-on-1 CD with Levon Helm & The Rco All-Stars and American Son - 2008 - Raven
---
[History] [Members] [Library] [Discography] [Videography] [Filmography] [Pictures] [Audio Files] [Video Clips] [Tape Archive] [Concerts] [Related Artists] [Merchandise] [Guestbook] [Chat Room] [Search] [What's New?] [Main Page]
Webmaster