Jesse Winchester: Anthology/ Jesse Winchester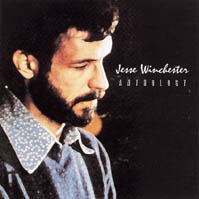 This compilation/ rerelease by Castle Music is a double CD where the first disc consists of various album tracks released by Bearsville Records between 1972 and 1981, and the second disc has the complete Jesse Winchester debut album produced by Robbie Robertson. The album has a sticker that reads "The Bearsville Collection - Remastered With New Liner Notes". The liner notes are by Colin Escott.
In a way this double CD comes as a fulfillment of what Elvis Costello wrote in the liner notes for his album Kojak Variety (1995) which featured a cover of Winchester´s "Payday":
"Jesse Winchester´s 'Payday´ is the most recent song on this record. It comes from his 1970 debut album which contains many very beautiful ballads and one terrifying song called ´Black Dog.´ I still cannot listen to it in the dark. That album was produced by Robbie Robertson and features other members of The Band. If you see it snap it up! There is a very fine Jesse Winchester anthology but it would only be perfect if it contained all the tracks from that first record."
Tracks
Disc 1 - Anthology
(all songs by Jesse Winchester, except track 10)
Isn´t That So
Dangerous Fun
Do It
Midnight Bus
All Of Your Own Stories
God´s Own Jukebox
Silly Heart
Every Word You Say
Mississippi You´re On My Mind
Third Rate Romance (Russell Smith)
Defying Gravity
Let Rough Side Drag
Damned If You Do
Lay Down Your Burden
Everybody Knows - But Me
Blow On, Cilly Wind
My Songbird
Rhumba Man
A Showman´s Life
Wintery Feeling
Leslie
Say What
The Brand New Tennessee Waltz
Disc 2 - Jesse Winchester
(all songs by Jesse Winchester, except track 3)
Payday
Biloxi
Snow (J.Winchester/J.R.Robertson)
Brand New Tennessee Waltz
That's a Touch I Like
Yankee Lady
Quiet About It
Skip Rope Song
Rosy Shy
Black Dog
Nudge
Sidemen
(only members of The Band listed)
Levon Helm, drums
Garth Hudson, organ
Robbie Robertson, producer/guitar
Jesse Winchester - Anthology/ Jesse Winchester - 1999 - Bearsville Records/ Castle Music ESMCD690
---
[History] [Members] [Library] [Discography] [Videography] [Filmography] [Pictures] [Audio Files] [Video Clips] [Tape Archive] [Concerts] [Related Artists] [Merchandise] [Guestbook] [Chat Room] [Search] [What's New?] [Main Page]
Webmaster