A.I.: Artificial Intelligence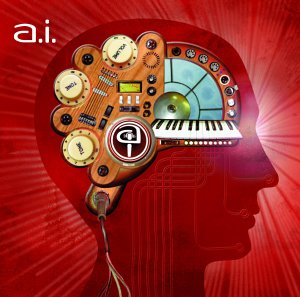 The West Los Angeles trio A.I. is comprised of brothers Nick (vocals/guitar) and Zack Young (drums/percussion) and Pablo Manzarek (bass/keyboards - son of Doors' legend Ray Manzarek). They released their first CD in August 2002, The music is part rock, part electronic/dance music similar to the Chemical Brothers.
Artificial Intelligence is released by DreamWorks. Robbie Robertson - now a consultant at DreamWorks - is credited as Executive Producer.
Tracks
Bottoms Up
One Man's War
Alien Sex
Soul Rescue
There U Go
Laughter
Forever
Say You'll Stay
She Says
Caught 'N da Fire
Danger
Where We Go
Whales
Credits
Robbie Robertson  -  Executive Producer
Carl Jackson  -  Special Assistance
Paul Leary  -  Mixing
Jared Levine  -  A&R
Richard Mouser  -  Engineer
Chris Vrenna  -  Producer, Engineer
Kiino Villand  -  Photography
Eric Olsen  -  Scratching
Nick Young  -  Guitar, Vocals, Engineer
Zack Young  -  Percussion, Drums, Drums (Electric)
Pablo Manzarek  -  Keyboards, Synthesizer Bass
A.I - Artificial Intelligence - 2002 - DreamWorks 13933
---
[History] [Members] [Library] [Discography] [Videography] [Filmography] [Pictures] [Audio Files] [Video Clips] [Tape Archive] [Concerts] [Related Artists] [Merchandise] [Guestbook] [Chat Room] [Search] [What's New?] [Main Page]
Webmaster