Ronnie Hawkins and the Hawks:
The Best of Ronnie Hawkins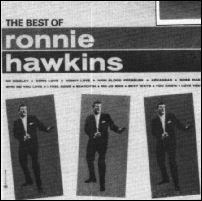 According to Barney Hoskyns' book Crossing the Great Divide, this is not, as the name suggests, a compilation of older songs, but a "collection of brand new material", some of it recorded in New York in the early spring of 1963, with Henry Glover at the controls.
The sessionography on the Ronnie Hawkins website tells a different story. As one can see from the track list below, the album is a compilation of previously recorded material from 1961 thru 1963. Note that the Feb 2, 1962 tracks were produced by Leiber & Stoller, however the matrix numbers indicate that overdubs took place on May 7, 1963. The only other recording made during the May 1963 sessions with Henry Glover that was not included on The Best of Ronnie Hawkins, was "There's a Screw Loose" which was released on Roulette single 4502 in 1964 and appears on the 1978 UK album Rockin'.
Levon Helm, Rick Danko, & Robbie Robertson are on all the tracks, Garth Hudson is on the Doc Pomus/Mort Shuman song "Arkansas," Richard Manuel is on "Bo Diddley" and "Who Do You Love" The tracks with all 5 Band members are "Mojo Man," "High Blood Pressure," and "Boss Man." Since Henry Glover overdubbed the 2/2/62 tracks, it is possible that all 5 Band members also are on the track "Arkansas". The Hawkins sessionography only listed members at original session so there is no way to tell if Richard Manuel contributed overdubs to the track.
In 1963, the Hawks' playing was honed to perfection from countless gigs and rehearsals with Hawkins. On several of the tracks (especially the infections Bo Diddley tune "Who Do You Love") it becomes evident that the Hawks had started to develop their own way of playing together, and the departure from Hawkins was soon to come. One of the Band's major influences, King Curtis, can be heard playing sax on "Mojo Man".
Tracks
| | | | |
| --- | --- | --- | --- |
| 1. | Bo Diddley | | (recorded 1963-01, Roulette single 4483) |
| 2. | Come Love | | (recorded 1961-09-13) |
| 3. | Honey Love | | (recorded 1961-09-13) |
| 4. | High Blood Pressure | | (recorded 1963-05-07, Roulette single 4502) |
| 5. | Arkansas | | (recorded 1962-02-02) |
| 6. | Boss Man | | (recorded 1963-05-07) |
| 7. | I Feel Good | | (recorded 1961-09-18) |
| 8. | Who Do You Love | | (recorded 1963-01, Roulette single 4483) |
| 9. | Searchin' | | (recorded 1961-09-13) |
| 10. | Mojo Man | | (recorded 1962-02-02) |
| 11. | Sexy Ways | | (recorded 1961-09-13) |
| 12. | You Know I Love You | | (recorded 1961-09-13) |
Ronnie Hawkins and the Hawks - The Best of Ronnie Hawkins - 1964 - Roulette 25255
---
[History] [Members] [Library] [Discography] [Videography] [Filmography] [Pictures] [Audio Files] [Video Clips] [Tape Archive] [Concerts] [Related Artists] [Merchandise] [Guestbook] [Chat Room] [Search] [What's New?] [Main Page]
Webmaster