School for Fools
Songs of Jeff Alexander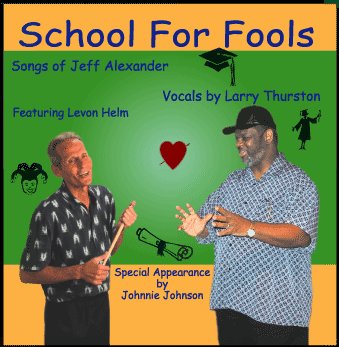 [Sound samples] [Session photos] [Cover photos] [UK review]
"It is time for America to hear Larry Thurston sing again."
--Levon Helm
School for Fools (the working title was Blues to Go) is a wonderful blues album with Larry Thurston (of the Blues Brothers Band) singing the songs of Brooklyn, NY, native Jeff Alexander, with Levon Helm on drums on 10 of the 12 tracks.

This CD is something different, so I barely know where to start. School For Fools is a CD by many artists performing the music of Jeff Alexander, with vocals by Larry Thurston. The music is played by, well... about everybody who is anybody in blues. The band behind this consists of 18 different musicians who have all paid their dues, some names you may know right off, some not, but this band is a class act.

Larry Thurston has been around for awhile, he was the singer for Matt "Guitar" Murphy's band in the 80s. Although he retired in '94, Larry came out for this CD; Levon Helm (of The Band) on drums; Johnnie Johnson on the 88s on a couple of tracks; Keith Doder (Jimmy Rogers band) on harmonica; Gus Thornton (played with Albert King & SRV) is the bassman; Arthur Neilson (Shemekia Copeland Band) plays lead on a couple of tracks. The list just goes on and on -- lots of solid musicians doing what they do best.

Larry has one of those big, full voices, really smooth, he makes singing sound easy. Jeff's songs run the gambit of blues -- women, lovin' heartbreak, boozing, gun shots and gravediggin', (not in that order). And this is a good thing -- what the blues is all about, the ups & downs of life.

This CD has an old familiar sound, good old style blues. You would think you were listening to an older band that had been together a long time, even the lyrics seem to be seasoned, but at the same time it is all new -- new lyrics, new music. Jeff produced this CD too and did a good job.

A lot of artists make new music that sounds new. Too many make their music so new that they seem to forget what it is supposed to be, but Jeff has accomplished something outstanding -- the combination of seasoned musicians and Jeff's "new music" was a good match -- "new" music that sounds familiar. You don't have to listen to it a dozen times to get the feel, this CD hits you right the first time out.

--Chris Puyear, Moblues

(see also the review from Blues in Britain.)

On Feb. 26th & 27th Levon Helm were in St. Louis, Missouri for a recording session for School for Fools. Recording with Levon at Benton Park Studio were the great pianoman Johnnie Johnson, local St. Louis musicians Tom Malone (not "Bones") on rhythm guitar, Rich McDonagh lead guitar, Gus Thorton (Albert King's and Stevie Ray Vaughan's bands) on bass, Keith Doder (veteran of Chicago blues great Jimmy Roger's band) on harp, and Larry Thurston on vocals. On March 28, 2002, another session for School or Fools took place at Applehead Studio in Woodstock, N.Y.  Levon drummed. Jimmy Eppard, formerly of the Crowmatix, played guitar, Andy Falco also played guitar, Mike Dunn, still with the Crowmatix, played bass, and Jeremy Baum from Jim Weider's Honky Tonk Gurus played keyboards. Later, in April 2002, Larry Thurston, lead vocalist in the Blues Brothers Band who's worked with e.g. Sam Moore, Eddie Floyd and Matt "Guitar" Murphy, came down to Dubway Studios in NYC to add vocals. The backup vocals were done by Genie "Pepper" Swinson, currently with the Wilson Pickett band, and La-Rita Gaskins, currently singing in a Broadway choir.

All songs recorded written by Jeff Alexander. Jeff also produced the CD.  School for Fools is available from the Jeff Alexander web site and from CD Baby.
1.
Brokenhearted & Broke
2.
You Know Who You Are
3.
Lost Dog Blues
4.
School For Fools
5.
My Woman Left Me
6.
Blues For Brooklyn
7.
Gravediggin' Man
8.
Reasons To Love
9.
Seventeen Years
10.
Warning Shot
11.
Happy Hour
12.
Blues To Go
"Larry Thurston's... back to give voice to a dozen songs of Alexander... A warm, genuine voice that sometimes made me think of  Big George Jackson, and once in a while also Lou Rawls, when he's singing in the lower regions..."
--Gert Tabloom, Roots Town Music Free Zine, Belgium

"Blueswriter Jeff Alexander, dividing his time between Brooklyn, New York and St. Louis, has poured his heart into a winner.  He has gathered together some of both regions'  blues greats... Alexander puts together one of the best blues albums of the year." 
--Sauce Magazine, St Louis Mo.

"School For Fools, Songs of Jeff Alexander is a superb new blues CD with down to earth lyrics from the heart that anyone can relate to. Larry Thurston's rich, smooth vocals pour the songs out in an easy, comfortable way that made me at home with this CD the first time I heard it. School for Fools immediately became a staple on my play list!"
--Mary C., The Roadhouse, KOPN FM, Columbia, Mo.

"As well as featuring plenty of good blues, this album also contains some arresting and interesting songwriting..."
--Henry Ayrton, Northern Blues Radio, BBC, England

"The standard of the disc's twelve original compositions is uniformly high, featuring memorable tunes and clever, thoughtful lyrics laced with a nice dash of humour. The musical accompaniement  to Larry's warm, powerful... vocals is provided by a highly talented group of musicians including players the calibre of former Band drummer Levon Helm, and the legendary Johnnie Johnson on the 88s... There's an underlying strength and muscularity to the performances... that'll keep your feet tapping and sustain your attention right til the very last note."
--Phil Knipe, Radio KLFM, Bendigo, Australia
Credits
Larry Thurston: vocals
Levon Helm: drums (except tracks 6 & 12)
Johnnie Johnson: piano, tracks 10 ,11
Gus Thornton: bass
Keith Doder: harp
Arthur Neilson: lead guitar
Arno Hecht: saxophone
Dona Oxford: piano
La-Rita Gaskins: backup vocals
Genie "Pepper" Swinson: backup vocals
Jeremy Baum: Hammond B-3 organ, piano
Jimmy Eppard: lead & slide guitars
Mike Dunn: bass
Tom Maloney: rhythm guitar
Rich McDonough: lead and slide guitar
Andrew Falco: rhythm guitar
Tim Tindall: bass
Matt Mousseau: drums, tracks 6,12
Jeff Alexander: songwriter, producer
Jeff Alexander - School for Fools - 2002 - Cousin Moe Music
---
[History] [Members] [Library] [Discography] [Videography] [Filmography] [Pictures] [Audio Files] [Video Clips] [Tape Archive] [Concerts] [Related Artists] [Merchandise] [Guestbook] [Chat Room] [Search] [What's New?] [Main Page]
Webmaster