Various Artists: Bo Diddley is a... Songwriter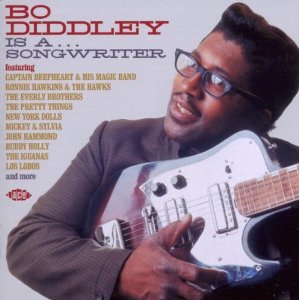 Although Bo's far better known for his signature 'shave and a haircut-six bits' rhythm and 20 years of his own fabulous Checker albums and singles, he was also a songwriter of some distinction -- not just for himself but also for others. Bo Diddley is a... Songwriter brings together 24 titles from the E McDaniel catalogue, performed by a variety of acts that range from 50s rock'n'roll legends (Buddy Holly, the Everly Brothers, Ronnie Hawkins, Mickey & Sylvia) to 60s R&B and garage bands (the Animals, Johnny Kidd & the Pirates, Pretty Things) to later 70s and 80s cult heroes such as the New York Dolls and Los Lobos. Between them and their chosen repertoire, they show there was much more to Bo beyond those mesmerizing guitar riffs and out-of-this world rhythm patterns. The CD also features a rare appearance from Iggy Pop's first band - the Iguanas - performing (Mona) I Need You Baby.
As with other volumes in this series, the repertoire is carefully chosen to reflect all aspects of Bo's songwriting ability, from ballads (Dearest, I'm Sorry) to blues (Before You Accuse Me, She's Fine She's Mine) to pop (Love Is Strange) to the shave-and-a-haircut shakers that he's perhaps known for (Who Do You Love, Bo Diddley etc).
Copious track-by-track annotation, and the inevitable wealth of illustrations make this a must for everyone remotely interested in the work of one of the true legends of the rock'n'roll era.
Tracks
Bo Diddley - Buddy Holly
I Can Tell - Johnny Kidd & The Pirates
Oh Yeah - The Shadows Of Knight
Dearest - Mickey & Sylvia
Dearest Darling - Gizzelle
Before You Accuse Me - Delbert Mcclinton
Crackin' Up (What's Buggin' You) - The Gants
Love Is Strange - The Everly Brothers
Road Runner - The Zombies
I'm Sorry - Los Lobos
(Mona) I Need You Baby - The Iguanas
Mama (Can I Go Out Tonight) - Jo Ann Campbell
Beaux' Bounce A.K.A. Bo's Bounce - C.C. Adcock
Diddley Daddy - The British Walkers
I'm A Man - John Hammond
You Don't Love Me (You Don't Care) - The Birds
Pills - New York Dolls
She's Fine, She's Mine ("You Don't Love Me") -Willie Cobbs
Mama Keep Your Big Mouth Shut - Dr. Feelgood
Cadillac (Demo) - The Downliners Sect
Diddy Wah Diddy - Captain Beefheart And His Magic Band
The Story Of Bo Diddley - The Animals
Pretty Thing - The Pretty Things
Who Do You Love - Ronnie Hawkins And the Hawks
Various Artists - Bo Diddley is a... Songwriter - 2010 - Ace Records UK
---
[History] [Members] [Library] [Discography] [Videography] [Filmography] [Pictures] [Audio Files] [Video Clips] [Tape Archive] [Concerts] [Related Artists] [Merchandise] [Guestbook] [Chat Room] [Search] [What's New?] [Main Page]
Webmaster