Bob Dylan: 7 Years of Bad Luck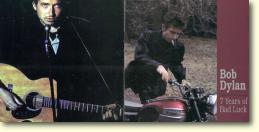 Another great compilation of studio outtakes, a live performance, and a better sounding Denver hotel. Add to that a terrific packaging and you have an example of what could be Bootleg Series Volume 4. The color cover has Dylan about to alight onto that famous Triumph; the back has a color photo of him with acoustic guitar in front of a mic (can't place this pic -- It looks to me like a picture of Dylan appearing on the Johnny Cash Show. I have a DVD of this and verified that clothes, hair, guitar, etc are all identical. --Jim Sherman). Inside has two black & white photos from '62 & '69 sessions as bookends to the setlists with their notes including the CO numbers (when available). The CD itself it silk screened with a picture of Dylan, thumbs hooked in pockets, striped shirt, circa 1962. Behind the CD is another color picture, Dylan with sunglasses, guitar, harmonica holder and dangling cigarette. Back cover, the track listings and an unusual message: WARNING: Unauthorized reproduction of this recording is encouraged.
The sound quality, overall is excellent, which it should be given the sources of studio outtakes. The Denver hotel tracks are better than the circulating tape that I have. The five takes of "I Shall Be Free," (my favorite Dylan 'nonsense' song) kind of destroys the myth (IMHO) of Dylan walking into a studio and doing an album of songs in a single session with a single take of each song. If he put that much effort into a throw-away, one wonders about the other songs on ZFreewheelin'. While the Freewheelin' tracks were known, the May/June 1969 Nashville studio session was unknown (and uncirculating within my trading circle). The same goes for the Town Hall song which doesn't appear on any list that I have.
In summary, a lot of new and unknown material, not available on any other source that I know of (with the exception of "Whatcha Gonna Do," which is on the Bob Dylan Freewheelin Outtakes CD), excellent sound quality (Denver hotel is OK) and superior packaging. The perfect companion to the Bob Dylan Freewheelin Outtakes CD.
**** 1/2 star rating (deduct half star for Denver sound, but I'm being picky). I will be looking for future releases from SPANK Records.
-- Arnie Stodolsky, rec.music.dylan, November 1993.
Tracks
1-8: Columbia Studios, NYC, December 6, 1962. 9: Town Hall, NYC, April 12, 1963. 10: Columbia Studios, NYC, January 13, 1965. 11-13: Denver, Co., March 13, 1966. 14-18: Columbia Studios, Nashville, May or June 1969.
Hero Blues - take 1 - Freewheelin' outtake
Whatcha Gonna Do - take 1 - Freewheelin' outtake
Oxford Town - Freewheelin' unedited master
I Shall Be Free - take 1 - Freewheelin' aternate
I Shall Be Free - take 2 - Freewheelin' unedited master
I Shall Be Free - take 3 - Freewheelin' alternate
I Shall Be Free - takes 4 & 5 - Freewheelin' alternate
Hero Blues - version 2 - Freewheelin' outtake
You've Been Hiding Too Long - Live at Town Hall
You Don't Have To Do That - Bringing It All Back Home outtake
Positively Van Gogh - version 1 - from a Denver hotel, 1966
Positively Van Gogh - version 2 - from a Denver hotel, 1966
Just Like a Woman - from a Denver hotel, 1966
Gates of Eden - studio outtake - May/June 1969
I Threw It All Away - studio outtake - May/June 1969
I Don't Believe You - studio outtake - May/June 1969
Telephone Wire - studio outtake - May/June 1969
Honey, Just Allow Me One More Chance - studio outtake - May/June '69
Bob Dylan - 7 Years of Bad Luck - 1993 - Spank Sp 102
---
[History] [Members] [Library] [Discography] [Videography] [Filmography] [Pictures] [Audio Files] [Video Clips] [Tape Archive] [Concerts] [Related Artists] [Merchandise] [Guestbook] [Chat Room] [Search] [What's New?] [Main Page]
Webmaster