Bob Dylan and The Band: New York Madison Square Garden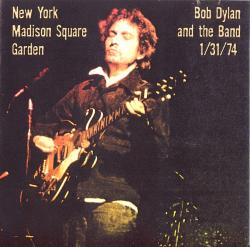 [CD cover] [Back cover]
Tour '74 bootleg, recorded at NY's Madison Square Garden, 01.31.1974. Soundboard recording, excellent quality, "real silver disc" bootleg, no label or number. Only Dylan tracks, no Band songs included.
Tracks
Most Likely You Go Your Way (and I'll go mine)
Lay Lady Lay
Just Like Tom Thumbs Blues
Rainy Day Women nos. 12 and 35
It Ain't Me Babe
Ballad Of A Thin Man
All Along The Watchtower
Ballad Of Hollis Brown
Knockin'On Heaven's Door
The Times They Are A-Changin'
Don't Think Twice, It's Alright
The Gates Of Eden
Just Like A Woman
Its Alright Ma (I'm Only Bleeding)
Forever Young
Highway 61 Revisited
Like A Rolling Stone
Maggie's Farm
Blowin' In the Wind
Bob Dylan and The Band - New York Madison Square Garden - 2003 - ?
---
[History] [Members] [Library] [Discography] [Videography] [Filmography] [Pictures] [Audio Files] [Video Clips] [Tape Archive] [Concerts] [Related Artists] [Merchandise] [Guestbook] [Chat Room] [Search] [What's New?] [Main Page]
Webmaster