The Band: Academy of Outtakes
"The Genuine Rock of Ages"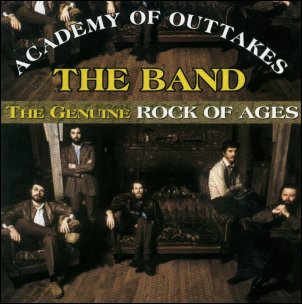 [Front cover] [Back cover] [Front-middle] [Front-backside] [Inside-1] [Inside-2] [Inside-3] [Disc 1] [Disc 2]
2CD Band bootleg released on the Wild Wolf label in 2000, with tracks from 1971 live recordings and rehearsal tapes. All previously unreleased/ uncirculated according to this "ad" for the CDs:
Incredible 33-track, superb quality from master reel sources. Another fab Wild Wolf set with 25 previously unreleased/uncirculating performances from the NY City, Academy of Music, December 28-31, 1971/72 gigs that spawned Rock of Ages - but no overlap with that one. Plus a terrific 8-song rehearsal from UltraSonic Studios, Long Island, in Dec 1971, also uncirculating & in primo sound.

Beautifully dressed up color glossy set w/vintage Band pics (6) spread throughout a 3-panel gatefold paper sleeve and classic color live shot from the Academy on back cover. Disks are 24K gold plated, audiophile design, with black/gold song titles on disk. An absolute knockout 155+ minutes and an instant Hall-of-Famer.
According to collectors, the CDs are of excellent quality. However, as usual, the track list is somewhat off. On Disk 1, track 17 is both track 17 and 18. There is no gap or track number change between tracks. On Disk 2, tracks 3 is both 3 and 4. The rest of the tracks are then off by one. Also, a hidden track appears: The last track on disk 2 is "Crash On The Levee" with Bob Dylan .
Tracks
Disc 1
Academy of Music:
Cripple Creek
The Shape I'm In
The Rumor
Time to Kill
Strawberry Wine
Rockin' Chair
This Wheel's On Fire
Get Up Jake
Smoke Signal
I Shall Be Released
The Weight
Stage Fright
Life Is A Carnival
King Harvest
Caledonia Mission
WS Walcott Medicine Show
The Night They Drove Old Dixie Down
Across the Great Divide
Disc 2
Unfaithful Servant
Baby Don't Do it
Genetic Method
Chest Fever
Rag Mama Rag
R&R Shoes
Loving You Is Sweeter Than Ever

UltraSonic Rehearsal:

The Night They Drove Old Dixie Down
Across the Great Divide
WS Walcott Medicine Show
Life Is a Carnival
Life Is a Carnival
Across the Great Divide
Unfaithful Servant
Chest Fever


"Hidden" track:
Crash on the Levee (Bob Dylan)
The Band - Academy of Outtakes - 2000 - Wild Wolf 12/28/71 A/B
---
[History] [Members] [Library] [Discography] [Videography] [Filmography] [Pictures] [Audio Files] [Video Clips] [Tape Archive] [Concerts] [Related Artists] [Merchandise] [Guestbook] [Chat Room] [Search] [What's New?] [Main Page]
Webmaster