The Band: After the Waltz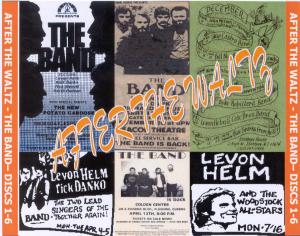 [CD-set cover] [Back cover] [Disc 1-2 cover] [Disc 3-4 cover] [Disc 5-6 cover] [Disc 1-2 tracks] [Disc 3-4 tracks] [Disc 5-6 tracks]
After the Waltz is a 6-CD monster compilation spanning 15 years, concentrating on the period from 1982 to 1996, during which members of The Band performed solo, in various combinations with others, and as The Band. Many songs rarely performed are included as well as some very interesting versions of the great standards. The sound quality is average to excellent, with most of it being very good
It's not a "proper" bootleg, but a collection of CD-Rs meant for trading. The back covers say "In Memory of Richard Manuel and Rick Danko -- not for sale/ trade freely."
Tracks
Disc 1
Voodoo Music
Goin' Back To Memphis
The Girl I Left Behind
Long Black Veil
Rag Mama Rag
Sick & Tired
A Letter To Tom
Milk Cow Boogie
Short Fat Fanny
Every Night And Every Day
Willie And The Hand Jive
The World Is Mad
Blaze Of Glory
My Love
Georgia
Rocking Chair
When I Get My Rewards
Sip The Wine
15 Years Ago
Steppin' Out
Notes:
1: Tokyo, 1 September 1983
2: Queen Elizabeth Theatre, Vancouver BC, 18 July 1983
3-13: Danko/Helm, Starry Night, Portland OR, 28 January 1983
14-16: Danko/Manuel, Lone Star Café, NYC, 2 January 1984
17: 1985 Danko/Manuel, Lone Star Café, NYC, 28 January 1985
18-20: Danko/Helm Wax Museum, Washington DC, 20 December 1982

Disc 2
King Harvest
Just Another Whistle Stop
Honest I Do
Blaze Of Glory
Before I Grow Too Old
Country Boy
Miss Otis Regrets
Unfaithful Servant
She Knows
CC Rider
Evangeline
Ain't Got No Home
Wish You Were Here
Across The Great Divide
People Would Think
Ws Walcott
You Don't Know Me
Share Your Love
I Shall Be Released
Rivers Of Babylon
Notes:
1-4: Danko/Manuel with Paul Butterfield, Folk City, 14 June 1985 (late show)
5-7: Richard Manuel, The Getaway Club 1985, Saugerties NY, 12 July 1985
8: Danko/Manuel/Hudson, Lone Star NYC, with Daniel Brubeck and Dave Mason, 3 May 1985
9-10: Lone Star NYC, 19 January 1986
11: Danko/Manuel with Emmylou Harris, Lone Star Café NYC, 28 January 1985
12-16: Fast & Cool Club, Dallas TX, 20 January 1986
17-19: Richard Manuel, Lone Star Café, NYC, 8 February 1986 (late show, Richard's last concert)
20: Dylan's Café, Washington DC, 1987
Disc 3
Rhumba Man
Why Are People Like That
Watermelon Time In Georgia
Next Time You See Me
Kingfish
Down South In New Orleans
Freedom For The Stallion
The Rumour
Hard Times
When You Awake
Brainwash
My Baby Left Me
Once Upon A Time
What A Town
Missing In Action
Small Town Talk
Blue Tail Fly
Mystery Train
Must Be Tonight
Can't Find My Way Home
Sail On Sailor
Kansas City
Twilight
Notes:
1-4: Levon & The Woodstock All Stars, Lone Star Café, NYC, 29 January 1985
5-7: Tipitina's, New Orleans LA, 3 January 1987
8: Danko/Manuel, O'Tooles Tavern, 1 December 1986
9: Richard Manuel, The Getaway, Saugerties, NY, 11 October 1985
10-19: Rick Danko, Dylan's Café, Washington, DC 1987, late show
20-22: Danko/Hudson Kuranda Amphitheatre, Qld, Australia 5 Hune 1988 with Shredni Vollmer, Buddy Cage, Blondie Chaplin & Terry Cagle
23: Rick Danko, Miami FL, 1992

Disc 4
Sitting On Top of The World
Sweet Peach Georgia Wine
Uncle Pen
Good Feeling (instrumental)
Rag Top (Boogie On The Radio)
Buffalo Boogie
Hotel Buick
Home Sweet Home
What Would They Think
Watching The River Flow
Cold Soup
Milk Cow Boogie
Instrumental
You Do Me God
Take Me To The River
China Girl
Notes:
1-3: ROTC Hall, UCONN, Storrs CT, 1 November 1984 with Larry Packer on fiddle
4-8: Palomino Club, Hollywood, CA, 21 January 1988 with the Woodstock All Stars
9-13: The 9:30 Club, Washington DC, 22 July 1988 with the Woodstock All Stars (Levon Helm, Stan Szelest, Jim Weider, Randy Ciarlante, Paul Brazen and Frank Campbell)
14-16: Levon Helm, The Change, Poughkeepsie NY 31 July 1987
Disc 5
Tombstone Tombstone
River Of Honey
All Creation
Baby Don't Cry
Long Ways To Tennessee
Too Soon Gone
Money Whipped
Never Again Forever
Battle Is Over
What Good Is Love
Keep On The Sunny Side
Deep Feeling (Instrumental)
Blue River
My Friend
Arcadian Driftwood
Chain Gang
When I Paint My Masterpiece
Endless Highway
When You Awake
Bartender Blues
Notes:
1-8: from the unreleased CBS album with Jules Shear, 1990
9-10: with Louis Perez and David Hidalgo of Los Lobos, 1990 or 1991
11: Mountain Stage, 3 March 1989
12: Arrowhead Ranch, Sullivan County, NY, 4 August 1991
13: The Sting, New Britain, 15 February 1992
14: Miami Beach FL, 19 November 1992
15-20: Rick Danko, Wetlands, NY, 13 February 1993
Disc 6
Drifting Away
Blues Stay Away From Me
Soul Deep
Nobody Sings Them Like Ray
The Tide Will Rise
Night On The Town
Circle Of Time
Sweet Home Chicago
One More Shot
Stuff You Gotta Watch
Upon Cripple Creek
Life Is A Carnival
Rock & Roll Shoes
The High Price Of Love
Stand Up
Young Blood
Free Your Mind
Don't You Tell Henry
Notes:
1: Manta Eastern Sound, Toronto, 12 July 1993, with Colin Linden
2: Country Mountain Stage, Charleston WV, 27 February 1994
3-7: Jericho Outtakes, 1993
8-13: Central Park NYC, 8 August 1995
14-17: The Joint, Las Vegas, 16 May 1996
18: Greater London Radio, 21 June 1996; Silent track: Arrowhead Ranch, Sullivan County NY, 4 August 1991

The Band - After the Waltz - 2003 - ?
---
[History] [Members] [Library] [Discography] [Videography] [Filmography] [Pictures] [Audio Files] [Video Clips] [Tape Archive] [Concerts] [Related Artists] [Merchandise] [Guestbook] [Chat Room] [Search] [What's New?] [Main Page]
Webmaster