Bob Dylan: Back At Wolftrap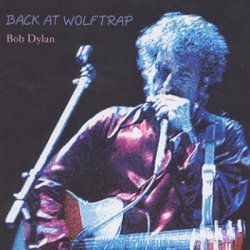 Dylan 2CD bootleg set, recorded live at Wolftrap, Vienna, 23 and 24 Aug, 1997. Also contains two tracks from the concert in Wallingford, CT 18 Aug, 1997, where Rick Danko guested with the two songs "This Wheel's on Fire" (2.7MB) and "I Shall Be Released" (3.2MB).
Dylan also gave Ricky a nice introduction (750K) at the gig. This was right after Danko was released from Japan, it sounds like Dylan says: "Thanks everybody. Ah, we have Rick Danko here, he's from the Band. And he's looking good, and he just got himself out of some... out of an arrested spirit. I think he's looking better than ever really. This is something we recorded a long while ago."
Below is a review of this bootleg, copied from the Dylan newsletter ISIS:

Danko and Dylan, Wallingford, CT, 08.18.97 (photo by John Atashian).

A direct/line recording taken from the shortband radio feed used for the "deaf aid" system. Recording quality is stunning superbly clear with excellent definition. There are a few instances where the recording overcooks, resulting in background buzz, but these are brief and barely noticeable. Vocals are clear, precise, and well separated from the band. This is a complete recording of the first nights performance with fillers from the second (plus 2 tracks from Wallingford). The performance is superb. If those earlier UK shows had Dylan carving his songs out of granite, now he's shaping them out of marble. Cool and clear. The band working seemlessly together, Dylan's vocals confident and rounded while still keeping their edge.

Another blistering start with "Absolutely Sweet Marie", and Dylan is simply unstoppable. "Man in a Long Black Coat" is shrouded in mystery. Highlights are hard to pull out: "Stone Walls and Steel Bars", "Blind Willie McTell" and a raucus "Alabama Getaway" that replaces "Rainy Day Women" in the closing slot. The second night highlights feature superb versions of "Cocaine" and "You Ain't Goin' Nowhere." Recording quality is superb and it's a bit of a disappointment that the producers decided to incorporate into the final two tracks from the Wallingford show (guesting Rick Danko), as although recording quality is ok in their own right can't match that of their colleagues.
Tracks
Wolftrap Vienna, 23 Aug 97:
Absolutely Sweet Marie
Man In The Long Black Coat
Tough Mama
Under The Red Sky
Silvio
Stone Walls And Steel Bars
Mr. Tambourine Man
Tangled Up In Blue
Stuck Inside Of Mobile...
Blind Willie McTell
Leopard-Skin Pill-Box Hat
Like A Rolling Stone
Don't Think Twice...
Alabama Getaway
Wolftrap, Vienna, 24 Aug 97:
Tonight I'll Be Staying Here
You Ain't Goin' Nowhere
Roving Gambler
Cocaine Blues
Watching The River Flow
Wallingford, CT, 18 Aug 97:
It's All Over Now, Baby Blue
This Wheel's On Fire (3.3MB)
Bob Dylan - Back At Wolftrap - 1997 - 2CDs - Q Records 18/19
---
[History] [Members] [Library] [Discography] [Videography] [Filmography] [Pictures] [Audio Files] [Video Clips] [Tape Archive] [Concerts] [Related Artists] [Merchandise] [Guestbook] [Chat Room] [Search] [What's New?] [Main Page]
Webmaster