Bob Dylan: Before the Crash Vol.1 & 2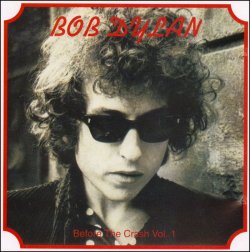 [Cover vol.1] [Cover vol.2] [Back cover vol.1]
Luxemburg bootleg CDs with Bob Dylan and the Hawks, from 26 May '66 (Vol.2). and 27 May '66 (Vol.1 and Vol.2).
Tracks
Vol.1.
(27 Mai 1966, Royal Albert Hall, London)
She Belongs To Me
4th Time Around
Visions Of Johanna
It's All Over Now Baby Blue
Desolation Row
Just Like A Woman
Mr Tambourine Man
Vol.2.
(26 Mai 1966, Royal Albert Hall, London. *27 Mai 1966, Royal Albert Hall, London)
She Belongs To Me
4th Time Around
Visions Of Johanna
Leopard Skin Pill Box Hat*
One Too Many Mornings*
Ballad Of A Thin Man*
Bob Dylan - Before the Crash Vol.1 & 2 - Music With Love 001CD and 003CD
---
[History] [Members] [Library] [Discography] [Videography] [Filmography] [Pictures] [Audio Files] [Video Clips] [Tape Archive] [Concerts] [Related Artists] [Merchandise] [Guestbook] [Chat Room] [Search] [What's New?] [Main Page]
Webmaster