Rick Danko/ Paul Butterfield: Uncle Willies '87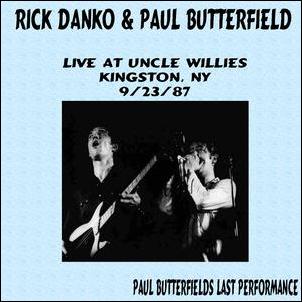 [CD cover] [Back cover]
2-CD bootleg from one of the last concerts with Danko and Butterfield, recorded in Kingston, NY. The cover claims this was recorded in September 1987, despite the fact that Paul Butterfield died on May 4th the same year. The correct date is probably April 23rd, 1987.
Tracks
Disc 1
CC Rider
Walkin' Blues
Java Blues
Man on the Side of the Road
Stage Fright
Down South in New Orleans
Mystery Train
When I Get My Reward
Spoonful Blues
Blaze of Glory
Disc 2
Poor Boy Blues
Four Walls
My Baby Left Me
It Makes No Difference
I'm Just a Fool
Long Black Veil
Chain of Fools
Goodnight Irene
Sick and Tired
Rick Danko/ Paul Butterfield - Uncle Willies '87 - ?
---
[History] [Members] [Library] [Discography] [Videography] [Filmography] [Pictures] [Audio Files] [Video Clips] [Tape Archive] [Concerts] [Related Artists] [Merchandise] [Guestbook] [Chat Room] [Search] [What's New?] [Main Page]
Webmaster