The Band, Bob Dylan & Tiny Tim:
Down in the Basement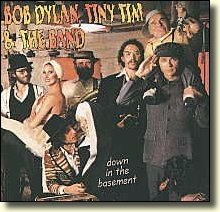 The songs on this bootleg are mostly taken from Garth Hudson's legendary Basement Tapes, recorded in the Big Pink, Woodstock, West Saugerties, New York, April-October 1967. Also included are the four songs "I Got You Babe," "Memphis, TN," "Sonny Boy" and "Be My Baby", recorded with falsetto singer Tiny Tin backed by the Band/Hawks for the soundtrack of Peter Yarrow's movie You Are What You Eat. The album has 10 "proper" tunes and 6 instrumental "interludes". All of the instrumentals list Robbie Robertson as composer (except "Piano Rag" which is listed as traditional). The Tiny Tim recordings were generally available on the mid-80's bootleg Blind Boy Grunt and the Hawks Basement Tapes, a 4 LP set which was the first of the really great basement bootlegs.
Review from rec.music.dylan, August '96:
I really like the Band backing Tiny Tim! The Band are into it, and offer some hot playing (well, as into it as anything they did on The Basement Tapes, IMO). This is WS Walcott's Medicine show and I feel better just listening to it. Be My Baby - a la Phil Spector - The Band are really into it. Love Manuel's piano playing, Danko's bass, Garth's organ in the high registers, Helm's drums...the whole shebang! Would have been nice to have Dylan take a verse, then Manuel a verse (not to slight Tiny!), though the Band do backup vocals here. The song fades out & then comes back with a nice wall of sound. I Got You Babe - love that song (maybe you had to be there). Who is the other vocalist? Someone please answer this. Memphis - rockabilly, with a nice touch of Garth at the organ, steady drumming as Levon drives across the bridge into Memphis with Robbie twanging away in the back seat. Sonny Boy - marvelous song, with Richard on piano, Garth on organ prominently featured. Worth getting just for those four songs alone. The LP version - Blind Boy Grunt and the Hawks Basement Tapes has those four songs clocking in about 15-16 minutes.
-- Richard Batey
Tiny's girl friend Eleanor Baruchian, who also appeared in the fim, shares vocal duties with Tim on "I Got You Babe."
Tracks
1.
I Got You Babe (Bono)
(2.9MB)
2.
Memphis Tennessee (Berry)
(1.9MB)
3.
Instrumental #1 (Robertson)
4.
Gonna Get You Now (Dylan)
5.
Instrumental #2 (Robertson)
6.
Mighty Quinn (Dylan)
7.
Lo & Behold (Dylan)
8.
Apple Suckling Tree (Dylan)
9.
Tiny Montgomery (Dylan)
10.
I Shall Be Released (Dylan)
11.
Instrumental #3 (Robertson)
12.
Instrumental #4 (Robertson)
13.
Sonny Boy (Henderson)
(3.4MB)
14.
Piano Rag (Garth Hudson piano solo)
15.
Instrumental #5 (Robertson)
16.
Be My Baby (Berry/Greenwich)
(2.9MB)
Sidemen
The Band
Tiny Tim
Bob Dylan
The Band, Bob Dylan & Tiny Tim - Down in the Basement - 1996 - Moonlight ML 9642
---
[History] [Members] [Library] [Discography] [Videography] [Filmography] [Pictures] [Audio Files] [Video Clips] [Tape Archive] [Concerts] [Related Artists] [Merchandise] [Guestbook] [Chat Room] [Search] [What's New?] [Main Page]
Webmaster