Down South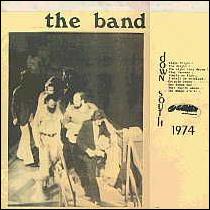 Bootleg recorded at The Coliseum, Charlotte, North Carolina, 17 January, 1974. This is a Band set extracted from a Bob Dylan and the Band concert during the heavily bootlegged Before the Flood tour. The official album adds "Up on Cripple Creek" and "Endless Highway", which is replaced on this concert by "King Harvest" and "This Wheel's on Fire". The other tracks here are also on the official album (but from LA concerts).
Tracks
Stage Fright
The Night They Drove Old Dixie Down
King Harvest
This Wheel's on Fire
I Shall Be Released
Rag Mama Rag
When You Awake
The Shape I'm in
The Weight
The Band - Down South - 197? - LH-5050
Also released as Down South, 1974 on Comet Records.
---
[History] [Members] [Library] [Discography] [Videography] [Filmography] [Pictures] [Audio Files] [Video Clips] [Tape Archive] [Concerts] [Related Artists] [Merchandise] [Guestbook] [Chat Room] [Search] [What's New?] [Main Page]
Webmaster